Sep 28 2012 7:18PM GMT

Profile: Michael Tidmarsh
Book image via Shutterstock
This excerpt is from the new 3rd Ed. of 'Mastering the Requirements Process: Getting Requirements Right' authored by Suzanne Robertson and James Robertson, published by Addison-Wesley Professional, Aug. 2012, ISBN 0321815742, Copyright 2013 Pearson Education, Inc. For more info please visit the publisher site: http://www.informit.com/title/0321815742
The Requirements Process
This book is a distillation of our experience. In it, we describe a requirements process that we have derived from our years of working in the requirements arena—working with clever people who do clever things, and working on projects in wonderfully diverse domains. We have also learned much from the experience of the many people around the world who use various parts of our techniques.
We developed the Volere Requirements Process and  its associated specification template from the activities and deliverables that had proved themselves to be most effective in project and consulting assignments with our clients. The result of this experience is a requirements discovery and specification process whose principles can be applied—and indeed have been applied—to almost all kinds of application types in almost all kinds of development environments.
We want to stress from the very beginning that while we are presenting a process, we are using it as a vehicle for discovering requirements; we do not expect you to wave this process around and tell your co-workers that it is "the only way to do things." However, we have high expectations that you will find many useful things from this process that will, in turn, help you to discover and communicate your requirements more productively and accurately. We have personally seen hundreds of companies adapt the process to their own cultures and organizations, and we know of thousands more that have done so.
Our clients who use the Volere Requirements Process are those who develop their products using RUP, incremental, iterative, spiral, Scrum, or other variations of iterative development; more formalized waterfall processes; and a variety of homebrewed development processes. Over the years, all of these clients agreed with us: If the right product is to be built, the right requirements have to be discovered. But requirements don't come about by fortuitous accident. To find the correct and complete requirements, you need some kind of orderly process.
The Volere Requirements Process is shown in Figure 2.1. Each of the activities included in the figure, along with the connections between them, is described in detail in subsequent chapters of this book.
The Requirements Process in Context
We need to point out—indeed, we need to stress—that this process is not intended to be a waterfall approach. At various stages throughout this book, we will point out how you might modify the process if you are using some kind of iterative development.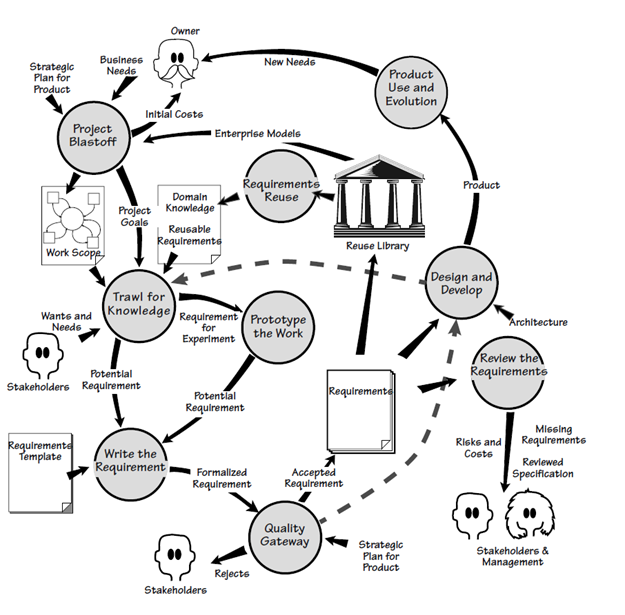 Figure 2.1
This map of the Volere Requirements Process shows the activities and their deliverables. We have used a stylized data flow notation. Each activity (the bubbles) and its deliverables (named arrows or documents) are explained in the text. The dotted lines represent how this process is used with iterative projects.
Requirements discovery should be seen as a necessary forerunner of any construction activity, but it should also be viewed as something that can be conducted quite quickly, sometimes quite informally, sometimes overlapping with subsequent design and construction activities, but never ignored.