Jun 20 2011 3:22PM GMT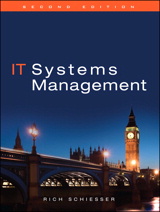 Member Batye agreed to review IT Systems Management. If you'd like to review a book for the Bookworm Blog, send me an email at Melanie at ITKnowledgeExchange.com to express your interest. Disclosure: The publisher of the book provided a free copy for this review.
This is an excellent, well-written, easy-to-read and -understand operational guide with practical tips and ideas for a new generation of IT manager. New ideas and technology quickly change concepts in IT systems management, and this book is up to date on the current ideas and technology. It would be a great desk reference for IT managers.
Even students, future IT managers, would benefit from using this as a text book, as it offers real life examples relevant to the IT systems management and mainframe environment, including legacy systems. I trust the most important benefit of this book is that it will help reduce your IT operational costs and, if properly comprehended, will give the reader the ability to use new technology to manage IT systems more efficiently and effectively.