Aug 14 2013 10:18AM GMT

Profile: Tony Bradley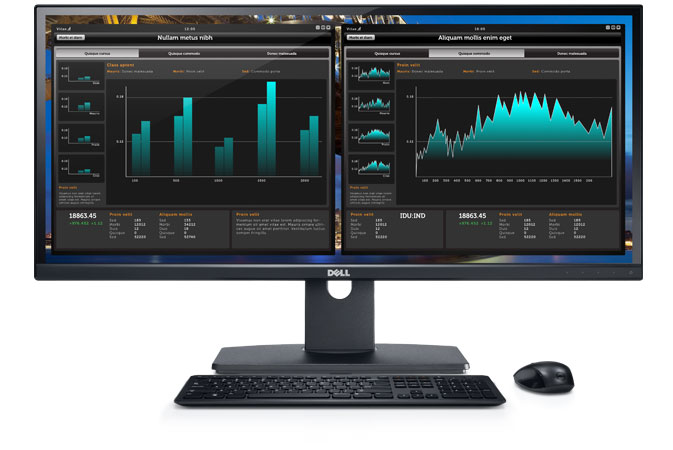 Dual monitors? We don't need no stinkin' dual monitors. At least, not as long as we have an ultra wide Dell u2913wm monitor that is.
I've long tried to do some sort of dual-monitor setup. I spend all day bouncing back and forth between researching topics online, and writing about them in my word processor, with a generous helping of social networking distractions thrown in every day. While I appreciate the ability to multitask between various windows and applications, it would be much more efficient to have them all open and in view simultaneously–and that takes a lot of display real estate.
One of my teen sons has a dual-monitor setup on his desk, and the other has a triple-monitor configuration. They use theirs for important things like playing Call of Duty on one screen, while reading Reddit or watching a show on Netflix on the other screen at the same time. It turns out, though, that a dual-monitor configuration is not always simple. Depending on your PC, graphics card, and monitor hardware it can be a very complex, tedious task, or in some cases it may simply not be possible.
My primary PC is a MacBook Air, and my secondary PC is a Samsung Series 7 Slate tablet running Windows 8. Neither is a graphics powerhouse per se, and neither is equipped with multiple ports for connecting dual monitors. Theoretically, I might be able to daisy-chain monitors using Thunderbolt / DisplayPort or HDMI, but that requires having the right monitor hardware. Besides, dual-monitor support seems to be a hallmark of the preview releases of both Windows 8.1 and Mac OS X "Mavericks", but neither OS seems to be ideal for configuring or managing multiple monitors.
You'll understand, then, why I was excited to discover the Dell u2913wm monitor. This monitor is a 29-inch ultra wide monitor that provides the real estate of a dual-monitor configuration in a single display. It has a 21:9 aspect ratio and a 2560 x 1080 resolution. That means I can have two separate 1280 x 1080 windows open at the same time, which is roughly equivalent to having two side-by-side monitors.
I had an Acer monitor I loved, but it was absconded by my wife, and I ended up using an Acer G236HL that I hated. My original Acer monitor was an Acer T230H–a 23-inch touchscreen monitor with beautiful color and a pedestal that let me adjust the height. The G236HL, on the other hand, is an LED monitor with washed out colors, horrible viewing angles, and a static pedestal that I had to put on top of a stack of books to "adjust" to the right height.
So, right out of the box I was in love with the Dell u2913wm. It gives me back a monitor with gorgeous colors that I can actually tilt my head slightly and still view, and with a pedestal that enables me to adjust the height and tilt of the display. That's a win-win-win in my book even without the dual-monitor width.
It does also have that dual-monitor width, though. You have to be prepared that for the fact that the monitor is very wide, and it requires a good deal of space on your desk. Of course, a dual-monitor configuration requires multiple monitors and would likely take up even more space on your desktop, so if you're looking for solutions that provide enough display real estate to view two full windows simultaneously, the u2913wm will actually save you some space.
Another cool thing about the monitor is the insane amount of ports available. It has HDMI, VGA, dual-link DVI, DisplayPort, and mini-DisplayPort inputs. It has a DisplayPort output for daisy-chaining devices, as well as one upstream USB 3.0 port and four downstream USB ports (two on the back and two on the left side of the display).
It's a little disappointing that the monitor does not have built-in sound capabilities, but not really. The fact of the matter is most sound-enabled monitors suck, and I would opt to use my much higher quality external sound system anyway. It does have an audio output so you can connect a Dell Soundbar or other external speakers to the monitor.
The monitor is not cheap. It costs $600 direct from Dell, or $530 from Amazon. If you compare it to the cost of acquiring two separate monitors of equivalent size (the display height–not the ultra wide width) and capabilities, though, the price tag for the u2913wm doesn't seem unreasonable.
I appreciate having a dual-monitor capability in a single-monitor configuration, and there is no way in hell I'm going back to the Acer G236HL. I plan on buying one of these bad boys for myself, and if you've been coveting a dual-monitor setup yourself you should check this monitor out.