Aug 22 2013 10:48AM GMT

Profile: Tony Bradley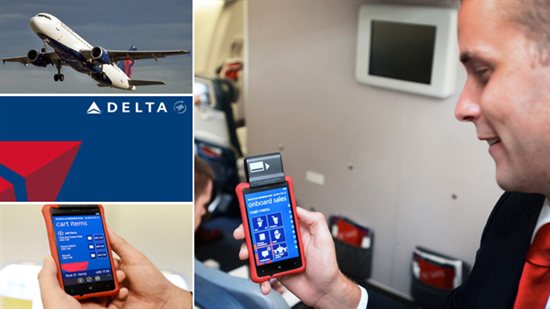 Delta Airlines announced today that it's equipping its 19,000 flight attendants with Windows Phone devices. The Nokia Lumia 820 handsets will be in use effective today for completing in-flight purchases.
Delta Airlines–named by Fortune magazine as the most admired airline worldwide in its 2013 World's Most Admired Companies airline industry list for the second time in three years–gets more than 160 million passengers from Point A to Point B every year. Perhaps that accolade has something to with Delta's drive to embrace innovative technologies. Delta has also revamped its self-service kiosks, and provides its Fly Delta app for iPhone, Windows Phone, Android, and BlackBerry smartphones, as well as for the Apple iPad. Delta offers in-flight Wi-Fi on more than 800 of its aircraft.
A Microsoft blog explains that Delta Airlines is embracing a Microsoft-centric solution as a part of a fleet-wide upgrade to improve the in-flight experience for passengers. "These in-flight, Wi-Fi connected devices will leverage an Avanade point of sale (POS) experience on the Microsoft Dynamics for Retail mobile point-of-sale platform."
The Windows Phone smartphones will be used for more than just point-of-sale transactions, though. Flight attendants will be able to take advantage of the Windows Phone Live Tiles for immediate access to information such as passenger manifestos, frequent flyer details, connecting gate information, flight attendant schedules, local weather, and more. The integration with Microsoft all also enable flight attendants to access their email from the Lumia 820 devices.
I don't often make in-flight purchases. I figure the airline has nickel-and-dimed me enough before I even step on the plane: "Thank you for traveling with us. Will you be bringing clothing on your trip? Very well, that will be an additional $25. Would you like to have two inches of extra legroom? Great, that will be an extra $40. Oh! You have a second bag of clothing? That will cost you $35 more."
So, yeah. By the time we're at 30,000 feet and they want to sell me a miniature can of Pringles I'm not really interested. But, good to know that if I choose to buy any over-priced goods while flying on Delta Airlines, the flight attendants will be equipped to streamline that process thanks to Windows Phone and Nokia Lumia 820 smartphones.