Sep 13 2013 10:15AM GMT

Profile: Tony Bradley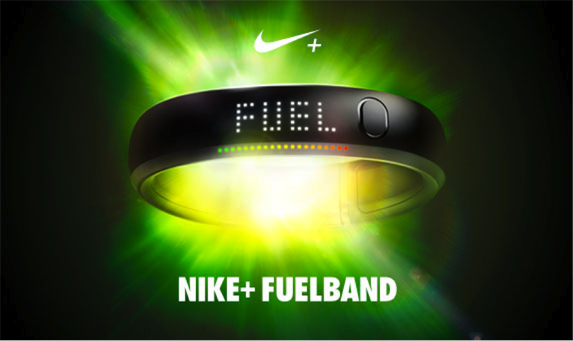 It seems like everywhere you go these days, people are walking around with some sort of a high-tech bracelet to monitor their activity and track their fitness. There are plenty of options available–FitBit, Nike FuelBand, Jawbone UP, Shine, and more.
I've had an opportunity to spend time with the Nike FuelBand and the Jawbone UP. So, here are my thoughts on these two devices, and how they compare with each other.
Nike FuelBand
The Nike FuelBand is a hard, rubberized plastic device. It has just enough flexibility to let you snap it on your wrist, and it includes two extension pieces you can use to adjust the size if you have a larger wrist.
The Nike FuelBand tracks four  things: Fuel, Calories, Steps, and Time. Steps is a simple pedometer function based on your motion, and the height you enter into your profile. Calories takes your height and weight and applies it to your motion data to guesstimate how many calories you've burned. Time is…well, it's the time. Basically, it makes the Nike FuelBand double as a watch.
Fuel is the most useful, and most confusing of the functions. Fuel is an arbitrary measure of your overall activity based on some arcane Nike algorithm. It's hard to say what it actually measures, or what it actually means. However, you can figure out what's average for you, and you can compare that with what's average for others, so it serves as a reasonable tool for measuring activity from that perspective.
The Nike FuelBand is water resistant, but not waterproof. It's not recommended for showering, and should not be used when swimming. So, if you go spend an hour swimming laps, you will have a significant amount of physical activity that is not registered by the FuelBand. Unfortunately, Nike doesn't offer any way to manually enter activities to try and fill in those gaps.
One of the best things about the Nike FuelBand is the gamification and social interaction aspects. You can set goals, and track your progress against milestones. You can add your Nike-using buddies and see how you stack up against each other, and you can share your activity and achievements across Facebook, Twitter, and Path.
There is a Nike FuelBand app for the iPhone. You can connect wirelessly via Bluetooth by holding down the button on the FuelBand until the word sync appears.
The Nike FuelBand is $182.99 at Best Buy.
Jawbone UP
The Jawbone UP is more flexible than the FuelBand. Instead of latching shut, it coils around your wrist–with a slight overlap of the ends. The UP comes in a variety of colors, but I chose black, so in terms of aesthetics it's virtually identical to wearing the FuelBand.
Like the FuelBand, the UP tracks your motion to measure how active you are throughout the day. The UP has a few interesting features that make it more holistic than the FuelBand. For example, you can also enter the things you eat and drink into the UP app so you can track your diet and calories in more detail than the vague measure of calories burned offered by Nike.
One advantage for the UP is that it has both iOS and Android apps–and the UP app provides greater detail than the FuelBand. It breaks down the total time you've been active, the longest period you were active, and the longest period you were inactive. You can set an alarm to buzz the UP after a certain period of inactivity to remind you to get moving if you've been sedentary for too long.
The UP also monitors your sleep to make sure you're getting enough rest, and it can be used to set an alarm that also monitors your sleep pattern to wake you when you're body is ready to wake–within a given range of your designated alarm time. The UP doesn't have a speaker, so the alarm is inaudible. It simply vibrates when it's time for you to wake up.
There are two downsides, in my opinion, for the UP (no pun intended). First, the UP itself does not provide any feedback. There is a light that lets you know if its in day or night mode, but no way to see any of the information being tracked from the band itself. The second is that there is no wireless syncing. In order to sync the device with the app you have to remove a cap from one end and plug it in to the audio jack on your mobile device. Jawbone supplies an adapter that lets you connect the audio jack to USB to sync with your PC.
The Jawbone UP is $129.99 from Best Buy.
The Verdict
I really love the scope of information, and the detail provided by the Jawbone UP. Ultimately, though, I chose to stick with the Nike FuelBand as my primary device. There are two main reasons for my decision. 1) It provides feedback at the push of a button on the device itself, and 2) It syncs wirelessly with the Nike FuelBand app on my iPhone.
The Nike FuelBand isn't as comprehensive in the scope of the activities and metrics it keeps track of, and Nike Fuel Points seems like a confusing and arbitrary measure of activity. But, once you establish your baseline–how many Nike Fuel Points you accumulate on an average day–you can simply compare your days to your average to determine if you had a bad day, a good day, or a great day.
While the more rigid design takes a little more getting used to, I also found the Nike FuelBand to be more comfortable in the long run because the Jawbone UP seemed to stretch or get looser over time.
You can't ignore, though, that the UP provides a much more comprehensive assessment of your overall health for more than $50 less than the FuelBand. Of course, fitness-enabled smartwatches may soon replace dedicated wearable fitness devices, and the new iPhone 5S with its M7 motion coprocessor could replace the need for separate fitness technology for iPhone users.
Ultimately, the information is only valuable if you put it to use. Wearing a device that tracks your activity (or inactivity) just so you can look at it and go "Huh, I guess I didn't move much today" won't do much for your health and fitness. None of the wearable fitness tech options is magic. You still have to have the discipline and put in the effort to improve your health and be fit.