Apr 24 2013 2:03PM GMT

Profile: Tony Bradley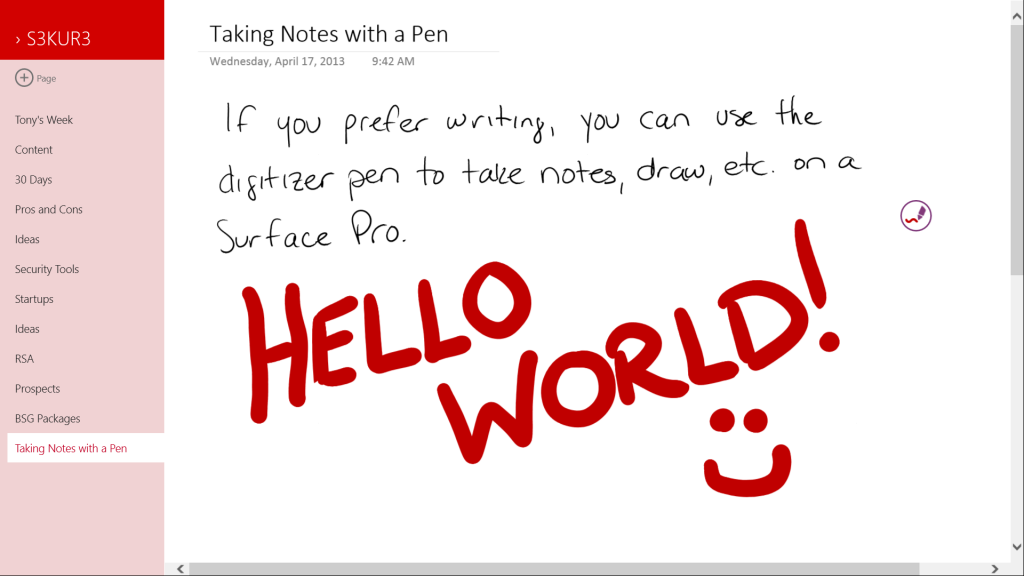 One of the benefits of the Surface Pro is that it comes with a digitizer pen. I'm generally not a fan of the stylus or pens as an input device, but for Day 22 of the 30 Days with Surface Pro series, I work with the pen to see how it impacts the Surface Pro experience.
I'm the first to poke fun at the Samsung Galaxy Note "phablet"–both because it's too grotesquely large (in my opinion) to function as a smartphone, and because I don't approve of the stylus. It does allow for more precise pointing, but it's also something you can lose or misplace, and I don't generally have any problem pointing at stuff just using my finger.
The digitizer pen is different, though, because it is not a simple pointing device. The digitizer display of the Surface Pro detects it when the pen is near the screen, so you can use it as a pointing device to navigate the cursor on the screen like using a mouse. It also has a button you can click that lets you select things to drag them, or access right-click contextual menus. Basically, it's a stylus on steroids.
Even with that, though, I'm not entirely convinced of the value of the digitizer pen for the Surface Pro. So, I had to spend a day using it to figure out if it actually enhances the Surface Pro experience, or provides any worthwhile value.
Check out Surface Pro, Day 22: The pen is mightier than the finger for more on my experience.