Jul 25 2013 4:10PM GMT

Profile: Tony Bradley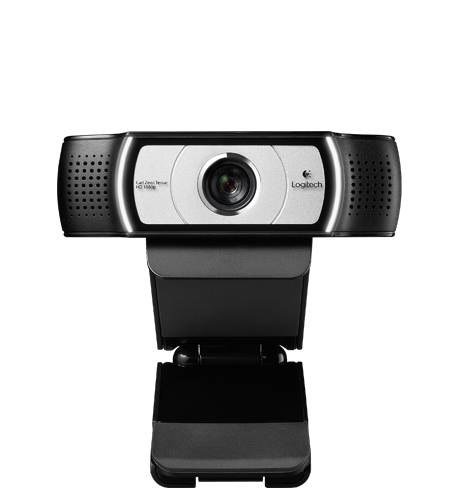 A webcam is a webcam is a webcam. That is what I thought because for years that has been my experience, more or less.
I have had webcams from both Microsoft and Logitech. I have used webcams on various laptops, smartphones, and tablets. I've always found them all to be relatively equal in terms of both quality and capabilities. Then, Logitech sent me a new toy to play with: the c930e webcam.
The image quality, and the smoothness of motion displayed through the webcam were both immediately, and noticeably better. My teen son walked in while I was playing with the new webcam shortly after setting it up, and his reaction was, "Whoa! Is that from your webcam?"
In terms of the look and feel of the device itself, it's not really different than other Logitech webcam models. In fact, it's almost identical–albeit slightly shorter from top to bottom–as the Logitech webcam I was already using. It has the standard-issue articulating arm that lets you set the webcam on a table by itself, or prop it at whatever angle works best, perched atop the monitor–which is where I have the c930e placed.
Logitech designed this camera with unified communications and online collaboration in mind. The c930e product page on the Logitech site claims it's the "First 1080p HD webcam to support H.264 with Scalable Video Coding and UVC 1.5 encoding technology." That's basically a bunch of tech-talk for, "It's got high-definition video streaming that will blow your mind."
It can record in full 1080p HD at 30 frames-per-second. I found the autofocus to be quicker than what I'm used–easily adjusting on the fly as I move while talking–and it also includes Logitech's RightLight 2 technology, which allows the camera to dynamically focus in low-light conditions.
The c930e also has a wider than average field-of-view. It can take in a full 90-degrees without the typical fish-eye effect associated with most wide-angle type lenses. The wide field-of-view is particularly useful if you're trying to work with people over the webcam and need to be able to show a whiteboard or chalkboard in addition to just your talking head.
The camera can be controlled through software (I downloaded the free Logitech Camera Settings app from the Mac App Store). It has 4x digital zoom, and you can pan and tilt using the software. For more advanced videographers, you can also switch to manual focus, and the software lets you control advanced settings like brightness, contrast, and white balance on your own if you choose.
Logitech didn't design this device with consumers in mind, so you won't find it at Best Buy or Amazon. It's offered through B2B channels such as CDW, PC Connection, and PC Insight for $125–give or take a few dollars.