Feb 28 2011 4:23PM GMT

Profile: Tony Bradley
I know that your Windows 7 PC just runs flawlessly 24/7, so you probably don't need this tip. But, I install and uninstall various tools, services and software all the time just to try them out. Some work great, while others are less than stellar and may cause conflicts that bog the system down.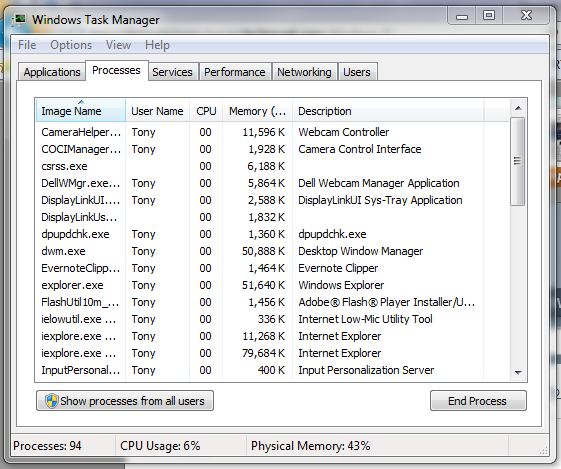 Regardless of the reason, if your Windows 7 PC seems sluggish or non-responsive, or you are experiencing any odd behavior, I suggest opening the Task Manager to see what's going on. You can get to the Task Manager a variety of ways. You can press Ctrl-Alt-Del and choose Start Task Manager from the available options. I prefer to just right-click on the taskbar at the bottom of the screen and click Start Task Manager.
The Applications tab of the Task Manager displays the applications that are currently active, and their current status. You can select applications that are not responding and click the End Task button to shut it down. In my experience, though, applications that are not responsive also don't respond well to the End Task request and require more drastic measures.
Click on the Processes tab to see all of the individual processes currently active. The Processes tab also displays what percentage of the CPU capacity each process is using, and how much RAM–and the bottom of the window shows the total number of processes currently running, how much total CPU capacity and RAM are in use.
The Processes tab is where I spend most of my time in Task Manager. By clicking on the top of the CPU column I can sort the processes by the amount of processor capacity they are using and identify any runaway processes that are hogging the CPU. I can then choose the offending process and click the End Process button–which has a much higher degree of success than the End Task button.
There is much more to Task Manager that we won't go into here right now. The Services, Performance, Networking, and Users tabs are also quite helpful, but we'll save those for future tips.