---
April 14, 2013 9:36 PM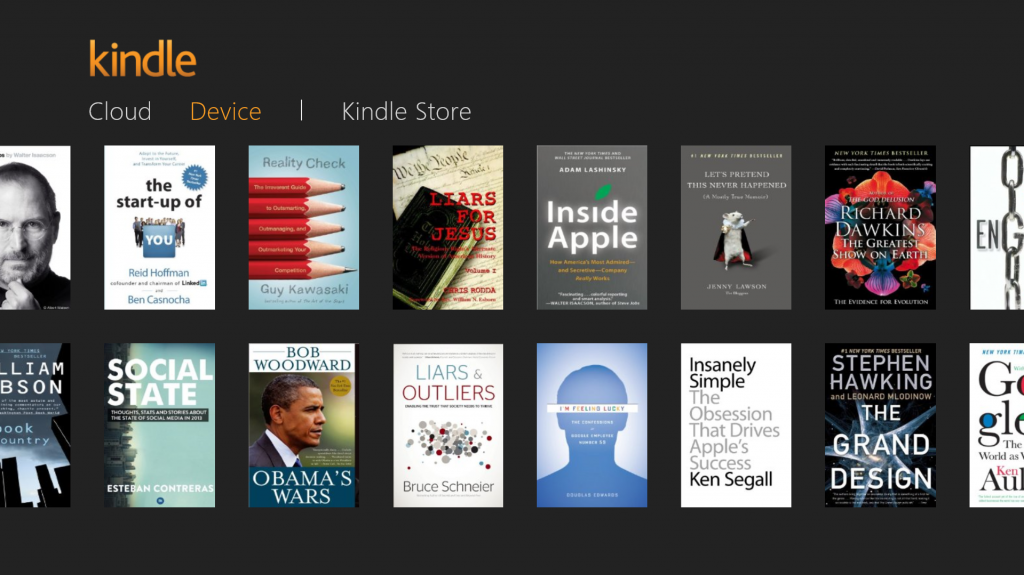 Over the course of the 30 Days with Surface Pro series so far, I think I've managed to prove that the Surface Pro tablet can hold its own as a "desktop PC" when connected to an external keyboard, mouse (or touchpad), and monitor. Starting with Day 18, it's time to start checking out how the Surface Pro fares as a mobile device.
To be honest, even the iPad is a bit unwieldy for lengthy periods of one-handed reading. The iPad Mini (or other 7-inch tablets) is better, and the best choice for pure ereading is the Kindle Paperwhite. But, I'm not trying to find the best ereader, I'm trying to see how the Surface Pro functions as an ereader when the need arises.
Both Amazon and Barnes and Noble have developed ereader apps for the Windows 8 Modern / Metro interface. So, for Day 18 I take a closer look at how each of these apps works, and examine how the display resolution compares with other tablet options.
Read Surface Pro, Day 18: Using the Surface Pro as an ereader for more about reading your digital library from the Microsoft tablet.
April 11, 2013 9:31 AM
If you're a developer, it makes sense to go with the platforms that have the most traction. You have a much larger pool of potential customers with an iOS app, than you do with a BlackBerry or Windows Phone app.
That said, it would be a mistake to bet against Windows. The pool is so huge, that even a small success on Windows can be more lucrative than a grand slam on other platforms.
So, if you haven't already, you should take a look at developing Windows 8 apps. And, you should definitely check out the flowcharts in this post to help you determine the best possible revenue model to help you make money from your efforts.
You should also read 11 Ways to Make Money Developing Windows Store apps.
---
April 10, 2013 8:53 AM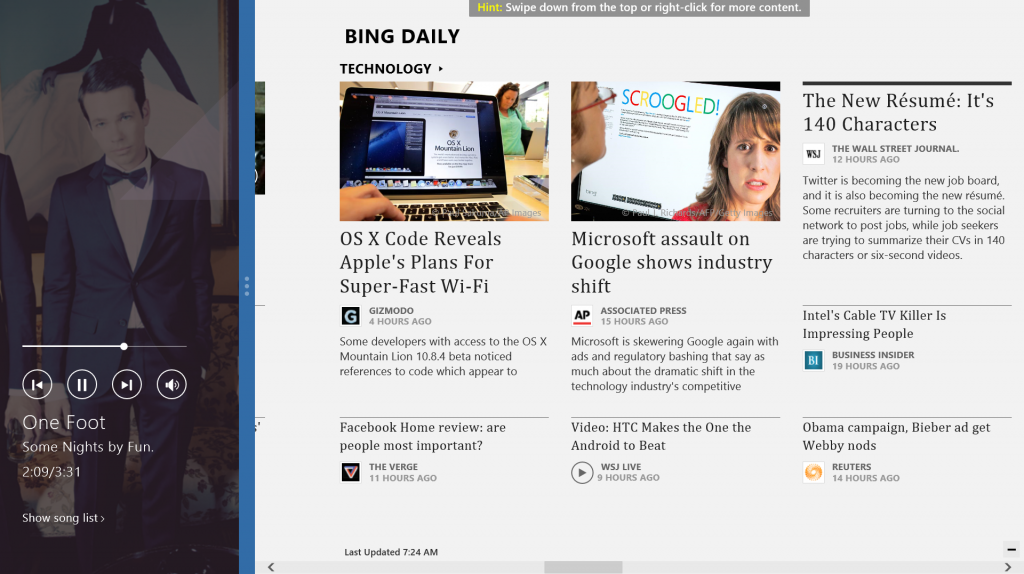 A short while ago, I wrote about multitasking on a Surface Pro. For Day 17 of the 30 Days with Surface Pro series, I take a closer look at how Windows 8 and the Surface Pro deal with split screen, and reconsider my position a bit.
One of the most important aspects of multitasking on a Surface Pro–or Windows 8 in general–is the ability to use more than one app side-by-side at the same time. In desktop mode, Windows 8 looks and acts exactly like Windows 7–including the Aero Snap feature that lets you maximize, minimize, or snap a window to the left or right half of the display.
The Windows 8 Modern / Metro interface has its own version of split screen, but it divides the screen real estate 75/25 rather than in half. That makes sense when I'm using the limited display on the Surface Pro itself, but when I'm sitting at my desk, with the Surface Pro connected to a 23-inch monitor, it would be nice to have more flexibility for how to split screen.
Read Surface Pro, Day 17: Changing my mind about Windows 8 split screen for more details.
---
April 9, 2013 3:12 PM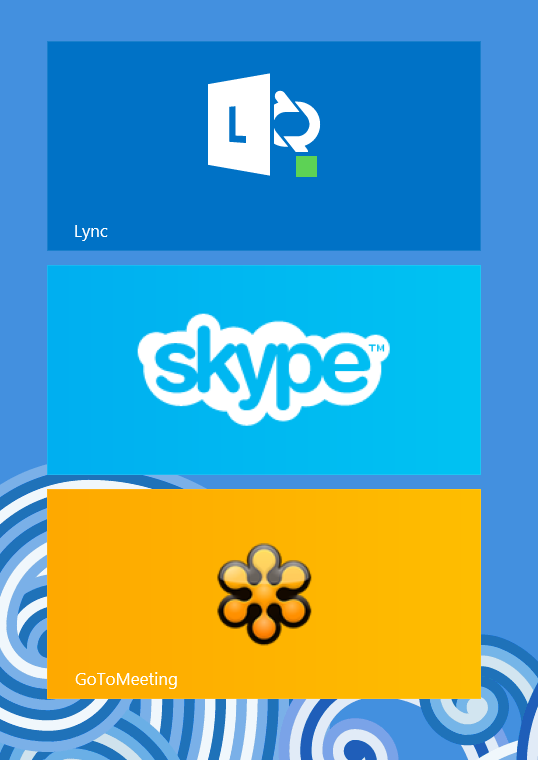 Day 16 of the 30 days with Surface Pro series focuses on video chat and video conferencing from a Surface Pro. I looked mostly at Microsoft's Lync and Skype apps, but I also delve into third-party video conferencing tools like GoToMeeting and WebEx.
One of the primary benefits of mobile computing is being able to work from home, or Starbucks, or wherever you feel like working. As long as you have a connection to the Internet, you can get things done. Sometimes, though, you need to speak with people "face to face"–and that's where video chat and video conferencing comes in.
I like the Microsoft apps–Lync and Skype. I find the overlap a tad annoying, though. Both tools do essentially the same thing in almost the exact same way. Microsoft should phase out Lync and just use the reputation and brand recognition of Skype as its video chat, VoIP, and instant messaging platform.
For more, read Surface Pro, Day 16: Video chat and conferencing.
---
April 5, 2013 8:58 AM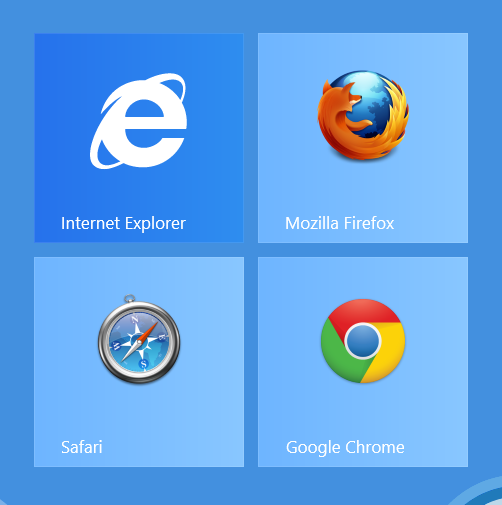 The browser is one of the most–if not THE most–used applications on the PC. For Day 15 of the 30 Days with Surface Pro series, I'm checking out the different browser options in Windows 8 to see which one I should use as my default browser on the Surface Pro.
Internet Explorer 10 is installed by default in Windows 8. I downloaded and installed Firefox, Chrome, and Safari as well. Browser choice elicits impassioned responses from ardent supporters of specific browsers, but the truth is it's very subjective.
The speed at which pages load typically varies by milliseconds and isn't worthy of debating for practical purposes. It really comes down to the look and feel, and choosing the browser that seems the most comfortable and intuitive for you. Opinions vary in this department, so one person might love Firefox, while the next hates Firefox and loves Chrome.
That, however, is not the biggest deal. The weird thing I found is that some of the browsers act differently in Windows 8 depending on whether you're in the Windows 8 Modern / Metro interface, or in desktop mode, and that the behavior can change depending on whether or not the browser is designated as the default.
Read Surface Pro, Day 15: Bizarre browser behavior for more about the odd ways browsers act in Windows 8.
---
April 3, 2013 1:05 PM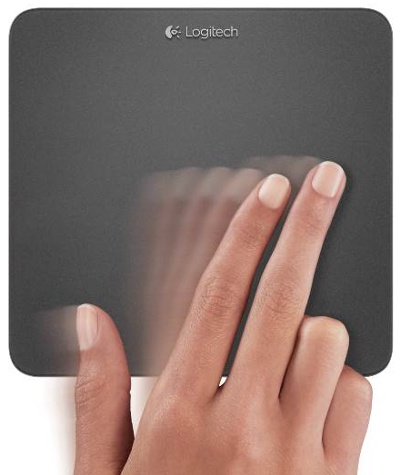 Windows 8 is designed to be a touch-based operating system. For Day 14 of the 30 Days with Surface Pro series, I am making the switch from a mouse to a Logitech t650 touchpad that provides a more native touch experience.
After a small initial learning curve, I never had any problem getting around Windows 8 using a mouse. Using a touchpad, however, is a more natural way of interacting with Windows 8, and provides a more consistent experience whether I am sitting in my office using the Surface Pro as a "desktop PC", or on the go using the Surface Pro as a tablet.
I prefer touch anyway. I bought a 23-inch touch-enabled monitor. Then I discovered that there's nothing natural about reaching across my desk to tap or swipe the monitor. A touchpad, on the other hand, sits right next to my keyboard within easy reach of my hands so I can work with it seamlessly.
Read Surface Pro, Day 14: Ditch the mouse, get a touchpad for more about making the switch from mouse to touchpad with a Surface Pro.
---
April 3, 2013 8:10 AM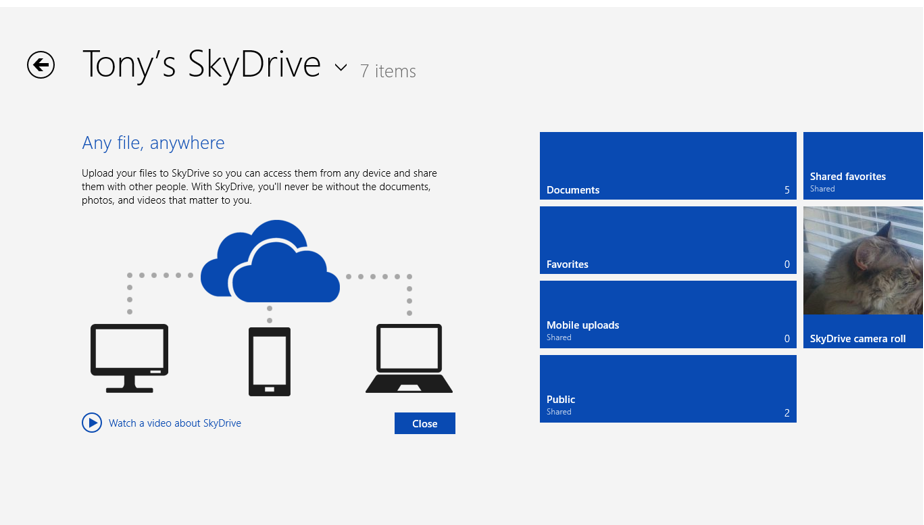 It's been a long (very long) time since I've tried to run any version of Windows on a PC with less than 512GB of space on the local hard drive. The Surface Pro I'm using has only 128GB of storage capacity, so Day 13 of the 30 Days with Surface Pro series focuses on how to get around that limitation.
The Windows 8 operating system and pre-installed apps use up some of the local storage. So, right out of the box, the 128GB Surface Pro only has about 80GB of space available, and the 64GB Surface Pro has an anemic 20GB or so left. My music collection alone uses more than 80GB of space, so the small drive is a problem for me even before I start trying to install software like Microsoft Office.
Thankfully, there are a few options available. I can invisibly boost the local storage by 50 percent using a microSD memory card. I can add USB thumb drives or external hard drives. I can also use cloud storage like SkyDrive, or Box. Each of these methods has pros and cons, though, so which one makes sense depends in part on how much space you need, how much money you want to spend, and how you plan to use the Surface Pro.
Check out Surface Pro, Day 13: Dealing with limited storage capacity for more about how to use a Surface Pro comfortably well beyond its local drive capacity.
---
March 29, 2013 10:29 AM
So, I'm using Windows 8 on a Surface Pro, and I notice there's no Start button. How am I supposed to shut down Windows without a Start button? The answer is the Charms Bar, and Day 12 of the 30 Days with Surface Pro series takes a closer look at the features and capabilities of this Windows 8 tool.
To be honest, I never shut down Windows. That's what Sleep mode is for. But, if I wanted to do so, shutting down Windows through the Charms Bar is still a simple process. It involves more steps than Windows 7, but after you do it a couple times it becomes second nature and you'll never really notice.
The Charms Bar is about way more than just shutting down Windows, though. There are five charms: Search, Share, Start, Devices, and Settings. The Charms Bar, and these five charms, are the hub fr doing just about anything you want or need to do in Windows 8. Spend some time familiarizing yourself with the charms, because your Windows 8 experience will be much more efficient and effective once you've mastered the Charms Bar.
Read Surface Pro, Day 12: Getting to know the Charms Bar for more about my experience and how to use the Charms.
---
March 28, 2013 9:34 AM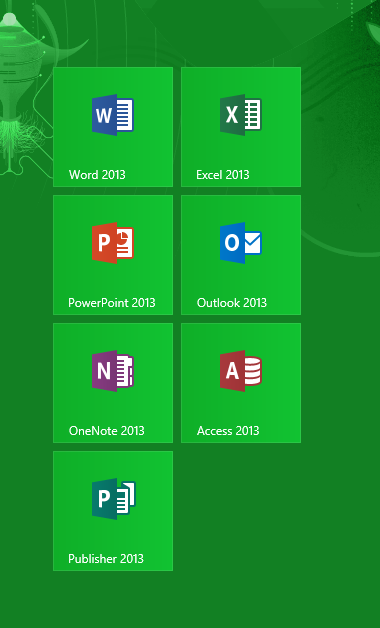 What's the one thing that makes Windows 8 tablets like the Surface Pro unique among the tablet competition? Microsoft Office. For Day 11 of the 30 Days with Surface Pro series I explore using Microsoft Office on the Surface Pro–both as a "desktop PC" and using the touchscreen interface of the tablet.
To be honest, using Microsoft Office while the Surface Pro is connected to an external mouse and monitor isn't really all that different from just using Microsoft Office on a Windows 7 PC. However, Microsoft has added some new tricks for Office 2013 to make it more "touch-friendly", and some of the Office tools–like OneNote and Lync–have apps developed specifically for the Windows 8 Modern / Metro interface.
With every other tablet and smartphone I've used, finding an adequate tool to replace Microsoft Office is one of the biggest challenges. There are a few options out there, and there are Web-based productivity suites as well. All of them have their strengths, and they do OK for lack of something better, but the compatibility and file fidelity with Microsoft Office is often questionable, and I've never found one I like as much as just using Microsoft Office.
I don't agree that Microsoft should hold Microsoft Office hostage as some sort of blackmail to lure customers to Windows, but that is the situation for now, and I have to admit it probably would sway my purchasing decision.
Read Surface Pro, Day 11: Using Microsoft Office on a Surface Pro to learn more.
---
March 27, 2013 9:24 PM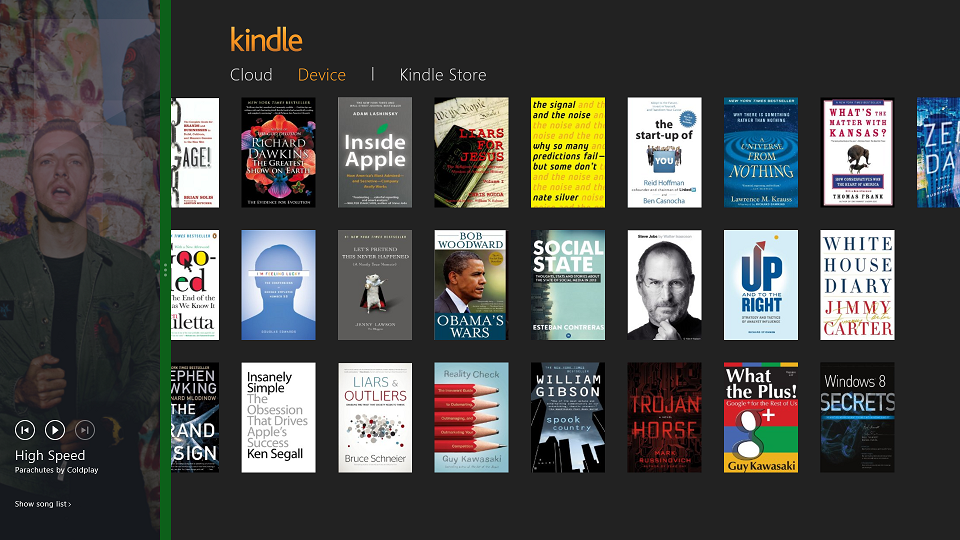 Most mobile devices are capable of some form of multitasking, but not many can do it as well as an actual Windows PC. Well, the Surface Pro is an actual Windows PC, so for Day 10 of the 30 Days with Surface Pro series I dig into its multitasking capabilities, and see how well it performs and how efficient it is at running more than one program simultaneously.
The desktop mode of Windows 8 is essentially identical to Windows 7, so there isn't much to get used to there. But, using multiple apps at the same time, and navigating between all of the apps currently open is a different story in the Windows 8 Modern / Metro UI. It's not as functional as a traditional Windows 7 PC, but way more so than other tablets or smartphones. There are some conventions that take a little getting used to, though.
Read Surface Pro, Day 10: Multitasking on the Surface Pro for more details.
---