---
May 3, 2013 8:47 AM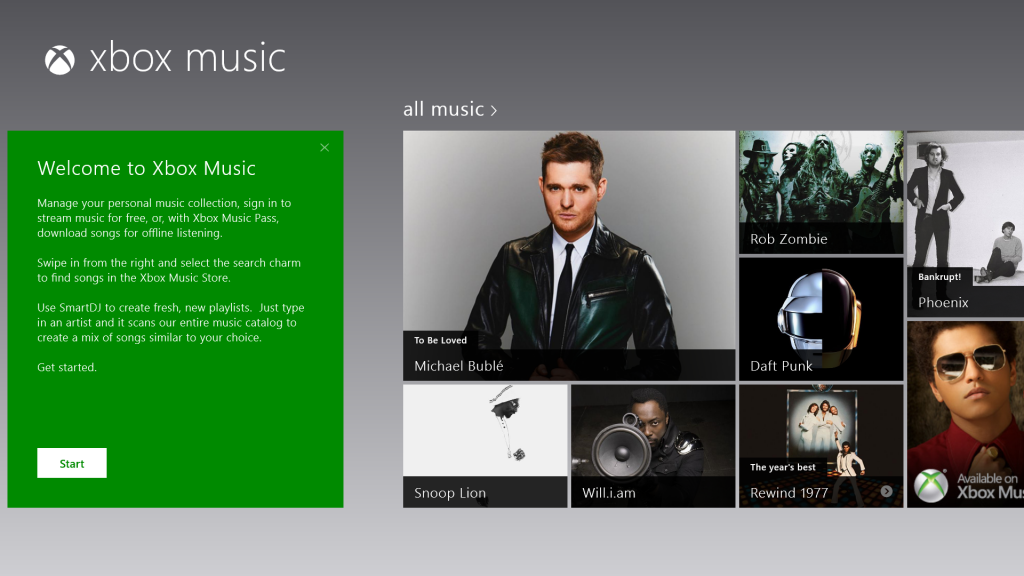 One of the elements that seems to be woven throughout the Surface Pro experience is Xbox. The Xbox brand has transcended its gaming console roots, and now permeates every aspect of a more comprehensive entertainment experience. For Day 27 of the 30 Days with Surface Pro series, I am examining the different facets of Xbox in Windows 8 on the Surface Pro.
I'm a fan of Microsoft in general, but I have to admit that it often seems like one business unit has no idea what the next business unit is doing, and Microsoft frequently drops the ball on branding and marketing. I'm sure Microsoft did focus groups and consumer surveys of some sort to make its decision, but in my opinion it would have made more sense to maintain the Zune brand and expand its scope to incorporate all things entertainment. I do, however, see the logic of killing the brand perceived to be flailing, and instead extending the reach of the successful gaming platform that's already in everyone's living room, and connected to everyone's television to provide broader entertainment options.
Even on the Xbox console itself, games are no longer the sole–or sometimes even the primary–focus. Xbox has been transformed into an entertainment hub rather than a gaming console, and that Xbox brand has been integrated into Windows 8 and the Surface Pro. The Windows 8 Music app opens Xbox Music, the Video app opens Xbox, and the Games app opens Xbox Games. If you add the Xbox SmartGlass app you can add a second-screen that enhances SmartGlass-enabled games and movies to provide a more interactive and immersive experience.
Check out Surface Pro, Day 27: The Xbox factor for more about how Xbox enhances entertainment on the Surface Pro tablet.
May 3, 2013 8:14 AM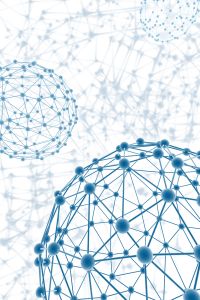 The Web used to be just one more thing you do on a PC, and the browser was just one more application. It has evolved now, though, to become the central hub of productivity and computing activity–on the PC, on smartphones, and on tablets. An attacker who wants to target the largest possible pool of potential victims will try to use the browser as the entry point.
I recently wrote a white paper about the risks and concerns of browser security, and how a free tool from Qualys–BrowserCheck–can help you manage that risk and minimize your exposure to attack. Here is an excerpt from the paper:
Whether you're using Internet Explorer, Firefox, Chrome, or Safari, the major Web browsers all have systems in place to automate keeping them up to date. Some businesses prefer to manage the process rather than letting the browser update itself to avoid any potential conflicts or disruptions, but even in those situations they do a fair job at patching and updating the browser itself.

The problem is that there are other elements associated with the browser that may be forgotten or overlooked. As the browsers themselves have adopted more proactive patching and updating practices, the battle lines have shifted, and attackers have focused their efforts on new targets.

Vulnerable add-ons, extensions, and plug-ins may get lost in the shuffle and provide an Achilles heel attackers can use to compromise PCs. High profile browser plug-ins, such as Java or Adobe Flash are frequently the weak link in browser security, but more obscure add-ons are even less likely to be properly maintained and updated.

Qualys found that 82 percent of the systems it monitored have Java installed, and that more than a third of those systems have a vulnerable, outdated version of Java. Adobe Flash was found on 67 percent of the tested PCs, and nearly a quarter of those were vulnerable.

Oracle and Adobe have been kept very busy in recent months, scrambling to deal with zero-day vulnerabilities being exploited in the wild. It seems as quickly as patches and updates are released, attackers start targeting a new unknown flaw and the cycle starts all over again.

Clearly, businesses and consumers need help to keep up with the frantic pace, and make sure these plugins and add-ons are patched.
To read the full white paper, click here: Keep your PCs safe while surfing the Web.
---
May 2, 2013 1:39 PM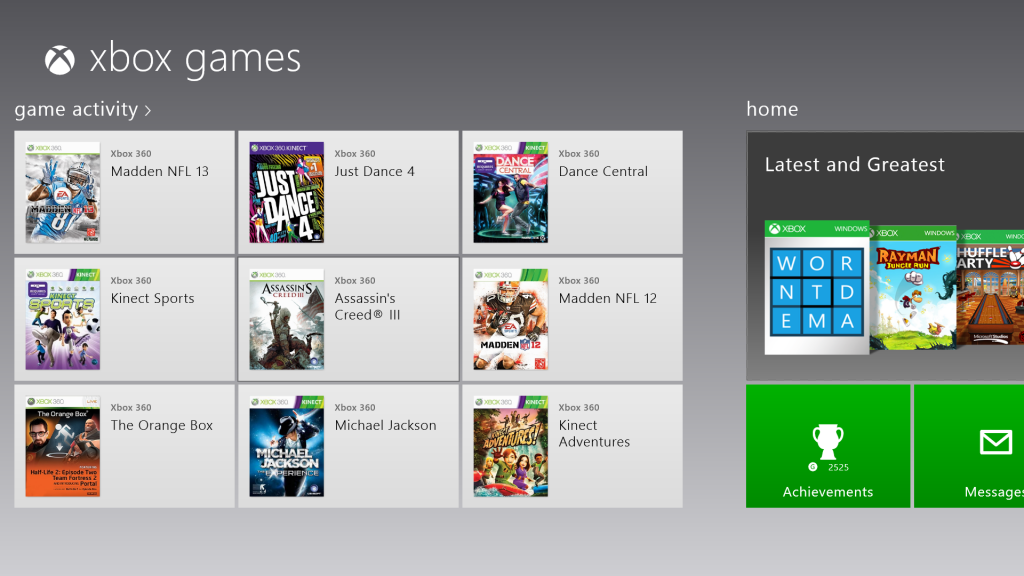 The Surface Pro is certainly no match for a dedicated gaming PC, but most people aren't hard-core gaming devotees. So, the question I seek to answer for Day 26 of the 30 Days with Surface Pro series is simply how well the Surface Pro handles gaming in general.
I used to do a lot more gaming on my PC. I blame Electronic Arts for my waning interest in PC gaming. My primary driving force when it comes to gaming has always been Madden Football, and EA decided a few years ago to pull the plug on the PC version–forcing me to spend more time with my Xbox 360 and less time with my PC. I've also been a long-time aficionado of flight simulator games, but it seems like the options for those has become quite limited as well.
My "gaming" on my PC or mobile devices lately has been confined to things like Angry Birds and Tetris. But, my teen boys have migrated the other direction–spending less time on the Xbox, and more time with PC gaming, especially games available through Valve Software's Steam.
I deferred to my kids for Day 26, letting them spend some time playing games on the Surface Pro and reporting back to me. They have pretty high standards when it comes to graphics quality and the frames per second that games are capable of playing at. I had my doubts that the Surface Pro could stand up to their lofty requirements at all, which is why I let them be in charge of assessing the Surface Pro as a gaming platform.
Check out Surface Pro, Day 26: Gaming on the Surface Pro to find out more.
---
May 2, 2013 1:20 PM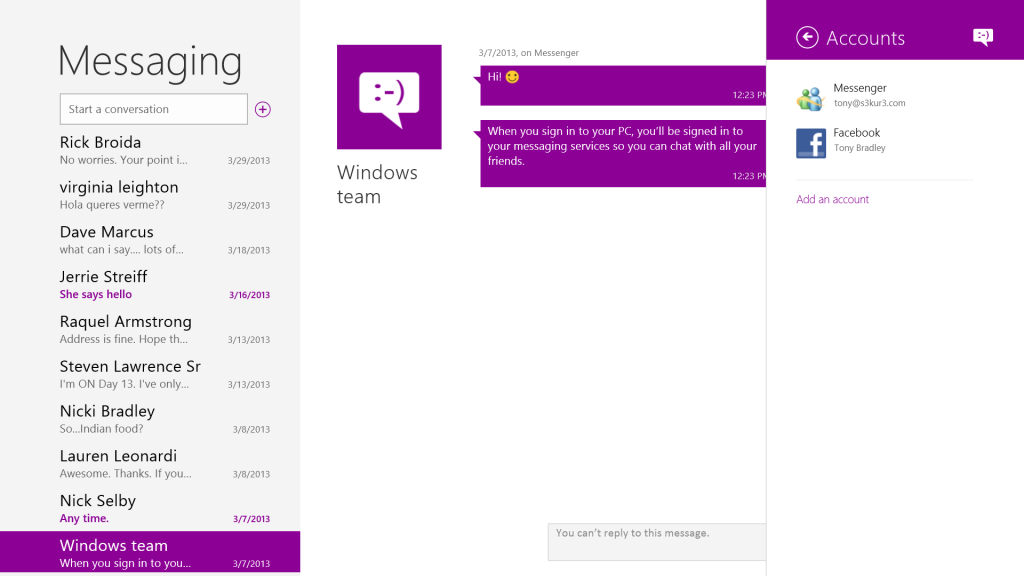 Instant messaging is a primary method of communication these days. Many people text from their smartphones way more than they place or receive voice calls, and on PCs people use instant messaging services to chat in real-time. For Day 25 of the 30 Days with Surface Pro series, I spent some time with the Windows 8 Messaging app, and explored other instant messaging apps for the Surface Pro.
The Messaging app in Windows 8 leaves quite a lot to be desired. I'm used to the Messages app in Mac OS X. It lets me connect with AIM (AOL Instant Messenger), Facebook chat, Google chat, and Apple's iMessage all from a single client. It's integrated with iMessage on my iPhone and iPad so I can even do "text messaging" from my MacBook Air. Suffice it to say that the Messaging app in Windows 8 has a lot of room for improvement before it's even in the same ballpark as the Mac OS X Messages app.
Of course, the Windows 8 Messaging app isn't the only option. There are other apps like Skype and Lync that also provide some sort of instant messaging capabilities, and there are third-party apps that provide a more comprehensive platform for instant messaging–connecting to multiple services like the Mac OS X Messages app.
The question is, are any of the options good enough? For more, read Surface Pro, Day 25: Instant messaging on the Surface Pro.
---
April 30, 2013 1:17 PM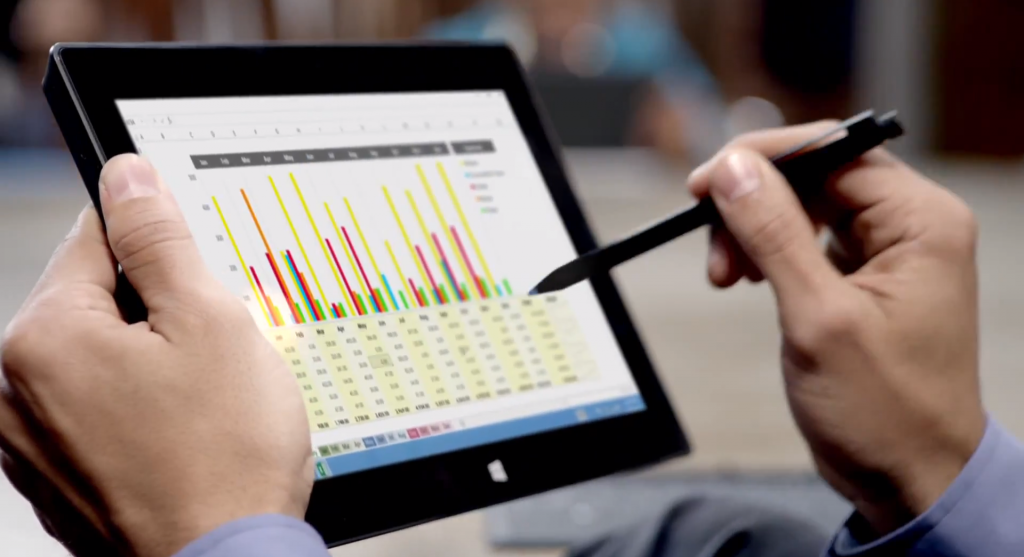 As hard as some companies may still be trying, the "bring your own device" (BYOD) trend can't be ignored. We've reached a point of critical mass where BYOD is mainstream, and it's simply become the standard for many employers. For Day 24 of the 30 Days with Surface Pro series, I examine how the Surface Pro tablet fits into the BYOD equation.
On the one hand, the Surface Pro seems like an ideal BYOD device. It's a full Windows 8 PC that can be connected to a Windows network domain, and managed via Active Directory and Group Policy, and it's a tablet that functions quite nicely as a mobile device at the same time. Users can easily drift between business and personal use–running business applications and performing productive tasks when necessary, or reading a Kindle book or watching Netflix on their living room couch.
There is one fatal flaw that may eliminate the Surface Pro from consideration as a BYOD tool for many users, though. Check out Surface Pro, Day 24: BYOD (Bring Your Own Device) for more thoughts on the Surface Pro as a BYOD device.
---
April 25, 2013 4:22 PM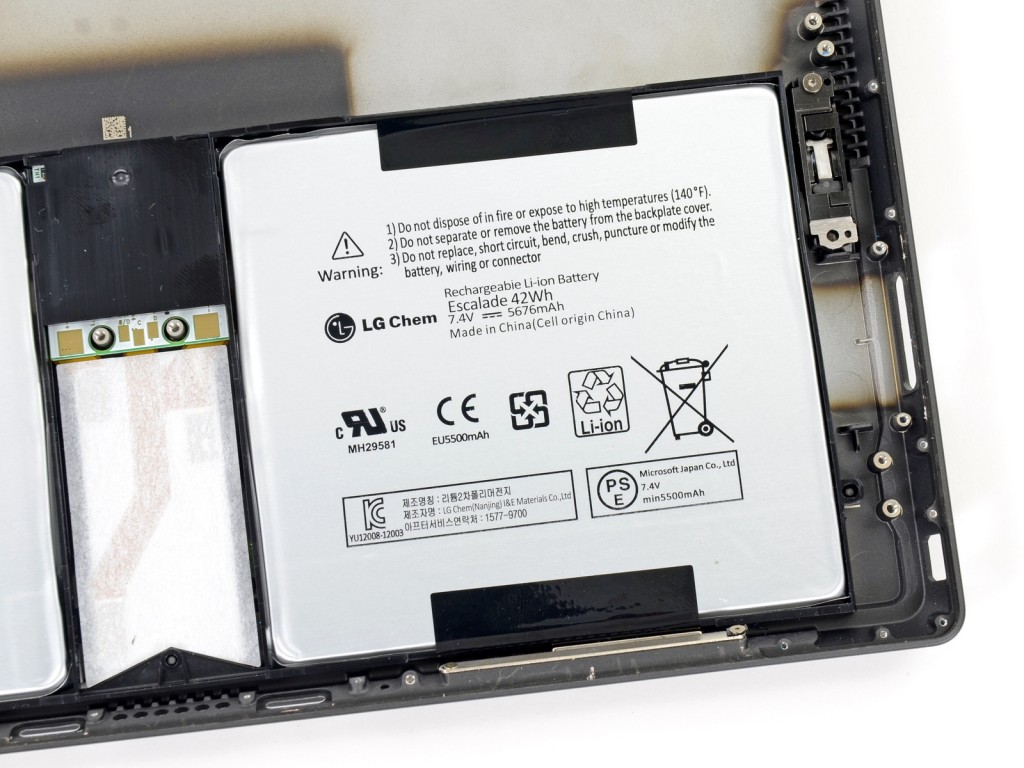 When the details of Microsoft's Surface Pro tablet first emerged, the one thing that stuck out the most–with the possible exception of the sticker shock from the price–is the seemingly poor battery life. For Day 23 of 30 Days with Surface Pro, I check out the endurance of the Surface Pro battery and find out how well it holds up in real life.
Tablets have excellent battery life. The Surface Pro is technically a tablet, so people expected it to have exceptional battery life. However, most tablets use ARM processors, while the Surface Pro has the same Intel guts as traditional desktop and laptop PCs, so it's a bit unfair to hold it to the same standard.
When it comes to battery life, the Surface Pro is really more of an ultrabook than a tablet. The ultimate question, though, is whether the Surface Pro delivers adequate bang for the buck. If it has the same insides, and runs the same operating system and software, and gets essentially the same battery life as ultrabooks that cost less, is it worth it? How much are you willing to pay extra just for the flexibility to also use it as a tablet?
Overall, my experience wasn't as negative as most of the initial reviews and media headlines make it sound. It's no iPad, but the Surface Pro has respectable battery endurance for the computing power it delivers. Read Surface Pro, Day 23: Battery life for more details about the Surface Pro battery.
---
April 24, 2013 2:03 PM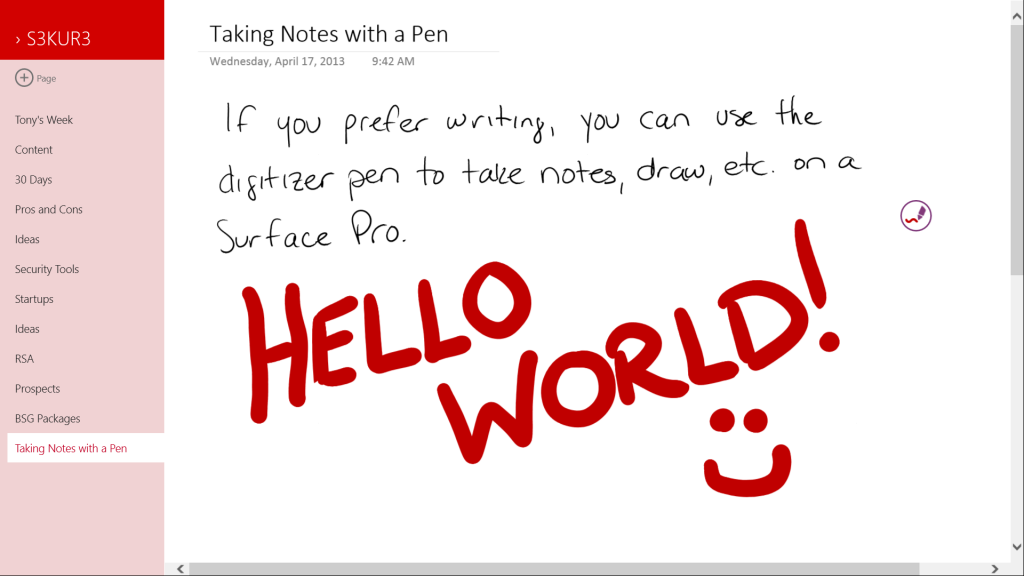 One of the benefits of the Surface Pro is that it comes with a digitizer pen. I'm generally not a fan of the stylus or pens as an input device, but for Day 22 of the 30 Days with Surface Pro series, I work with the pen to see how it impacts the Surface Pro experience.
I'm the first to poke fun at the Samsung Galaxy Note "phablet"–both because it's too grotesquely large (in my opinion) to function as a smartphone, and because I don't approve of the stylus. It does allow for more precise pointing, but it's also something you can lose or misplace, and I don't generally have any problem pointing at stuff just using my finger.
The digitizer pen is different, though, because it is not a simple pointing device. The digitizer display of the Surface Pro detects it when the pen is near the screen, so you can use it as a pointing device to navigate the cursor on the screen like using a mouse. It also has a button you can click that lets you select things to drag them, or access right-click contextual menus. Basically, it's a stylus on steroids.
Even with that, though, I'm not entirely convinced of the value of the digitizer pen for the Surface Pro. So, I had to spend a day using it to figure out if it actually enhances the Surface Pro experience, or provides any worthwhile value.
Check out Surface Pro, Day 22: The pen is mightier than the finger for more on my experience.
---
April 22, 2013 8:26 AM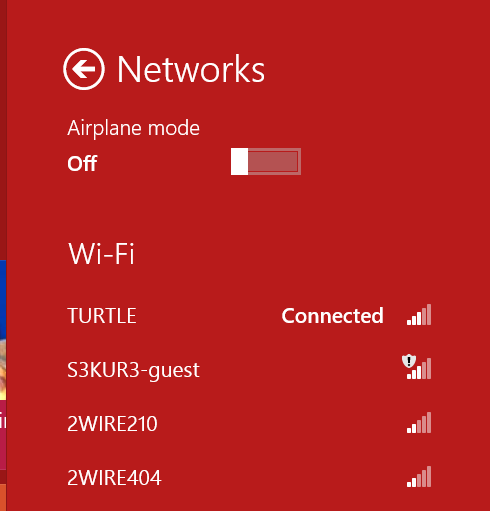 I devoted Day 21 of the 30 Days with Surface Pro series to connecting the Surface Pro tablet to the Internet–particularly when out and about using it as a mobile device.
I've already demonstrated over the first few weeks that the Surface Pro is perfectly capable of acting as–and replacing–a traditional desktop PC. Sitting at my desk, connected to a monitor, keyboard, mouse (or touchpad), and other peripherals, there is functionally no difference whatsoever between the Surface Pro and using my Dell XPS M1330 laptop in the exact same way.
When I take the Surface Pro on the road, though, and head out to explore the world with it, the experience changes obviously. One thing that doesn't really change, however, is connecting the Surface Pro to the Internet. The Surface Pro does not have an Ethernet port, so I have it connected to a wireless network whether I am sitting in my office, or sitting at a Starbucks, or using my iPhone 5 as a personal hotspot to connect the Surface Pro over 4G.
Day 21 dives a little deeper into the network settings, and how to go about connecting to different networks–and also takes a peek at enabling and disabling airplane mode. Read Surface Pro, Day 21: Getting connected for more about how to connect a Surface Pro to the Internet.
---
April 17, 2013 9:18 AM
Since I'm taking the Surface Pro show on the road and going mobile, Day 20 of the 30 Days with Surface Pro series is about the cool Touch and Type keyboard covers, which seem to be virtually synonymous with the Surface Pro.
I'll be honest. I don't really mind typing on the glass. It slows me down a bit, but my chief complaint is that the virtual keyboard uses up half of the display and doesn't leave me much room to work with. I'd have an issue with a physical keyboard as well if I had to set it on top of my monitor display.
I'm also not a fan, though, of the more notebook-like approach of the Samsung ATIV docking station. At first, I thought it was cool that I could turn the Windows 8 tablet into a legitimate ultrabook. But, then I had a thought–"What do I do with this docking station thing, if I'm hanging out at Starbucks and I just want to use the tablet as a tablet?"
The Touch and Type covers seem to be an effective way to provide a physical keyboard and protect the display of the Surface Pro at the same time. And, they're thin enough, and fold out of the way so they aren't an obtrusive burden when you want to use the Surface Pro as a tablet.
Read Surface Pro, Day 20: Touch and Type keyboard covers for more about the pros and cons of these keyboard covers, and which one I prefer to use.
---
April 16, 2013 10:27 PM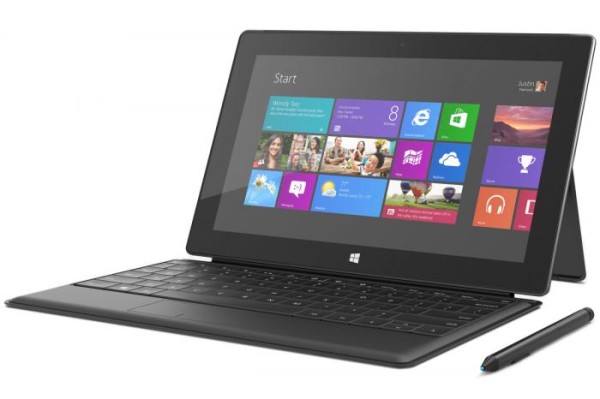 I've spent the vast majority of the 30 Days with Surface Pro series up to this point checking out how the Surface Pro works as a "desktop PC" when connected to an external monitor, keyboard, and mouse (or touchpad). Day 19 is the beginning of my exploration into using the Surface Pro as a mobile computer on the go.
On the one hand, the Surface Pro has a number of weaknesses as a tablet. It's thicker and heavier than it's counterparts–including the Surface RT. It runs hotter and louder (at times). The battery life is sorely lacking (I'll spend more time on that another day).
If the Surface Pro were just another tablet, it would be easy to dismiss it out of hand as an also-ran doomed to failure. But, it's not "just another tablet". The Surface Pro is a tablet that packs an Intel Core i5 processor, and 4GB of RAM, running the full Windows 8 operating system. It has a digitizer pen. It has Touch and Type keyboard covers that essentially turn it into an ultrabook.
Basically, the Surface Pro can "out-PC" any leading tablet out there, and it can "out-tablet" any traditional notebook or ultrabook mobile PCs. It's not the best tablet available, and it's not the best mobile PC out there, but it is the best at being both at the same time.
Read Surface Pro, Day 19: Let's take this show on the road for more details.
---