---
March 14, 2011 8:44 PM
Well, it's not here right this second, but it will be in just a couple short hours. Microsoft is officially unveiling Internet Explorer 9 tonight in Austin, TX at the South by Southwest (SXSW) event. At 9pm Pacific time / Midnight Eastern time tonight, the official release of Internet Explorer 9 will be available for download.
Internet Explorer 9 is not compatible with Windows XP, but if you are running Windows Vista or Windows 7, I highly recommend you download it and give it a spin. Even if you are an avid Firefox or Chrome user, there is no harm in installing IE9 and testing it out.
Internet Explorer 9 shifts the browser from a separate app to an integral part of the desktop experience. It is a culture shift from the traditional role of the browser. As PCWorld's Mark Sullivan puts it, "the main idea behind the IE9 is to get the browser out of the way of the content."
Check it out. And, don't just install it and surf to websites like you normally do. Really explore what IE9 can do and how it integrates with the OS. Pin some sites to your taskbar. Dig in and see what makes IE9 different, then let me know what you like about it, what you don't like about it, and whether you plan to stick with it, or whether you prefer a different browser–even if it's a prior version of Internet Explorer.
March 14, 2011 10:08 AM
Windows Phone 7 appears to be a very capable platform. The highly anticipated copy/paste functionality, though, may not be all it's cracked up to be according to initial feedback.
Tom Warren reports on the WinRumors blog that the copy/paste function in Windows Phone 7 is not easy to use–making it something that will just frustrate users and probably won't get much use. Warren explains, "I had troubles getting the copy dialog box to surface on multiple occasions and it seems to respond randomly to various means of tapping on the screen. Copying isn't always copying either, pictures do not copy despite being selectable. I tested copy and paste in native Windows Phone applications to ensure this wasn't an experience broken by a third party. All-in-all copy and paste feels rushed and like an afterthought from Microsoft, it could be a lot better."
Apple originally lacked copy and paste in iOS, and it already survived the user backlash and eventually implemented it. Microsoft–while it was sitting on the sideline–should have watched rival smartphone platforms and learned from their mistakes. Not including copy/paste at launch and claiming it will be added in an update is like introducing a new car without a seatbelts and letting users know that you plan to install them very soon.
Microsoft took a gamble by sitting on the smartphone sideline for so long while scrapping Windows Mobile and starting over from scratch to develop Windows Phone 7. The result is an innovative mobile OS that brings something new to the table rather than just offering yet another "me too" copycat version of Apple's iPhone, or iOS.
However, even after the long wait there are parts of Windows Phone 7 that seem unpolished, or just not finished at all. Maybe copy/paste version 2 will come in some future update and make things better.
---
March 9, 2011 3:01 PM
HP has revealed plans to include WebOS on all of its WIndows PCs in 2012. It is not a dual-boot scenario–more like some form of WebOS running on or within Windows to provide access to WebOS apps.
The move is similar to Apple's launch of a Mac OS X app store and inclusion of iOS-style app functionality within the desktop OS. For HP, bundling WebOS with Windows may be a stepping stone to eventually offering pure WebOS PCs without Windows.
The trend is also interesting because eventually the distinction between desktop OS and mobile OS will be gone. Right now, we have WIndows and Mac OS X on PCs, and we have iOS, Android, WebOS, and Windows Phone 7 on mobile devices likes smartphones and tablets. But, over time the line between desktop and mobile will blur and fade away completely and we'll end up with some sort of hybrid evolution combining the features of both platforms.
---
March 7, 2011 5:29 PM
The launch of Windows Phone 7 seems to be a relative success. It certainly didn't flop like the Kin social media phone Microsoft put out last year, and it has received a fair amount of critical acclaim in reviews for having an innovative approach to bring to market rather than just another iOS "me too" platform.
That said, the smartphone market is dominated by three players–Google Android, RIM BlackBerry, and Apple iOS, and Microsoft is swimming upstream to try and regain some of the market share it has lost as WIndows Mobile waned. What Microsoft needed was a smartphone manufacturer with the industry respect and production capacity to drive more significant sales.
Then, along came Nokia. A Nokia that has found itself floundering in the smartphone arena and looking for a winner as well. A Nokia now led by former Microsoft executive Steven Elop. A Nokia that could be "swayed" to embrace Windows Phone 7 for the right amount of cash–say $1 billion.
It remains to be seen whether the partnership will result in any success for either Microsoft or Nokia, but at least now Nokia has a fresh OS to focus on, and Microsoft has some production scale that might eventually enable it to compete on more even footing with the big boys. I don't expect WIndows Phone 7 to dominate these rivals, but if Microsoft engineers and markets it right, there is no reason it can't be a four-way race.
---
March 4, 2011 11:33 AM
Internet Explorer 6 was an awesome browser in it's day. It helped establish Microsoft's browser as the dominant leader among browsers, but it has outlived its usefulness. The time has come (actually the time already came a year or two ago) to kill IE6 once and for all.
The browser has been on a relatively steady decline, but nearly ten years following its initial launch it still holds the number three spot among browsers at 11 percent–even leading its successor IE7. The good news is that its share of the market has dropped from just under 18 percent just last April.
We are all rooting for the demise of IE6, and now we can monitor its progress into the grave. Microsoft has created The Internet Explorer 6 Countdown site, which tracks Internet Explorer 6 usage around the world (apparently China and South Korea are the major holdouts).
Check out the site. And, if you are one of those clinging to IE6–please download the IE9 RC, or at least upgrade to IE8.
---
March 4, 2011 11:12 AM
It has been over a year since Apple launched the original iPad. The success of that tablet has led virtually every other vendor out there to try to emulate it–with somewhere around 100 tablet variations currently in the works. Other than a few feeble attempts by vendors to cram Windows 7 onto a tablet, though, Microsoft has been conspicuously absent.
Even before the launch of the iPad, Steve Ballmer took a preemptive shot across Apple's bow in his 2010 CES keynote–demonstrating the HP Slate running Windows. Unfortunately, that device was delayed, possibly scrapped, and eventually did finally come to market–but has had anemic success at best. MSI and others have Windows-based tablets planned for this summer, but they too will have a very difficult time getting anything but a niche following when competing with the iPad 2, Motorola Xoom, BlackBerry PlayBook, or HP TouchPad.
One significant advantage that these other tablets have over a Windows tablet at this point is that they are built on operating systems that are designed for mobile devices. A tablet is a different mobile computing paradigm and it takes more than just cramming a desktop OS into a touchscreen flat panel.
Apparently, Microsoft is working on a tablet version of Windows, but rumor has it that we won't actually see it until the middle of 2012. By that time, Apple will be on at least the third generation iPad, and rivals like Motorola, Samsung, RIM, and HP will be moving on to second generation tablets. If Micosoft is going to show up to the tablet party that late in the game, it better come with a game-changing platform that revolutionizes the industry.
If the Windows tablet will just be another me-too copycat of the iPad, Microsoft should just not bother.
---
February 28, 2011 4:51 PM
Unless you have a dedicated IT administrator–or preferably a dedicated information security administrator–who performs the role of testing and analyzing new patches and updates prior to implementation, your patches and updates should be automated.
Large organizations have different needs, but home users, and most small and medium businesses should just have Windows 7 PCs set to automatically check for, download, and install any applicable patches and updates. That way, your Windows 7 system(s) will remain up to date without any manual intervention on your part.
Click Start — Control Panel — Windows Update, and select the link on the left side of the window that says Change Settings. The main setting you need to be worried about is the top one. Click the dropdown list and select "Install updates automatically (recommended)".
You can define how often Windows 7 should look for new updates, and what time of day to try and schedule the download and installation of new patches for a time when the PC is not actively in use. I have mine set for 3am.
Review the rest of the options as well. You can direct Windows Update to apply Recommended updates automatically in addition to the Important and Critical updates, and you can also check the box to receive updates for other Microsoft products in addition to Windows itself.
---
February 28, 2011 4:23 PM
I know that your Windows 7 PC just runs flawlessly 24/7, so you probably don't need this tip. But, I install and uninstall various tools, services and software all the time just to try them out. Some work great, while others are less than stellar and may cause conflicts that bog the system down.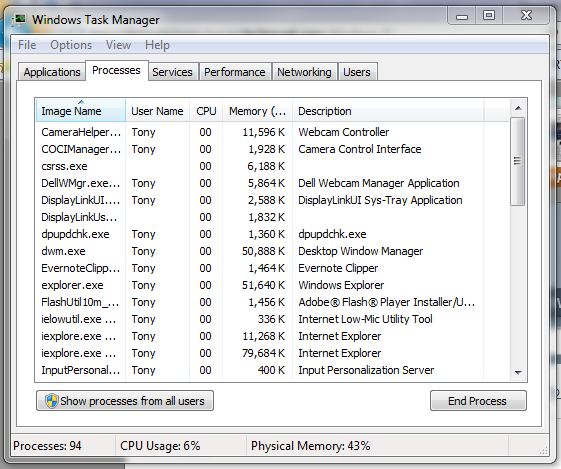 Regardless of the reason, if your Windows 7 PC seems sluggish or non-responsive, or you are experiencing any odd behavior, I suggest opening the Task Manager to see what's going on. You can get to the Task Manager a variety of ways. You can press Ctrl-Alt-Del and choose Start Task Manager from the available options. I prefer to just right-click on the taskbar at the bottom of the screen and click Start Task Manager.
The Applications tab of the Task Manager displays the applications that are currently active, and their current status. You can select applications that are not responding and click the End Task button to shut it down. In my experience, though, applications that are not responsive also don't respond well to the End Task request and require more drastic measures.
Click on the Processes tab to see all of the individual processes currently active. The Processes tab also displays what percentage of the CPU capacity each process is using, and how much RAM–and the bottom of the window shows the total number of processes currently running, how much total CPU capacity and RAM are in use.
The Processes tab is where I spend most of my time in Task Manager. By clicking on the top of the CPU column I can sort the processes by the amount of processor capacity they are using and identify any runaway processes that are hogging the CPU. I can then choose the offending process and click the End Process button–which has a much higher degree of success than the End Task button.
There is much more to Task Manager that we won't go into here right now. The Services, Performance, Networking, and Users tabs are also quite helpful, but we'll save those for future tips.
---
February 28, 2011 3:51 PM
When you set up a user account in Windows 7, it is automatically associated with an image. That image, which–by default–is selected from a pool of eclectic and diverse images that come with the operating system, is displayed in a little square as the avatar for the designated user account.
You don't have to accept the default selection. You can go to Start — Control Panel — User Accounts, and select the user account you wish to change. Then, click the link on the left that says "Change the picture".
If you're like me, you have changed the picture, but felt obligated to choose from the available options included with Windows 7. However, at the bottom of the collection of images is a link that says "Browse for more pictures". If you click this link, you can choose any image you like. You can choose a photo of yourself, or your kids, or the logo of your favorite football team–anything at all really.
Go ahead, give it a try. Put your own unique stamp on your Windows 7.
---
February 27, 2011 12:04 PM
I like to be environmentally-conscious and conserve energy. I own a Prius–that should count for something. But, some of the energy-saving "features" in Windows 7 are a bigger pain in the ass than they're worth.
For example, I do all of my work on a laptop. Generally, the laptop sits under a desk, connected to a full-size monitor, keyboard, mouse, and other peripherals, but on a fairly frequent and regular basis I take it out to work in the living room, or off to the neighborhood coffee shop.
After working in my living room, and preparing to return to the actual desk environment, I don't want the laptop to go to sleep–or worse, hibernate–just because I shut the lid. I need to be able to shut the laptop, and have it continue running while I reconnect it to the myriad of cables under my desk and prepare to be productive once again.
Thankfully, the problem of having the laptop sleep when you close the lid is easily remedied. Just follow these steps:
Click Start — Control Panel — Power Options (note: if your Control Panel is showing categories of tools rather than an alphabetical list, see my previous post about how to "fix" that)
In the left pane, click the link that says "Choose what closing the lid does"
You will see two columns of options–one for when the laptop is running on battery power, and one for the when the laptop is plugged in.
Go to the third row, labeled "When I close the lid" and set the option you prefer for each column. I have both set to "Do nothing".
Voila! No more sleeping or hibernating just because I shut the lid of the laptop. Yeah me!
Now, lest you think me some sort of power munching, polluting, environmental destruction machine, I will point out that Windows 7 also has a Power Plan which governs things like when to dim the display, turn off the display entirely, or put the computer to sleep in order to conserve energy. So, although my computer will not sleep or hibernate when I shut the lid, it will go to sleep after 30 minutes of idle time. So there.
---