May 2 2013 1:20PM GMT

Profile: Tony Bradley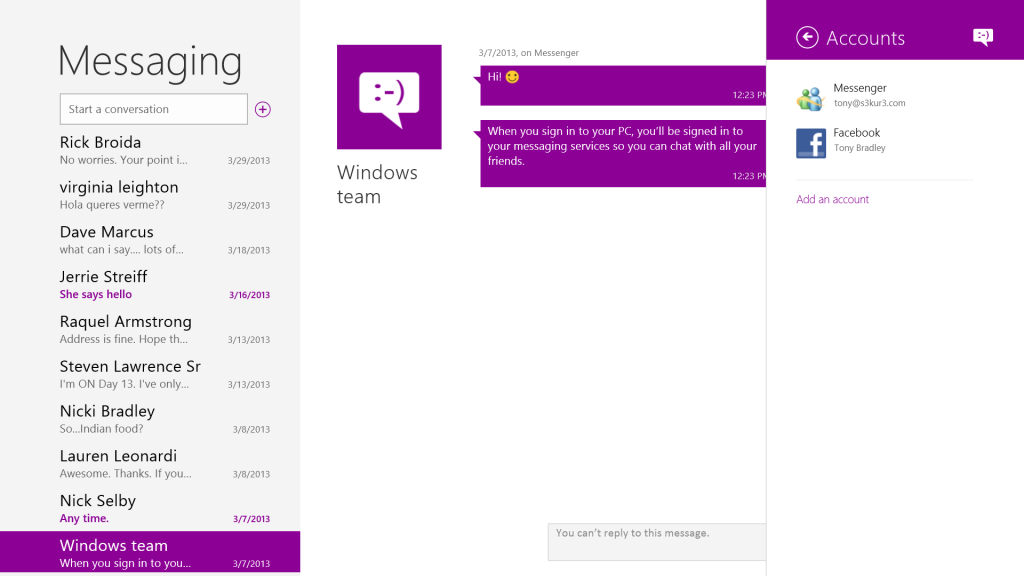 Instant messaging is a primary method of communication these days. Many people text from their smartphones way more than they place or receive voice calls, and on PCs people use instant messaging services to chat in real-time. For Day 25 of the 30 Days with Surface Pro series, I spent some time with the Windows 8 Messaging app, and explored other instant messaging apps for the Surface Pro.
The Messaging app in Windows 8 leaves quite a lot to be desired. I'm used to the Messages app in Mac OS X. It lets me connect with AIM (AOL Instant Messenger), Facebook chat, Google chat, and Apple's iMessage all from a single client. It's integrated with iMessage on my iPhone and iPad so I can even do "text messaging" from my MacBook Air. Suffice it to say that the Messaging app in Windows 8 has a lot of room for improvement before it's even in the same ballpark as the Mac OS X Messages app.
Of course, the Windows 8 Messaging app isn't the only option. There are other apps like Skype and Lync that also provide some sort of instant messaging capabilities, and there are third-party apps that provide a more comprehensive platform for instant messaging–connecting to multiple services like the Mac OS X Messages app.
The question is, are any of the options good enough? For more, read Surface Pro, Day 25: Instant messaging on the Surface Pro.