Oct 31 2013 11:08AM GMT

Profile: Tony Bradley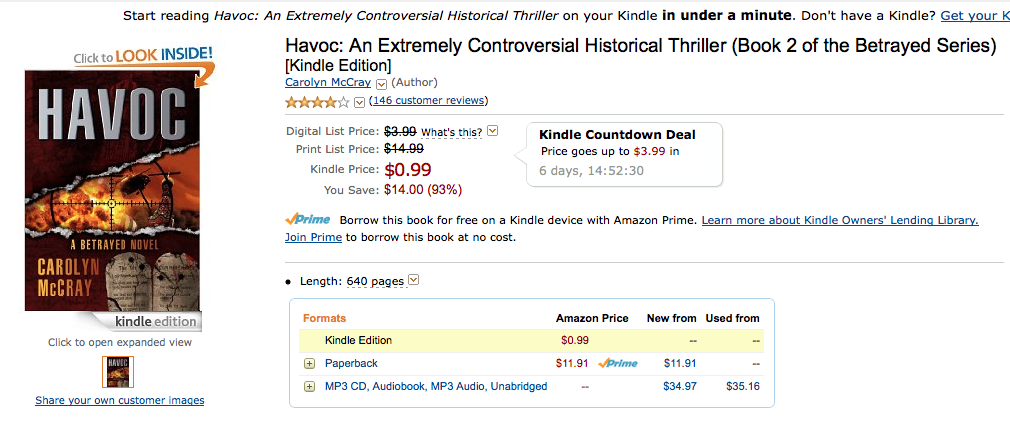 If you are in the market for a bargain on a new book to consume your idle time, Amazon has a new service that might help you out. Amazon launched Kindle Countdown Deals today, which allows publishers to offer Kindle-exclusive titles with limited-time promotional pricing.
With the Kindle Countdown Deals program, the publisher can choose to offer a book at a discount for a limited time between one hour and seven days. The publisher also gets to choose how steep the discount is–but Amazon does dictate that it must be at least $1 below the regular Kindle price.
The benefit for publishers is that they can spark a short-term spike in sales. Assuming the book is any good, the word of mouth exposure should help sustain sales after the Kindle Countdown Deals offer has expired. Publishers also maintain their royalty percentage based on the regular, full Kindle price of the title. So, even if the temporary price is below $2.99, the publisher will still get 70 percent royalties as long as the regular price is $2.99 or more.
"Programs like Kindle Countdown Deals are one of the reasons we work to bring iconic content by authors such as Kurt Vonnegut and Stephen Covey exclusively to Kindle. Our goal is to bring great books to more readers, and Amazon's Kindle Direct Publishinghelps us do this in an easy and effective way," said Arthur Klebanoff, CEO of RosettaBooks LLC.
Customers can visit the Kindle Countdown Deals site to see all of the titles available at a discount. Clicking on a specific book will also display the full or original Kindle price of the title, and show a countdown clock letting you know how much time is left before the Kindle Countdown Deals offer expires.
In most cases, the full cost of the Kindle title isn't that much to begin with, but most of the books I clicked on were at least half off (99 cents rather than the full price of $1.99), and some were 75 percent off (99 cents instead of $3.99). At the very least, it seems like a great way to explore new books or genres while only spending a dollar or two if you're looking for something to read
"We're always looking to build features that customers love, and to help publishers and authors get their books discovered—Kindle Countdown Deals achieves both," said Russ Grandinetti, Vice President of Kindle Content. "And with more than 400,000 books available only in the Kindle Store, there are lots of opportunities to use this feature."