Sep 22 2010 12:51PM GMT

Profile: Michael Morisy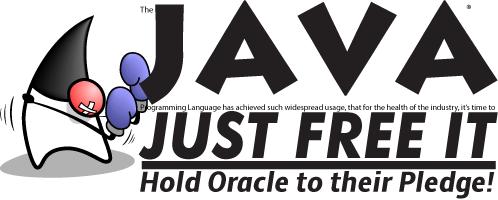 Oracle appeared large and in charge at this year's JavaOne conference, the first since the company acquired Sun (and Java) for $7.4-billion and just weeks after it sued Google for its usage of Java in Android. There were a lot of questions being asked, to say the least, with the most vocal one perhaps being a crusade to free the platform coming from the "father of Java" James Gosling himself. On his personal blog, the long-time Sun developer/short-time Oracle employee wrote:
One small act that can help avoid the dystopia is to keep the pressure on Oracle to do the right thing. I don't believe that parading around in protest t-shirts will convince them to do what they committed to, but it'll let them know that the community is watching.

I have an offer to members of the press: a free dinner anywhere in the Bay Area to anyone who gets a straight, reasonable, intellectually defensible official answer from Oracle to the question of why their demand for the creation of an independent Java Foundation applied to Sun, but now doesn't apply to Oracle.
The ServerSide's Cameron McKenzie has promised to keep the pressure up, but in the meantime, Oracle has promised onward and upward with the Java platform. Jack Vaughan has the details.
Michael Morisy is the editorial director for ITKnowledgeExchange. He can be followed on Twitter or you can reach him at Michael@ITKnowledgeExchange.com.