Sep 19 2010 11:15PM GMT

Profile: Michael Morisy
Oracle OpenWorld 2010 officially kicked off in San Francisco yesterday with the traditional keynotes and record breaking attendance numbers: According to Oracle's official blog, 41,000 techies of all stripes are attending, and with tracks and conferences ranging from Java development to breaking cloud news, there's plenty for everyone.
We're trying to bring as much as we can to the ITKnowledgeExchange community, so check back here for updates from around our blog network, exclusive posts from members like you and highlights from around the Web.
Here's what's hot right now:
Oracle-Google lawsuit changes course of JavaOne conference: Before the JavaOne portion of OpenWorld even kicked off, an insurrection was already brewing, with James Gosling, the father of Java, starting to rally attendees to protest Oracle's suit against Google. Corporate hilarity ensues!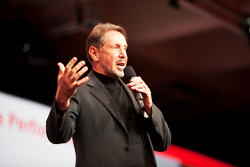 Keynote kickoff is cold as ice: The drama between HP and Oracle is running thick right now, since HP fired CEO Mark Hurd, who was then snagged by Oracle, which set off a round of lawsuits. But in case things weren't awkward enough, HP stuck to their scheduled spot on keynote, even though their original keynoter, Hurd, was no longer with the company, instead filling in with Ann Livermore who was widely panned for using the opportunity as little more than an infomercial (which, let's face it, most keynotes are).
Oracle Openworld 2010 Special Report: The SearchOracle.com editors have compiled a great landing page full of previews, reviews, awards and breaking news from the conference, as well as a peek into the live Twitter stream flowing from San Fran.
Michael Morisy is the editorial director for ITKnowledgeExchange. He can be followed on Twitter or you can reach him at Michael@ITKnowledgeExchange.com.