Oct 26 2010 8:14AM GMT

Profile: David Vasta
So it is a FULL MOON here  and I am sure hell just froze over as I am on the HOT BLOG list on Planet Lotus.
Not one to toot his own horn . . .  oh who the hell am I kidding . . . yes I am. Here is the screen shot for the records. I have some good company up there and it's not going to last long I assure you.
Thanks for all for reading and not commenting.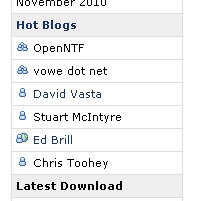 Thank you Yancy for putting up the site and putting up with all us Lotus People!
UPDATE : I moved up the list! Holy Cow. I must be having a good day! Thanks!