---
October 28, 2010 8:17 AM
I know, I know….preaching to the choir, but I thought I would post this to share with those who might be searching for it and can't find it.
Lotus Domino Designer is now a free offering to those tech savvy developers out there who want to get their feet wet using Lotus. I am still learning how to use it some 10 years into my career with Lotus (I do mostly Admin stuff) and I enjoy the product.
So if you are one of those smart developer types, give the site a read and download the installer. Sadly it's on for Windows. I would strongly urge Lotus to get on the ball and offer designer for Linux and Mac soon. I know begging for Lotus Admin Client is a lost cause but the developer client should be offered for every desktop platform.
October 27, 2010 3:16 PM
I found a pretty cool tool earlier this year and can't find it now. I need an easy to use tool that can move mail and contacts from EXCHANGE/OUTLOOK to DOMINO/NOTES and makes is oh so easy.
Thanks in advance Lotus People!
If you don't want to post on here email me:
david dot vasta at gmail dot com
---
---
October 27, 2010 9:52 AM
So in my post yeaterday I shared with you the new RIM Playbook and then when Chris posted his comments it got me to thinking. They named it all wrong. Why would the CIO who has purchased thousands of Blackberry devices to run his buinsess now go out and spend more money for his user to have a PLAYbook? Something to PLAY on? Come on RIM is this the best you can do?
I came up with some names for it and would like to see what you all have to offer?
Here are a few better names:
Rass-a-ma-taz-berry
BlackberryXL
Frankenberry
Workberry
Workpad
iWorkPadLite
iPadding-ton-berry
---
October 26, 2010 7:40 PM
I found that Wallgreens will be selling a $99 7″ Android Tablet. SOLD!
LINK:: http://www.walgreens.com/store/c/maylong-7-inch-m-150-wifi-middie-tablet/ID=prod6047418-product
I think I might have to get one and give it a little test for $99 each….that is a good deal!
---
---
---
October 26, 2010 10:41 AM
I know this is getting long in the tooth but the time is right to strike and I for one think it makes sense to point it out while people are compelled to listen. Microsoft is suffering, not just from poor sales but from people leaving, no direction from the top level executives, and their product set is still very fragmented. All of the things that they accused Lotus and IBM of years ago now seem to have infected Microsoft as well.
The Microsoft bubble is over! Windows Vista, like Windows ME, was a complete flop. Windows 7 is not the savior they were looking for and the adoption levels are anemic at best.
Ed Brill makes a very compelling post about what Microsoft is seeing right now after the departure of Ray Ozzie and a few others. They are also letting down all of their investors and not keeping up with other companies in their sector.
Windows Phone 7 is not flying off the device shelves either. I don't hear about anyone standing in line or fighting to get their hands on one. I would like to review one, but I am sure that Microsoft would rather me not touch one or even talk about it.
With SUN gone, Microsoft following them and other companies like IBM, Google, and Apple ready to fill those tech voids, things are looking good for the people who have had all the right IT answers and no one would listen to them because the FUD was too loud.
---
October 26, 2010 8:26 AM
We all love bullies and while Microsoft slowly spirals into the IT black hole they have created they continue to use 1980s tactics on companies all over the world.
Frankly I am tired of Microsoft and it's hatred for Open Source and other competitors. I may need to rephrase that. I don't mind competition, but I do have disdain for Microsoft in that they are the biggest loser right now in every market they used to own. IT and people are catching wind that they stink as a company, and then they go around the world threating companies who don't use their products.
LINK :: http://www.slashgear.com/microsoft-pressuring-acer-asus-with-royalty-fees-to-stem-android-netbooks-tablets-26110259/
Hey Microsoft, if you made a tablet OS that ASUS and Acer wanted to use you would not have to threaten them with a fee….how sad is that?
I am pretty sure at this point Microsoft is never going to ever consider me for any position ever there. I am starting to get the feeling Microsoft is about to consume itself and before it happens I want to get it on the record as predicting it now. The Windows 7 OS is good but not super. The Office Suite is different and new but not super, the Server offerings are confusing and expensive for most companies, and the other products like Phone 7 and XBOX are floundering and shrinking.
I use an XBOX and it's a good system but it lacks the quality of SONY…not to say they can't fix that but the XBOX seems to be the only product that keeps selling and they don't have to give away….
---
October 26, 2010 8:14 AM
So it is a FULL MOON here  and I am sure hell just froze over as I am on the HOT BLOG list on Planet Lotus.
Not one to toot his own horn . . .  oh who the hell am I kidding . . . yes I am. Here is the screen shot for the records. I have some good company up there and it's not going to last long I assure you.
Thanks for all for reading and not commenting.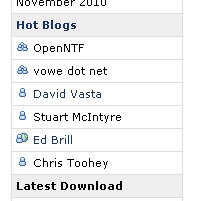 Thank you Yancy for putting up the site and putting up with all us Lotus People!
UPDATE : I moved up the list! Holy Cow. I must be having a good day! Thanks!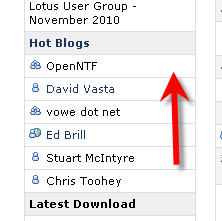 ---