Jun 21 2010 11:37AM GMT

Profile: Michael Morisy
Team USA isn't the only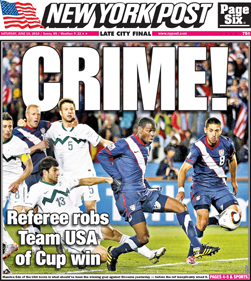 one being robbed at the World Cup: The global game is bringing spam, viruses and phishing attacks to offices around the globe, with network congestion serving as icing on the cake, particularly during game time.
Major events have long been fodder for such attacks and troubles, but Internet hot-spot watchers have been surprised by the magnitude of the World Cup's impact on office life. According to a statement from Cisco's Spencer Parker, a product manager:
" … employees are actively taking an interest in the World Cup during working hours.  Employees could be watching live streaming of these football matches on their PCs, checking the score during the matches, or even listening to the games.  As a result we have seen this significant uplift in Web traffic at the precise times that the matches are taking place."
And how significant is that uptick? Cisco ScanSafe customers have seen web usage jump 27%  globally during World Cup games. If SalesForce becomes SalesStop this Wednesday at 10:00 am ET, now you know why.
But productivity and network traffic aren't the only victims: Cisco also estimated 3 billion World Cup spam messages went out on June 11th, and some of them held nastier payloads than others. Websense's Security Labs Blog deconstructed a typical nastygram spam, promising the latest World Cup scandal: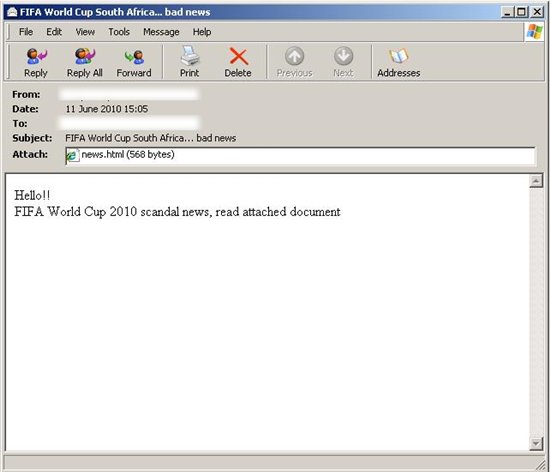 Tragically, rather than the tantalizing scandal – compromising shots of the ever popular WAGs, perhaps? – the attachment only includes URL trickery leading to a compromised webpage and a viral payload.
Game on, but make sure your staff knows the risks.
Michael Morisy is the community editor for ITKnowledgeExchange. He can be followed on Twitter or you can reach him at Michael@ITKnowledgeExchange.com.