Nov 16 2011 12:32PM GMT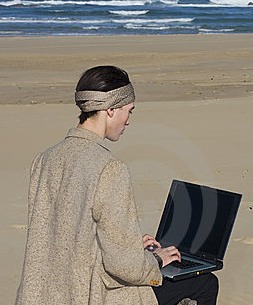 Profile: TheTechster
The Techster has just spent the better part of four days in Vegas at CA World and we still have our money, our sanity and a good portion of our brain cells. Not bad. We also have an enhanced respect and appreciation for CA Technologies on many levels, particularly with the commitment they have made to support their customers through the next great technology transformation and the way they are now able to articulate that commitment through very consistent, clear and on-target messaging. As we've heard more than once on the show floor and on the panels, this is not your grandfather's CA, which is a good thing, right?
So let's talk about some of that messaging and some of the ideas and what they mean for CA's customers and prospects – as well as the industry as a whole because, clearly, the concepts that were discussed here this week have broad implications for all businesses and technology professionals around the globe.
IT's About the Cloud
If you'd spent four minutes here rather than four days you'd still walk away with the clear unmistakable commitment CA Technologies is making to cloud computing. In all of the keynotes starting with the opening comments from CEO Bill McCracken, the company talked about the cloud in terms of a "transformative technology" and referred to cloud computing time and again as a new computing generation. The path they described is a shorter than the one I posted the other day: They talk about computing transformations as Mainframe to Distributed to Cloud.
Regardless of the language, the message is clear: If you are a technology professional and you are charged with moving your business forward you must begin embracing the cloud, whether private, public or hybrid. The reason was articulated in the theme of the event: IT At the Speed of Business." Businesses now and forever more must be agile and they must quickly be responsive to the needs of customers, prospects, employees and partners. As McCracken noted more than once, IT's about transforming the entire supply chain.
IT's About the Consumerization of IT
Another major theme was consumer driven IT. The Techster had an enlightening conversation on this topic with George Watt, who is VP of Strategy, Enterprise & Cloud Solutions at CA Technologies. In his role at the company, Watt led the development of the company's own private cloud initiative. One of the things Watt sees is a new paradigm in the skills, knowledge and values of people driving decisions. In past transformative technologies the drivers were often technophiles, who were driving technology for technology's sake. Now, however, we have a generation of people who are comfortable with using technology and also capable of understanding the value of what technology can do – for them and for their businesses.
While the cloud is an enabling technology for consumer driven IT, it is also being driven by social media, new handheld devices and new expectations on the type of value and agility businesses must be able to deliver. We'd talked a little about IT overcoming some of the cultural barriers that can impact deployments, and he expressed three key points IT professionals should keep in mind:
1. It's about the business model. You have to understand the business and what value the technology can bring to the business.
2. It's here whether you like it or not.
3. Understand that it can be done.
Watt pointed us to a very nice and informative Web site set up by CA Technologies on Consumer Driven IT. It's worth checking out and has everything you'd want on the topic, including infographics, IDC research, blogs and interactive polling.
IT's About Speed and Agility
As noted, in case you missed the message, it was posted all over the place and articulated by just about every CA Technologies executive and employee: IT at the Speed of Business. David Dobson, Executive VP and Group Executive of the Customer Solutions Group at CA Technologies, talked about a couple of customers that have been able to use CA Technologies solutions to achieve dramatic results. When Sprint realized it was about to take on the Apple iPhone 4S it knew it would result in activation levels at least three times higher than any it had ever experienced. The business teams needed to improve the customer experience and minimize churn – while at the same time cutting costs. The company was able to virtualize thousands of applications, save $20 million a year in lower infrastructure and double utilization rates. At the same time, customer interfacing was improved.
Over the course of the few days, we heard many more similar stories. There is a CA Technologies partner called Skygone Inc. that provides cloud-based services for the geo-spatial location-based services industry, commonly referred to as GIS. By taking a cloud approach to GIS using CA's AppLogic platform, Skygone was able to dramatically cut down the time required to deploy solutions for disaster recovery efforts. In a recent emergency situation involving flooding in North Dakota, it was able to set up a system in three to six hours using the cloud – rather than three to six weeks using premises-based technology. To say that the potential speed and agility engendered by the cloud can be used to save lives is not an understatement at all and, in fact, I think we will hear of many instances and circumstances where cloud technology has this type of dramatic impact. For its groundbreaking work, Skygone received a Partner Agility Award for Innovative Solutions from CA Technologies.
IT's About An Integrated Strategy and Approach
OK, so it's one thing to talk about transformative technology: It's another to deliver it. I was definitely impressed with the way CA Technologies was able to create a framework for its solutions that actually made sense. There was a time when it seemed the company was doing a lot of acquisitions without a clear plan or strategy. Now, however, they are able to articulate an overall framework that puts each of its acquisitions in perspective and describes a much more holistic approach to helping customers make the transition to the cloud.
As described by Dobson during Monday's keynote, the idea is not to eliminate complexity, but to simplify management of IT by taking it to a higher level. Customers are not going to want to get rid of all of their legacy apps and they are not going to all of a sudden go to a homogenous environment. The world doesn't work today. So CA Technologies has created what it describes as a "Business Service Innovation Value Roadmap" that consists of these primary functions:
1. Model
2. Assemble
3. Automate
4. Assure
5. Secure and Manage
When you think about approaching next-generation services-centric computing, this type of model makes a lot of sense and it provides a strong rationale for the way in which CA Technologies has constructed its portfolio. One of the recent acquisitions that got a lot of buzz on the show floor was a company called ITKO. ITKO focuses on application lifecycle optimization and provides a solution for the "model" part of the CA Technologies framework. ITKO's solution, now called the CA LISA solution, creates a virtualization capability that allows developers to simulate all of the dependencies they require during development. Application developers can dramatically speed to time market, reduce costs and improve performance. This is a technology to watch. Likewise, there were also a lot of very satisfied customers of AppLogic, which fits squarely into the "assemble" aspect of the framework.
Beyond the technology solutions and the framework, there are important considerations for companies moving in the direction of the cloud – which should be all companies, whether through private clouds, public clouds or, more frequently, hybrid environments. Standardization is critical. So is virtualization. And so is finding solutions that support multi-vendor environments while delivering real integration and real connective tissue among apps, infrastructure and business initiatives.
The Techster has been there before, though major paradigm shifts in technology. It can be disruptive, it can be scary, it can be accompanied by the usual predictions of gloom and doom and mass confusion. In the end, the right solutions always get their due and always win out over the prior way of doing things. If not, I'd be sitting in my hotel room writing this blog post on an Osborne portable computer or TRS-80 or something of that ilk. Or, I'd not be writing a blog post at all.
Anyway, it's been a fun, exciting and highly informative four days and I'm glad I've been able to share my experiences with you. As always, if you have any comments, suggestions or questions, please, please, please feel free to post them here on this post. See you soon.
P.S. – If you'd like to catch up on any aspect of CA World 2011, you can do so virtually. The company just announced that a lot of the great content is available to experience from their virtual CA World 2011 event center powered by ON24. If you stop by now, you'll see areas you can visit such as session, exhibition center and resource library. You may also want to visit the Broadcast Center here at the show in the Exhibition Center. They are conducting live interviews of CA Technologies leaders, partners and customers. Who knows, you may even catch a glimpse of The Techster himself.
Follow me at @The_Techster and follow @CAWorld2011 on Twitter for all the latest #CAWorld buzz.