Jun 13 2018 1:58PM GMT

Profile: Michael Tidmarsh
Tags: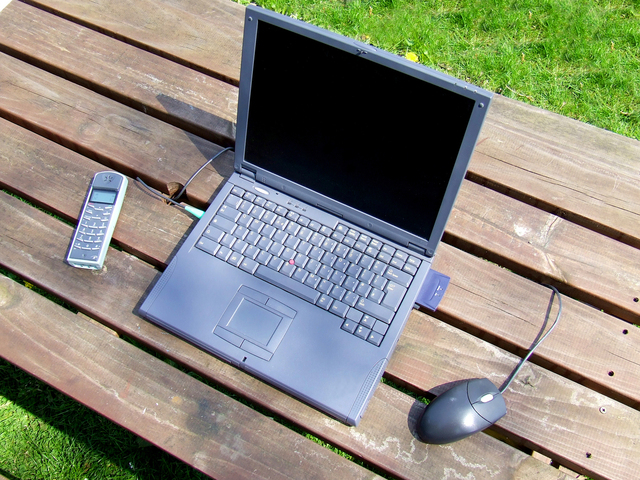 Data image via FreeImages
By James Kobielus (@jameskobielus)
Blockchain isn't snake oil, but it's not exactly the panacea that we're being led to believe.
Yes, many promising technologies got through this hype phase before mass adoption, but the blockchain mania seems to lack the center of gravity that old-timers like me used to call a "killer app." In enterprise IT, there's not even any consensus about where blockchain should sit in the stack of promising projects to explore. By some accounts, blockchain is gaining momentum among IT practitioners. But other observers have surveyed enterprise IT executives and found precious little enthusiasm for the technology.
No one doubts that blockchain has use cases for which it's ideally suited and will be commercialized successfully. But if anybody's making serious money from this open-source technology right now, it's the hypesters. I couldn't help noticing when the roguish John McAfee added blockchain hype to his revenue model. This recent interview revealed that he now charges $105,000 per tweet to promote different cryptocurrencies and has advised or worked with well over dozen startups in this space.
That's why I couldn't help laughing as I sifted through one outlandish McAfee assertion after another, such as:
"Every field of life is being enhanced, bettered, made cleaner, safer, more convenient and cheaper with cryptocurrency and the blockchain."
"In five years, there will be nothing that's not on the blockchain."
"The people who understand there is no boss, central authority or central design will be making hundreds of millions of dollars, and everybody else will fail."
"With the blockchain, you don't have an idea. You simply get the people together and see what comes out."
With that last statement, I felt like I was going to pass out, seeing as how McAfee seems to be advising us to switch off our critical minds when blockchain enters the conversation. This is the kind of exhortation where a tech evangelist starts to sound like a cult leader who wants our money along with our unquestioning devotion to the sacred cause. This collectivist "you simply get people together" tenet seems to be yet another page out of the crusading evangelists textbook. And the promise of one clique getting super-rich while "everybody else will fail" sums up the blockchain true believer's saved-or-damned outlook very nicely.
It will be good in a few years' time when blockchain mania is ancient history and we learn where this technology ends up in the current pantheon of next big things, including artificial intelligence, autonomous vehicles, intelligent robotics, augmented programming, edge computing. Wikibon finds a lot of innovation taking place in the intersections between blockchain and these emerging technologies, as well as in such established enterprise infrastructure as industrial IoT and identity management.
Regarding blockchain's commercialization, I doubt that the getting-rich will be as speedy as McAfee wants to believe, due in parat to the very collectivism he calls out as necessary to the technology's deployment.
It's highly doubtful that greenfield blockchains will just waltz into existing industries and rapidly disrupt existing B2B practices to the advantage of some new class of competitors. If this scenario is realistic, then why, in the almost 10 years since blockchain sprang forth from the bowels of Bitcoin, have we seen no one seize this opportunity to disrupt market after market and get filthy rich in the process?
In a recent article, Deloitte discussed the pivotal role of B2B collectives and their stakeholders in building successful blockchains. "Generating the greatest value from blockchain will require organizations to collaborate with competitors, regulatory bodies, form or join consortia and partner with startups. For many organizations, this level of collaboration requires organizations to adopt new ways of working, both internally and externally….Standardisation will enable enterprises to share blockchain solutions more easily and collaborate on their development. CIOs can start to set the standards for this. For example, by working with external developer ecosystems, teams can begin to exchange ideas and key learnings with like-minded organizations…Data management and process standards already exist in many organizations and these same standards can be applied to blockchain."
One factor slowing enterprise embrace of blockchain is the chicken-and-egg difficulty of finding tech personnel who have operational experience with the technology. As Gartner said in a recent study, "The challenge for CIOs is not just finding and retaining qualified engineers, but finding enough to accommodate growth in resources as blockchain developments grow. Qualified engineers may be cautious due to the historically libertarian and maverick nature of the blockchain developer community."
Clearly, McAfee is one of many blockchain evangelists who are targeting that "libertarian and maverick" element with their breathless pitches. One might more accurately call it a "gold-rush mentality," with that analogy an almost-perfect fit for a mania that's sustained by waves of "miners" panning their "stakes" for a new "coin" that may turn out to be, for the most part, fool's gold.
Ironically, another key libertarian cause—privacy protection—may also throw a wrench into adoption of blockchain into the business world. As I noted recently, the new General Data Protection Regulation  (GDPR) is making it very difficult to justify deploying blockchain's "immutable distributed hyperledger" into any application that manages the personally identifiable information (PII) of European Union citizens. The sticking point is that blockchain's unchangeable historical record conflicts with GDPR's guarantee of a "right to be forgotten"—in other words, to request that your PII be permanently deleted from any database—including blockchains—in which it's been persisted.
Even if blockchain's money train is able to exploit lucrative opportunities that don't conflict with GDPR and similar laws elsewhere, it may be derailed in the long run by the laws of capitalism. As it was with the hopefuls who flocked to northern California in the 19th century, the real money to be made from blockchain will accrue to merchants who supply the tools of the trade.
In that regard, we're already seeing who those blockchain beneficiaries will likely be, and, no surprise, it's the incumbent IT vendors. Wikibon has been seeing an acceleration in blockchain-related platform and tooling announcements from established enterprise IT solution providers, with a consistent emphasis on making this technology play well in enterprise cloud data infrastructures:
As can be seen from these announcements, vendors of blockchain infrastructure solutions are going to market with approaches that have served them well with established platforms. As I discussed here, these include blockchain platforms as a service, blockchain deployment templates, blockchain domain accelerators, and blockchain ecosystem hubs.
My sense is that the most innovative blockchain startups will emerge from their incumbent-fostered ecosystems, with the most successful players being deeply rooted in established industries. The many technical limitations of blockchain—in terms of performance and scalability for transactional data applications—will keep it from dominating many core enterprise use cases.
The incumbent enterprise data platform vendors will dominate blockchains. They will do so by playing their hands in the area of hybrid clouds, in which blockchains will be one important new data thread in the tapestry but far from the only one.
In other words, there is no blockchain monoculture on the horizon for enterprise data professionals.