The Watch Blog's Cisco Live 2011 Guide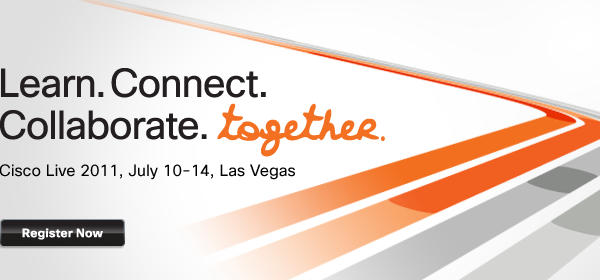 Headed to Cisco Live 2011, and not quite sure what is worth your time? Can't make it this year, but want to get the inside scoop? Bookmark this page for our comprehensive look at everything happening at one of this year's premier IT events, with breaking networking, data center and server news brought to you direct from the show floor.
Get real-time updates from Michael by following @ITKE on Twitter or searching the #CL11 hashtag for the conference.
July 7, 2011
Cisco Live 2011! prepares to rally the base
Editor Michael Morisy gets ready to head to Las Vegas for Cisco Live 2011!. Last year they proudly announced the Cisco Cius, the tablet built for enterprise which has been lingering on the horizon for a year, limply promising a video-driven tablet that will delight IT departments everywhere.
That was a very different Cisco: HP still was getting its consolidated enterprise story straight, everybody and their uncle was promising a tablet, and Cisco still was touting a much-beloved little consumer device, the Flip….CONTINUED
July 12, 2011
Cisco's big news: A Catalyst 6500 revamp
4:17 AM: Kudos go to the Wall Street Journal's Don Clark for digging up some dirt on Cisco's closely-held "big announcement" coming today: A revamped Catalyst 6500 which will provide a way for users to upgrade their existing hardware (Skip WSj paywall). Details are fairly light, except that the offering will sport "four times the performance" of a comparable HP system, and existing customers can achieve many of the benefits of the revamp by installing a new $38,000 module into their existing 6500s….CONTINUED
Cisco drops 25 priorities for the 5 that matter
6:34 AM: It was a wholly ambitious plan, and one that, if executed, would not just have grown Cisco's position as the networking infrastructure provider, but would have grown it to be a dominant communications provider in both the enterprise and consumer space. Cisco was moving from being an enterprise darling with limited mass visibility to a company that would touch every bit and byte of communications at almost every point: From taking video and voice on its broad line of professional phones and pricey TelePresence to the budget and beloved Flip camera, to the wireless and wired switches that carry that video and voice, to the telecom infrastructure that carries them worldwide, to new, interactive viewing experiences.
But Chambers realized, two years later, that Cisco wasn't cut out to be a consumer company, at least not now….CONTINUED
For Cisco, TelePresence business is bigger than China
8:35 AM: I've always assumed Cisco's TelePresence – its pricey, life-like videoconferencing tool – was something of a loss leader for the company, a way to tout the benefits of video, which helps sell its core networking products. That made running into Thomas Wyatt, vice president of Cisco TelePresence Infrastructure, a bit awkward. It was more awkward when he helped break down the numbers….CONTINUED
Exclusive first look at new Cisco Catalyst 6500's overhaul
10:37 AM: The press briefing for Cisco's latest edition of the Catalyst 6500 is just about to start, but Cisco already dropped some more details after yesterday's maddeningly vague leak….CONTINUED
Cisco Live 2011: More than the Nexus 7009?
Rivka Gewirtz Little, Senior Site Editor for SearchNetworking.com: Cisco Systems customers suspect the company will use Cisco Live 2011 this week to begin reclaiming its lost share of the Ethernet switching market partially by introducing the Nexus 7009-a smaller version of the popular 7000 chassis at a price that is easier to swallow.
But the company may need to pack a lot more punch than a simpler, cheaper switch to take on the very loud fears in Las Vegas this week around rumors of a 10,000-employee layoff combined with the fact that Cisco's share of the Ethernet switching market slipped to 68.2% in Q1 from 73.1% last year, and its stock price is at an all-time low….CONTINUED
As Cisco preps for comeback kickoff, reported layoffs steal the show
11:59 AM: Cisco's juiced up Catalyst 6500 was supposed to be the cornerstone of Cisco Live! 2011 comeback kickoff. Instead, the return-to-roots messaging has been dampened by news of more rounds of coming layoffs…CONTINUED
Cisco CTO Padmasree Warrior addresses reported layoffs: We don't comment on speculation
3:38 PM: Cisco CTO Padmasree Warrior addressed a reporter's question about reported coming layoffs of approximately 14% of the network giant's workforce. [VIDEO]…CONTINUED
July 13, 2011
Video walk-through of CSC's Mobile Video Conferencing (sponsored)

1:18 PM: CSC Solutions Architect John Howell walks viewers through CSC's mobile videoconferencing tools, which allow users to quickly and securely share desktops, fire up a video chat and more, regardless of where they are or what device they are using.
[kml_flashembed movie="http://www.youtube.com/v/WU_zxRNHPFM" width="425" height="350" wmode="transparent" /]
Video walk-through of CSC's Unified Communications as a Service (sponsored)
2:37 PM: CSC Solutions Architect John Howell walks viewers through CSC's UCaaS offering, which allows IT departments to quickly get up and running with the latest in collaboration technology without heavy infrastructure upgrades.
[kml_flashembed movie="http://www.youtube.com/v/6L06AudJECo" width="425" height="350" wmode="transparent" /]
Cisco Catalyst 6500: Comfort food for uncomfortable times
5:03 PM: IT departments are, for many intents and purposes, a fairly conservative group. Yes, they love their gadgets, pushing hardware to the limit and playing around on the bleeding edge – but not when it comes to anything that actually matters for their job. And for good reason: I've seen too many user-generated train wrecks in almost every facet of IT when eager young guns or generally savvy amateurs try to do it themselves….CONTINUED
July 14, 2011
Some thoughts on the Cisco Cius
4:14 PM: To be clear, this is not a formal review of the Cisco Cius. Cisco's very hesitant to hand out review units, I've been told, since the experience is so tied into the company's rather nice (and rather nicely upgraded) communications software and hardware. Fortunately, I've had three chances to get some hands-on time with the Cius while here at Cisco Live! and previously at Interop. I had a few observations I thought might be helpful….CONTINUED