Apr 7 2010 9:47PM GMT

Profile: Michael Morisy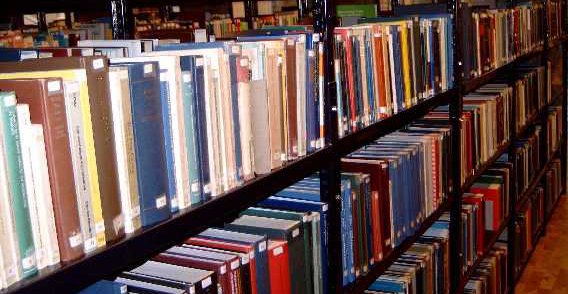 Looking to boost your networking career, or simply bone up on the latest trends and topics in your field? You've come to the right place: I've polled analysts, authors, IT pros of all stripes and, of course, our very own member community.
Top reads so far (click the title for more information):
From the Publisher:
Nmap Network Scanning is the official guide to the Nmap Security Scanner, a free and open source utility used by millions of people for network discovery, administration, and security auditing. From explaining port scanning basics for novices to detailing low-level packet crafting methods used by advanced hackers, this book suits all levels of security and networking professionals. A 42-page reference guide documents every Nmap feature and option, while the rest of the book demonstrates how to apply those features to quickly solve real-world tasks. Examples and diagrams show actual communication on the wire.
From Readers:
"… a great number of tips/tricks for using this extremely capable tool
–Troy Tate, AKA IT Knowledge Exchange's LabNuke99 and author of IT Trenches.
I've reviewed dedicated "tool" books before, including titles about Snort, Nessus, and Nagios. NNS dives into the internals of Nmap unlike any other title I've read. Without Nmap author Fyodor as the author, I think any competitor would need to have thoroughly read the source code of the application to have a chance at duplicating the level of detail Fyodor includes in NNS. Instead of just describing how to use Nmap, Fyodor explains how Nmap works.
–Richard Bejtlich, Director of Incident Response at General Electric and author of Tao Security
Read more reviews at at the book's official homepage, where you can also read about half the book's contents.
From the Publisher:
Wireshark is rated #2 in the Top 100 Network Security Tools by sectools.org. Wireshark is the world's most popular network analyzer tool. This book is the ultimate resource on Wireshark which is a MUST HAVE tool used by network IT professionals to troubleshoot, secure and optimize networks. Readers learn to capture wired and wireless traffic, focus on the cause of slow web browsing, identify why applications don't run properly across the network, locate the cause of poor VoIP call quality, determine why WLANs are plagued with problems and more. The author, Laura Chappell is the founder of Wireshark University and Chappell University and has been analyzing networks for over 20 years – the book is written in a clear manner with hundreds of screenshots for the visual learner. The foreword was written by Gerald Combs, creator of Wireshark. Wireshark Network Analysis covers the test objectives for the Wireshark Certified Network Analyst Exam and includes test questions and answers for all topics covered. Filled with 45 real-life case studies, Wireshark Network Analysis takes you inside small, medium and large corporations to see how they solved network problems in a more efficient, accurate way using Wireshark.
From Readers:
"Laura Chappell, my favorite Bitgirl, has released a new book about the Wireshark packet capture and analysis tool. My book is on it's way. I can't wait to dive right in and learn some new tricks. However, in the meantime, you and I can both get a coffee and a quickie look at the new book and some features inside. Check it out.
–Troy Tate (again!), AKA IT Knowledge Exchange's LabNuke99 and author of IT Trenches. Read Troy's full blog post.
Practical Virtualization Solutions: Virtualization from the Trenches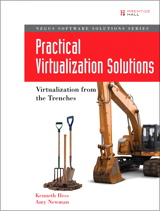 Author:Kenneth Hess and Amy Newman
Publisher: Prentice Hall
From the Publisher:
If you're involved in planning, deploying, or managing virtualization, this book brings together all the field-proven, in-the-trenches answers and solutions you'll need. Packed with examples and case studies, Practical Virtualization Solutions is a complete, self-paced, hands-on guide to creating a virtualized environment and driving maximum value from it throughout its entire lifecycle.

Kenneth Hess and Amy Newman present detailed costs, schedules, and deployment plans drawn from actual enterprise virtualization projects. You'll learn what really works and what doesn't and discover powerful ways to systematically control the costs of virtualization and streamline its management. The authors offer realistic guidance on choosing the best services to virtualize; selecting the right virtualization software, hardware, and vendor partners; troubleshooting and securing virtualized environments; and much more
From Readers:
The final judgement is on cost and time to read being worthwhile. At £28.99 ($39.99) full price it is quite expensive for a book that barely manages 300 pages including the index. The on line book shops bring the price down to a more realistic figure. Was it worthwhile reading? Yes. I've been around virtualisation projects for a while but still managed to learn some things from it. Trying to judge the book from a virtualisation newcomer's perspective I'd probably give it 8/10.

Overall, I'd give the book 8/10 and think of it as a good introduction to the subject but definitely not the last word.
–Richard Siddaway, currently a technical architect and an IT Knowledge Exchange blogger. Read his full, extensive review of Practical Virtualization Solutions on his blog.
Know a great book on networking we missed? Interested in writing a review for us? E-mail me at Michael@ITKnowledgeExchange.com, and we might even be able to send you a free review copy.