Feb 3 2010 7:25PM GMT

Profile: Michael Morisy
Looking to brush up on cloud computing? I've polled analysts, IT professionals, publishers and Amazon to bring you some of the top reads on cloud computing. See something we missed? Let me know and we'll add it to our list!
Top reads so far (click the title for more information):
Cloud Application Architectures: Building Applications and Infrastructure in the Cloud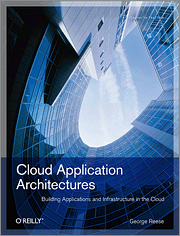 Author: George Reese
Publisher: O'Reilly
From the Publisher:
If you're involved in planning IT infrastructure as a network or system architect, system administrator, or developer, this book will help you adapt your skills to work with these highly scalable, highly redundant infrastructure services. Cloud Application Architectures will help you determine whether and how to put your applications into these virtualized services, with critical guidance on issues of cost, availability, performance, scaling, privacy, and security.
From Readers:
George Reese has put together an exceptional overview of developing applications and infrastructures in the cloud. His professional experience and understanding of the topic is obvious in the way he writes. While the book is certainly centered on Amazon's cloud services, I feel that the central concepts are still quite applicable to cloud computing in general. Cloud Application Architectures is a must for IT managers and developers alike, as the topics covered span both the business and technical facets of moving into the cloud. As usual, O'Reilly has done it again by publishing a well written and informative title that no doubt will prove invaluable to its readers.
–Brandon Ching, at Restrained Freedom. Read Brandon's full review.
Cloud Computing and SOA Convergence in Your Enterprise: A Step-by-Step Guide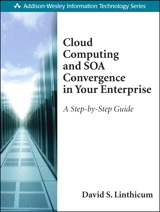 From the Publisher:
Writing for IT executives, architects, and developers alike, world-renowned expert David S. Linthicum explains why the days of managing IT organizations as private fortresses will rapidly disappear as IT inevitably becomes a global community. He demonstrates how to run IT when critical elements of customer, product, and business data and processes extend far beyond the firewall—and how to use all that information to deliver real-time answers about everything from an individual customer's credit to the location of a specific cargo container.
From Readers:
My review in a nutshell: This is a very well-written, easy-to-read book, targeted at IT managers, that provides a robust overview of Cloud Computing and its relationship to SOA, and the core basics of a game plan for leveraging it.
–Todd Biske, at Outside the Box. Read Todd's full review.
P.S.: David's doing a live webcast on cloud computing Tuesday, February 9th, over at Safari Books. A few participants will get a free copy of his book.
Cloud Computing: Web-Based Applications That Change the Way You Work and Collaborate Online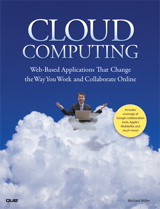 From the Publisher:
Michael Miller is known for his casual, easy-to-read writing style and his ability to explain a wide variety of complex topics to an everyday audience. Mr. Miller has written more than 80 nonfiction books over the past two decades, with more than a million copies in print. His books for Que include Absolute Beginner's Guide to Computer Basics, Googlepedia: The Ultimate Google Resource, and Is It Safe?: Protecting Your Computer, Your Business, and Yourself Online.
From Readers:
None so far! E-mail Michael@ITKnowledgeExchange.com if you'd like your review featured here.