Nov 15 2011 8:58AM GMT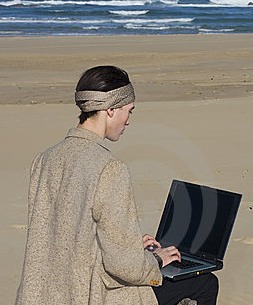 Profile: TheTechster
What are some of the issues around technology that are keeping you up at night? That was one of the questions, among many others, put to a stellar panel of executives last night at a session here at CA World 2011 in Las Vegas. The session itself made good use of some of the disruptive technology the panelists were discussing: Audience members tweeted their questions to moderator Randi Zuckerberg in real time and she posed the questions to the other panelists, which included CA Technologies CEO Bill McCracken; VCE Chairman (and former Compaq CEO/HP President) Michael Capellas; and the first CIO of the United States, Vivek Kundra. Here are some of the most interesting points.
On gaining buy-in when speaking to a non-technical CEO:
The first thing, according to Capellas, is to establish the agenda of the company and find those two or three things that will drive the basic mission of the company: Defining the sweet spot of what the business is trying to do. "Prioritize what's important and then do it with incredible speed." Also, innovate and try to be at the leading edge. "No one ever said, 'Gee, I'm glad you brought me yesterday's technology.'"
On security, policy and the cloud:
One of the big challenges, Kundra noted, is the difficulty of managing a cloud that spans a global grid, particularly for the U.S. government. Different nations have different laws. Complicating that is the reality is that there are countries and organizations out there using the technology for malevolent purposes. McCracken noted that security is a pre-cursor to successful cloud deployments and pointed to the use of cryptographic intelligence.
On private clouds, public clouds or hybrid:
McCracken and Kundra noted that the cloud – private or public – potentially has the ability to be even more secure than traditional enterprise applications. How it is used will largely depend upon what applications and workloads your organization will want to run. Mission-critical apps, Capellas said, will likely be private, but many organizations will use public clouds to balance workloads and for backup. "Security policy will define what's inside or outside the firewall," Capellas said.
On the role resellers will play in the cloud:
Partners and resellers already have a large majority of the skills necessary to deploy new applications, McCracken said, and without the partner community the cloud market wouldn't be anywhere near where it is today. Channel partners have the opportunity to take applications from end to end and can manage multiple platforms, which are critical skills in today's environment, according to McCracken.
On the role of professional services providers:
The cloud will significantly disrupt the professional services market, Kundra said, and will force professional services companies to raise their game to a higher level. They must be thinking about the user experience, seamless applications and fundamentally re-engineering and re-architecting systems. They will also have to work at the speed of business: "The days of waiting five years to get any value from a professional services contract are over," Kundra said. "This will be a painful transition for the professional services industry."
On what keeps you up at night:
"I'm very concerned about the role of global terrorism as it relates to technology," Capellas said. He said that, at some point, there is no doubt the Internet will get shut down and could create a "catastrophic disruption." Kundra said he is concerned with three things: (1) Cyber warfare; (2) The potential use of technology for oppression, and (3) The growing gap in use of technology by developed and underdeveloped nations. McCracken said that the biggest challenge is keeping up with the growing demand in our businesses and marketplaces.
There you have it, live once more from CA World. What are some of the big issues on your mind? Post them here and we'll see if we can answer them.
Follow me at @The_Techster and follow @CAWorld2011 on Twitter for all the latest #CAWorld buzz.