Apr 27 2011 6:34AM GMT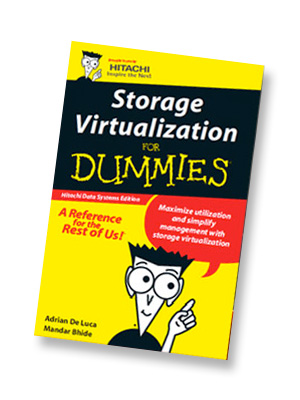 As April draws to a close, so does Storage Virtualization month. Not to worry; we've compiled all of our greatest resources from this past month for quick reference as we move forward. From IT questions to articles, blog posts, and Twitter lists, our wrap-up is a great beginner's – or dummy's – guide for moving forward in your storage virtualization implementation.

From the Enterprise IT Watch Blog
Storage Virtualization 101
The Storage Network Industry Association has a booklet that covers the "different terms, types, locations, and technologies of storage virtualization and the data services that can be built on it" as well as descriptions of "implementation step by step and aspects of availability, performance, and capacity improvements." Whether you're interested in the role of storage virtualization or the many hypotheticals of the deployment, check out the SNIA's booklet on storage virtualization (PDF).
Storage Virtualization FAQs
From Open IT Forum discussions to members curious about the technology, we've seen some thought-provoking discussions. Have a question about storage virtualization that wasn't asked in the forums? Head over and ask it yourself. And don't forget to tag it "storage virtualization"!
And More…
For regular updates on virtualized storage like this one on the important niche of storage virtualization products and this great jumping off point for your own storage virtualization pros and cons list, check out SearchVirtualStorage.com.
Check out the Storage Decisions seminar on Storage for Virtual Environments for a one-day tutorial on maximizing your virtualization deployment with storage made specifically for your new environment.
Do Tell!
Did you enjoy Storage Virtualization month? Share one thing you learned in the comments section, and we'll share 25 knowledge points to go toward our latest contest!
Next month on IT Knowledge Exchange…
May's theme is Networking at IT Knowledge Exchange! Editor Michael Morisy is heading to Interop, so keep an eye for coverage of the festivities. Are you heading to Interop next month as well? Reach out and let Michael know at Michael@ITKnowledgeExchange.com.
Bring your questions, ideas, and suggestions to the forums and the blogs. Learn something, teach something, and earn great prizes!
Are there other topics you would be interested in seeing explored around IT Knowledge Exchange in the future? Let us know in the comments section or send me an email at Melanie@ITKnowledgeExchange.com.
Melanie Yarbrough is the assistant community editor at ITKnowledgeExchange.com. Follow her on Twitter or send her an email at Melanie@ITKnowledgeExchange.com.