Jul 14 2011 3:07PM GMT

Profile: Michael Morisy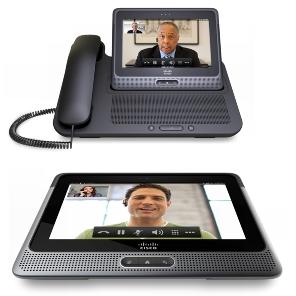 To be clear, this is not a formal review of the Cisco Cius. Cisco's very hesitant to hand out review units, I've been told, since the experience is so tied into the company's rather nice (and rather nicely upgraded) communications software and hardware. Fortunately, I've had three chances to get some hands-on time with the Cius while here at Cisco Live! and previously at Interop. I had a few observations I thought might be helpful.

Not a tablet, so what is the Cius? A fancy portable phone
Cisco's making it clear that the Cius "is not just a tablet" and "much more than a tablet" and "not a tablet." Mention the word "tablet" around a Cisco executive and you can visibly see muscles tighten and for good reason: The Cius doesn't stand up well as a standalone device against the iPad, or even the newer Android tablets, and Cisco's recently-watched RIM's PlayBook, marketed as the professional-grade tablet, flame out in spectacular fashion.
And Cisco has a leg to stand on when arguing it's not a tablet. Tom Puorro, senior director of product management at Cisco, said the device was developed primarily by the company's IP telephony group, which means much of its design and functionality DNA comes straight from Cisco's high-end desk phones, and if you think of it in that vein – as a replacement for a desk phone that runs in the hundreds of dollars – then it begins to make some sense. Cisco is highly encouraging coupling the device with a purpose-built stand that includes a sturdy IP phone and even letting them plug in an external monitor that can be used to operate the Cius in a desktop-like fashion, complete with external mouse and keyboard.
Even by Cisco standards, however, it's a pricey phone: The stand for the Cius runs $300 by itself, bringing the price for this package up to around what Cisco originally planned on.
When I asked Barry O'Sullivan, head of Cisco's voice technology group, how they managed to chop off $250 from the original price, he said manufacturing volume and increased sales projections. How high were those projections?
"We sell 7 million IP phones a year, so somewhere in the order of that magnitude," he said. "We don't break out those numbers." Puorro chimed in with more modest goals: "More than one." For comparison, RIM's PlayBook sold a million its first quarter and was reportedly on track for 800 thousand its second quarter.
Incapable by its own standards
Puorro was, of course, joking about Cisco's aspirations: Cisco has quietly been selling the device to a few select customers before its more general release, through qualified partners, later this month. The publicly announced ones are generally cozy relationships: AT&T and Verizon, both of which hope to resell the devices for a hefty margin into the enterprise, and some educational customers which reported their students loved getting a first look at new hardware.
I found, however, that the Cius was a less-than-capable device at the points Cisco most eagerly promoted. For example, one of the verticals Cisco has been widely touting is healthcare, which has always been an early adopter of tablets. But one of the hypothetical situations the company references – using the back facing camera to send live video of a patient from a nurse to a doctor at home – simply does not work. You can record video with the back camera, but there is no option to switch to it or use it in a video call, meaning that the hypothetical stroke victim is now asked to hold onto the Cius, steady it, and follow the doctor's instructions on helping him remotely inspect the potential trauma.
A Cisco engineer said that this feature would be addressed, and in fact it has been: By Apple, which implemented that exact feature about a year ago. No timeline for Cisco's implementation was given.
Another widely touted feature was the remote desktop and desktop virtualization capabilities of the Cius, particularly when coupled with the above-mentioned stand.
"Cius represents a consolidation of the desktop," Puorro said, stating that he no longer used a PC and instead did all his work right on a docked Cius.
With most monitors, however, the Cius offers a distorted view (the Cius 153.6:90.0 screen is stretched to fit, for example, a 16:9 monitor). A Cisco executive said that some higher-end monitors can correct for this. And while there are some clever new elements (right clicking brings up a clickable version of the Android menu bar, for example), some standard short cuts won't work.
More importantly, the device is laggy as a desktop replacement: Like with most Android tablets, there's a noticeable pause when doing a variety of tasks. The worst case might be typing: Typing a long URL into the web browser, for example, and the characters will start to trail your fingers. The problem is dramatically compounded by the virtual desktop tools, where network latency is added into the mix and further compounds the problem. It's perfectly fine for typing in quick notes or even working in a pinch. Elsewhere on the tablet, apps would randomly crash, even though the demo devices had very few apps installed. These sorts of problems are what sparked the eternal wars between users and IT.
Coming soon
Just like the fully-functional back facing camera update, Cisco executives promised that a number of important features and fixes were "coming soon." The operating system itself is still Android 2.x, built for smart phones. Cisco executives said that the company plans on updating the machines to the tablet-ready Ice Cream Sandwich at some point in the future, but there was no timetable. Meanwhile, one of the Cius' key features, business-defined app stores-within-a-store, was just announced by Apple, even as vendors have worked quickly to fill other enterprise needs for control. Even Cisco has produced a great WebEx iPad app, yet again reducing the advantages the Cius can offer to the enterprise.
And on the low-end, I have to wonder if much of what the Cius is offering cannot be achieved not only more cheaply but more effectively with a smart phone device: For any employee who has to lug it around all day, the Cius is a relatively weighty piece of hardware. If you're shooting and sending video, the latest generation of smartphones might work even better as far as being both intuitive and portable.
Missing the party … for now
During the keynote with CTO Padmasree Warrior and CIO Rebecca Jacoby, the executives made clear that the era of "just say no" to consumer devices was over. It really feels like, however, the Cius team didn't get that memo. The stated feature list and problems the device addresses are very real – the importance of locking down data on mobile devices cannot be overstated – but vendor after vendor on the showroom floor was taking a more nuanced approach, offering web and native apps that balanced the business needs with the user demands by running securely on the device of choice.
The Cius approach is the opposite, offering a mashup of an older Android OS and custom Cisco software, freedom and control, all at a higher price point. It's a strategy I've seen many vendors take with Android, and few if any offer an improved experience. I found myself wishing that the Cius had a little more Flip DNA in it and a little less of its IP phone heritage.
Internally, I spoke with a number of typically tight-lipped employees that felt the Cius was a product of the pre-lean Cisco, a product that was built and developed when Chambers thought Cisco could do it all. Having spent all that time and energy developing it, it would be a mistake not to release it and see what happens.
There is ample reason for hope long term for the Cius' descendants, however. First of all, there will be a large segment of IT that will embrace the ideas and control the Cius promises, giving it at least some built in-usage early on. More importantly, however, I think that the Cius platform can potentially be a great teaching tool for Cisco and its partners in learning what works, and as long as something works, Cisco will come out ahead. They are, after all, providing the pipes over which video will be flowing no matter what software it uses.
Michael Morisy is the editorial director for ITKnowledgeExchange. He can be followed on Twitter or you can reach him at Michael@ITKnowledgeExchange.com. Check out our complete Cisco Live! Coverage guide for more breaking news.
Photo via