Nov 11 2009 2:08PM GMT

Profile: Michael Morisy
10. Focus on the fundamentals. Sesame Street tackles a whole host of issues, from basic counting and the alphabet to overcoming cultural differences and even death. For the most part, however, the issues are key elements of early development: Not always easy, but necessary. Are the projects and problems you're tackling necessary to the bottom line? Will they give a return to the business?
9. Speak different languages. Early on, Sesame Street emphasized the importance of learning foreign languages, even if it was just the basics, such as the Count learning to say uno to diez in Spanish. More now than ever, it's critical that IT learns to speak in business terms to explain value, as recent guest blogger  Claude Roeltgen noted. So-called soft skills can save a career, and really, it's just a matter of saying what you need and what you can do in the right language. [kml_flashembed movie="http://www.youtube.com/v/Jg3WY2Sgxtw" width="425" height="350" wmode="transparent" /]
8. Learn to count. Or better yet, teach others to count. Just as our dear friend The Count spent painstaking hours teaching others to count from one to ten (in English and beyond!), IT must teach the rest of the business how IT enables profits and performance. And if you let others do the counting? Expect IT to become a cost center, with aggressive accounting for every dollar and annual budget fights.
7. Be wary of strangers. Sesame Street wins over adult fans with copious guest stars, running the gamut of celebrities, athletes and musicians. But these guests are introduced by trusted adults on the show, and viewers learn that while you shouldn't fear people different than you, you also shouldn't give them your complete trust until they've earned it. What are your security policies, and what do you do to ensure that temporary workers or outside consultants have what they need — but nothing else?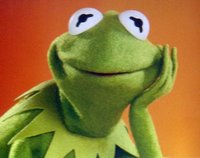 6. It's not (always) easy being green. Kermit the Frog was right: No matter often people tout the benefits of "going green," cutting costs while saving energy can be full of trade-offs. There's always new equipment to buy, new processes to manage, and while there may be a green revolution, there's a premium to be paid for leading that charge. On the other hand, Kermit did get the girl and in many cases the energy savings from a comprehensive, business-savvy "green" policy can bring home the bacon at the end of the day.

5. Keep it simple. Forget the ABC's: At the end of the day, an episode of Sesame Street was brought to you by a single letter. What are your "letter" projects you can quickly point to as a tangible, easily understandable success? Did you cut spending by 15%? Boost productivity measurably by 7% with the new Intranet? Keep the take home lesson for your boss simple so he knows to give you the 'A' you deserve.
4. Learn from your mistakes. Big Bird once sang that "everyone makes mistakes." Projects fail,  breaches occur, budgets run over and schedules run behind. What matters is how bad you let things fail, and what you can takeaway for the next time. Do you know how to spot a project failure? And are you ready to let go,  move on and clean up the mess, without letting your emotional investment get the best of you? If not, maybe give Big Bird's song one more listen, take a deep breath and bite the bullet.

3. Learn to share. Yes, you can do it all on your own, but why when you can share the work? Ellen DeGeneres shared headphones with Elmo, and you can share your work with users. There are big steps like allowing users to define file permissions, but even milder approaches like crowd-sourced troubleshooting and training, where users help other users, can save IT time, money and headaches. But just like with Ellen and Elmo, it might take some experimentation to find the right mix.

2. Teamwork. Just like the Sesame Street classic says, "Cooperation makes it happen."  It's true, and IT is essential to making it happen, either by leading the way on effectively using communications tools or simply in being a team player with other departments, both inside and outside of IT.
1. Even grouches have their place. I've written about how overly aggressive personalities can actually hurt productivity, but Sesame Street offers up a great counterpoint: It all takes all types to make a neighborhood. Everyone from Oscar the Grouch to The Count to Big Bird to Cookie Monster has (or at least had) their place, and there's a good chance both the Grouches and cheerleaders have their useful places in your organization, too, whether it's a cold dose of realism on how effective an over-hyped project will actually be or the willingness to look for opportunity amid cutbacks and concern.
Bonus: Change with the times, places and people. Sesame Street isn't the same around the world, focusing on "Unity through Diversity" in Indonesia and cooperation and sharing in Northern Ireland editions. So much has changed, and so much more is now known, in the world of children's programming that re-released episodes are for adults only:
"These early Sesame Street episodes are intended for grownups and may not suit the needs of today's preschool child," the warning reads.
Is your organization able to shift with the times and culture? Does your IT have the same policies in Japan as it does in the United States and Brazil? If so, maybe it's time to take a closer look and find where improvements can be made.
What lessons did you learn from Sesame Street? Let me know in the comments, on Twitter or at Michael@ITKnowledgeExchange.com.