Jun 17 2010 7:07AM GMT

Profile: Michael Morisy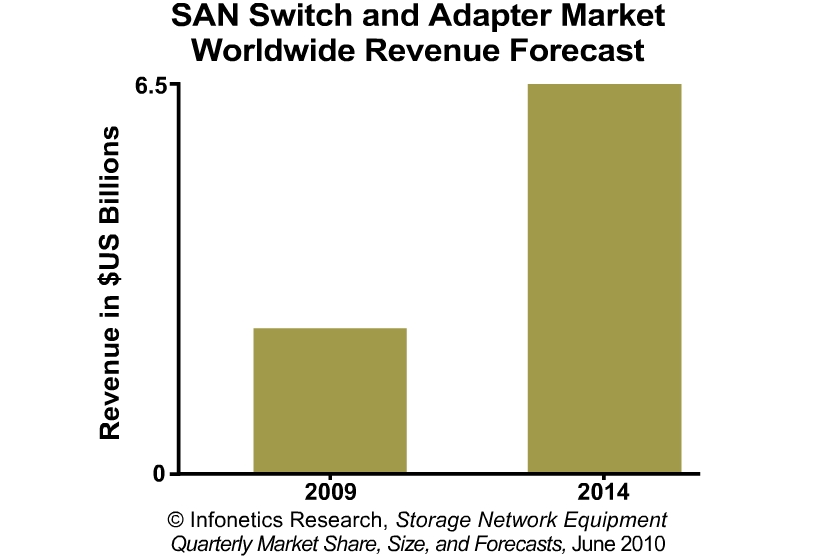 After a sleepy first quarter, storage area network (SAN) switch and adapter sales are booming as storage professionals look to get a get grip on explosive data growth, according to numbers crunched by Infonetics Research's Michael Howard.
"In the first quarter of 2010, Fiber Channel and Fiber Channel over Ethernet SAN switch sales were unseasonably up, thanks mainly to Cisco, while SAN adapter sales were seasonally down, creating a flat sequential quarter for the overall storage network equipment market," he wrote in a recent research note. "However, the market is up 24% from this quarter a year ago, and, with data and video being created at unprecedented levels and concentrated in data centers, companies will continue to invest in SAN switches to reduce complexity on the data center floor."
And Howard thinks the SAN love is here to stay, projecting the market will grow to $6.5 billion by 2014, more than double its revenues in 2009. The technology's been particularly popular in the North American market, where video production and transmission has pushed media moguls to find a better way to manage their storage farms, but with more video corporate training, communication and HD video to go around digitally, I wouldn't be surprised to see much of the rest of the world following on fast.
Michael Morisy is the community editor for ITKnowledgeExchange. He can be followed on Twitter or you can reach him at Michael@ITKnowledgeExchange.com.