---
May 13, 2010 8:49 AM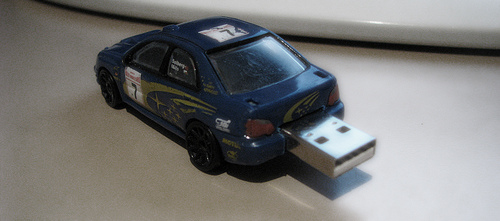 While VMWare's slimmed down, bare-metal server virtualization product ESXi has caused some amount of consternation among certain fans of the Linux console that its older, slightly heftier brother ESX offers, the lightened requirements have allowed some pretty cool virtualization tricks, as SearchServerVirtualization's Alex Barrett reported:
IT professionals on virtualization's bleeding edge have begun to experiment with a new method of deploying a hypervisor to a server: installing a slimmed-down hypervisor such as VMware ESXi on a USB flash drive or secure digital (SD) card.

…

"People will need to get used to a more ESXi way of doing things," said Simon Seagrave, the author of the virtualization TechHead blog. He uses the slimmed-down ESXi in his home lab and has grown fond of it.
Virtual-environment-on-a-stick! If you want to play along at home, VMInfo offers a handy, full-color PDF guide (Warning: PDF) while the popular virtualization blog Yellow-Bricks offers a handy guide that breaks down putting VMWare onto a USB drive into 13 (relatively) easy steps.
May 12, 2010 9:37 AM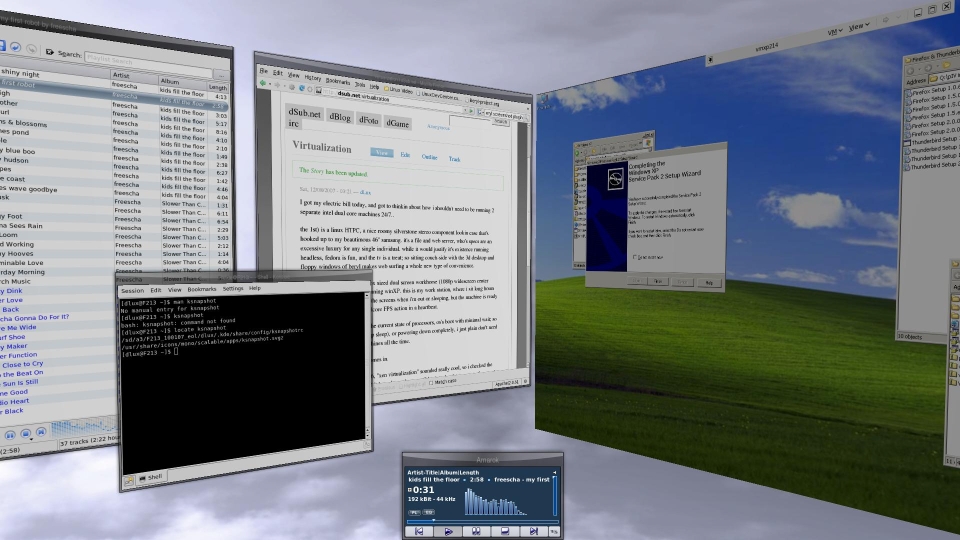 Aside from simply sounding cool, virtualization is the most efficient way to, well, be efficient: Server virtualization cuts down on how many servers you have laying around, desktop virtualization can cut helpdesk overhead and network virtualization helps keep it all organized without the messy wires getting in the way. Interested in having your cake and eating it too? Then check out these helpful blogs. Care to share your own virtualization goodies? Let us know in the IT Knowledge Exchange forums and hear where other IT professionals get their news, or e-mail me directly and we can add your suggestions to our list.
From the Inside: Editorial & User Blogs

Search Server Virtualization: Search Server Virtualization editors outline how industry changes and announcements affect how your company uses virtualization.
Virtualization Pro: SearchVMWare editors provide the grittier bits of the business side along with resources you need to check out.
Irregular Expressions: User Dan O'Connor reveals vulnerabilities and exploits while sharing virtualization tips and tricks.
From the Outside
Tired of reading? Get weekly updates podcast-style from the team at Search Server Virtualization or watch some (Virtualization) TV that won't rot your brain.
Melanie Yarbrough is the assistant community editor at ITKnowledgeExchange.com. Follow her on Twitter or send her an email at Melanie@ITKnowledgeExchange.com.
---
May 11, 2010 10:16 AM
This came out in April, but I missed it until it came through over the NAISG  mailing list: CBS did a nice investigative piece on how much confidential, legally protected information was set free via unwiped copy machines, many of which keep copies of all the copies they've ever made, easily accessible by secondary-market buyers with the right technical know-how.
[kml_flashembed movie="http://www.youtube.com/v/iC38D5am7go" width="425" height="350" wmode="transparent" /]
---
May 10, 2010 6:07 PM
Peter from FDCServers just left a voicemail response to the IT Watch Blog's questions about the alleged pictures circulating of FDCServers' server environment, saying that yes, the pictures were of FDCServers' servers, but most of them weren't from the colocated data center they host, but rather the NOC and repair centers where FDCServers fixes up whatever ails your favorite boxen. Furthermore, he said the pictures were taken by a competitor, which would obviously imply some ulterior motives.
Don't believe him? Go see for yourself: He invited interested customer or potential customers to tour the data center, an invitation that has generally been extended by FDCServers. Interested in taking him up on it? Try asking via their contact page.
The transcription of his full voicemail:
Hi Michael, this is Peter at FDCServers. You left a voicemail asking about the pictures that are circulating the Internet that are supposed to represent our data center. Some of them, some of them are not. Some of them are, some of them are not. Basically does pictures were taken by person that works for a competitor. Most of the pictures that he snapped are actually parts and machines that are sitting in our work benches or workshops in the NOC area where our guys basically repair servers. All of our data centers are actually accessible for tours, so obviously if that was the true state of our facilities then nobody would be hosting with us. On the contrary, the Chicago warehouse over 6,000 servers and our Chicago facility is sold out due to demand. As you can imagine just for the fact that those pictures are taken by somebody who works for a competitor, they were taken out of context and they do not represent you know the state of our facility. There was a picture of some ducked tape drives was a machine that a customer sent over and those drives were sitting on a workbench, and those pictures were not of working environment of FDCServers. As I said, anybody is welcome to come take a tour to see for themselves to see if those pictures represent the true state of our facility or not. If you have any other questions feel free to give me a call at [redacted]. Thanks a lot. Have a nice day.
---
May 10, 2010 10:34 AM
Update: FDCServers responds, saying a) yes, those pictures are of servers in our building; b) they are of our NOC and our repair center, and are not in production environment; c) they were taken by a competitor. Read the full response here.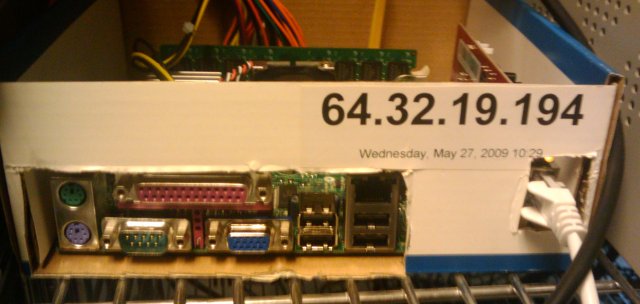 Mike Bailey (real name or nom de plum?) writes that he got to take an inside tour of FDCServers' Chicago datacenter, and has posted some server porn pictures sure to shock, horrify and/or amuse:
I went to the FDC Datacenter around the end of October after my friend who has a colocated server there asked me to help bring it back online. Not a dedicated server, a colocated server. It had been down for roughly 10 hours, and FDC's technicians had no idea what was wrong with it. The machine wouldn't post, and the fdc techs insisted my friend (who lives several states away) would need to supply replacement hardware to get the machine to post. After talking to him for several hours, and assuming fdc's techs themselves were right, my friend insisted that he would pay me to go to the datacenter and troubleshoot the issue.
The problem turned out to be a busted PCI-E bus, but the colocation facility hosted servers holding the power supply in with ducktape, ports completely askew and some downright bushy wiring. I called FDCServers to see if they'd confirm it was, indeed, their location, but they haven't returned my message yet.
They do, however, host their own gallery of data center pictures, which show a generally more organized side of things:

So are cardboard cases standard operating procedure for colocation facilities? Have you seen your own data center hacks that trump these? Shouldn't someone call the fire marshal? I'd love to hear your thoughts on these pressing questions at Michael@ITKnowledgeExchange.com: I'll happily keep your information private if requested, and we've got a free T-Shirt for the best data center hack we come across.
---
May 10, 2010 6:00 AM
Everybody
knows how to figure out whether you need a Security Information and Event Management tool (
SIEM
) and also how to pick the right SIEM product for your organization. Extremely smart people with years of experience in the field spent years dealing with that exact problem (
example
). However, it sure seems like the right way – 
requirement-driven
and 
use-case driven
– is also 
the least popular way
of picking and justifying SIEM deployments. Folks just want to do it wrong and make themselves suffer in the process while wasting money, generating annoyance and sparking intense hatred of SIEM vendors.
Great!
If doing it right  is not a popular option since many organizations are hell-bent on doing it wrong, let's try to determine "What is the least wrong way which will actually get used in real-life?"
First, let me refer to my classic deck on SIEM and log management "worst practices." The first two practices are related to choosing a SIEM product and are shown below:
•WP1: Skip need determination step altogether – just buy something
–"My boss said that we need a correlation engine" (more about this mistake)
–"I know this guy who sells log management tools …"
•WP2: Define the need for SIEM in general
–"We need, you know, 'do SIEM' and stuff" 🙂
These situations are actually quite common and most unquestionably wrong; and many a SIEM project has been slaughtered as a result.
BTW, what partially inspired this post was a  lot of Google queries for "which siem system is right for security in my company?" that landed on my blog. Think about this! Folks think that Google actually knows what SIEM is best for their organizations 🙂 An additional inspiration was provided by a discussion I had with a colleague who said that many SIEM purchases also had a hidden "opportunity cost." Namely, the money spent on a SIEM were thus not spent on something that could have contributed a lot more to risk reduction at this particular organizations. The final inspiration came from all the "MARS tossing" that is going on now; the organizations who acquired a SIEM product a few years ago and never managed to apply it to anything useful are now on the market for – you guessed it! – a new SIEM. These same folks then google for "SIEM justification" since they literally cannot say why they wasted $280,000 of perfectly good dollars…
In any case, what IS the least wrong way? How about this flow (drastic oversimplification alert!):
Do you really need a SIEM? Or do you want a SIEM? Figure this one out please….
If you need a SIEM to solve a particular problem, what would it cost (time, staff time, money) to solve it with SIEM and without SIEM? Which is cheaper, better, faster?
What problems won't you solve due to engaging in a multi-month SIEM project? Is this acceptable?
Next, will a simpler – and cheaper!-  log management tool do the trick?
Are existing SIEM solutions actually capable to solving that problem you have? At a cost you can afford to pay?
Will existing SIEM solutions work in your organizations: politically, culturally, geographically, etc?
Are you prepared to WORK (yes, w-o-r-k!) to make SIEM solve your problem? What exactly is your expectation, SOC-in-a-box, perchance?
How about open source SIEM combined with other tools and integration services?
Only here you can start planning the deployment, phased approach, log source integrations, correlation rules, dashboards, etc.
(we can call it an "almost right" approach)
And by all means, study vendor stuff on "how to choose a SIEM?" [some of it will in fact be written by the same party as this post :-)], but don't take it as gospel. The above list should get you going at least.
Here are some example of "SIEM gone wild" from recent experience.
In one case, a company called a consultant and said that they needed assistance with SIEM implementation. He asks: do you have business requirements defined? No. Do you have a product selected? No. But you want to implement already? Yes. *painful pause*
In another case, a company picked a SIEM that was [supposedly] the easiest to deploy. While undoubtfully an important criteria, wouldn't an enlightened reader of my blog agree that this requirement comes a close SECOND right after the "Will it solve my security problem?!!!" This particular organization just focused on ease of deployment… and FAIL didn't have to wait too long 🙂
BTW, lately I've been puzzled about the whole concept of "co-managed SIEM" (subject of one of the future blog posts). I think it is gaining popularity (example) for that very reason mentioned in this post: folks don't want to figure that stuff out, the want the crack team of mercenaries to parachute in, deploy and operationalize a SIEM for them – and then continue running it for some time…or forever. I was told that sometimes it is cheaper than signing up for an MSSP – and you retain more control while learning from the experts on how to do it.  But more on this in the future post.
Finally, just have to mention it: I am available for SIEM and log management consulting projects.
---
May 5, 2010 11:56 PM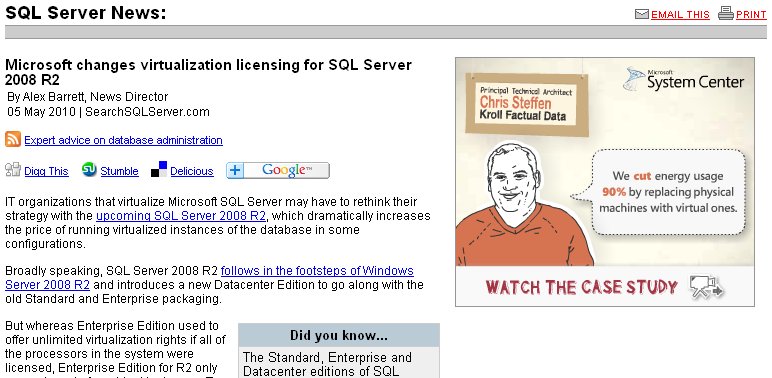 TANSTAAFL, or "There ain't so such thing as a free lunch," was once the rally cry of both science fiction great Robert Heinlein and economics giant Milton Friedman, so it should come as no surprise that even as Microsoft promises 90% energy savings, as it did in a recent campaign on sister site SearchSQLServer.com (see above), there's a catch. In this case, as spelled out by SearchSQLServer's Alex Barrett (also pictured above), that catch is Microsoft cracking down on SQL Server licensing fee loopholes, and not everyone is pleased:
IT organizations that virtualize Microsoft SQL Server may have to rethink their strategy with the upcoming SQL Server 2008 R2, which dramatically increases the price of running virtualized instances of the database in some configurations.

But whereas Enterprise Edition used to offer unlimited virtualization rights if all of the processors in the system were licensed, Enterprise Edition for R2 only supports up to four virtual instances. To gain unlimited virtualization rights, customers will need to purchase the new Datacenter Edition, which costs twice as much as Enterprise Edition: $54,990 per processor (without Software Assurance), compared to $27,495.

Scott Cochran, network engineer at a large life insurance company in Baltimore, Md., said his company's plans to virtualize SQL Server Enterprise Edition were probably "off the table."

"We were having a hard time getting management to sign off on two processors at the old pricing," Cochran said.
Microsoft responded that the changes will affect only "a very few customers," but Brent Ozar, a noted SQL Server professional and avid blogger, called the license update "an ugly change for shops who use virtualization," recommending SQL Server administrators buy now if they can avoid the potential licensing headaches and costs later on.
Our resident SQL Server expert MrDenny has not yet weighed in (Update: He has, however, commented extensively on SQL Server 2008 R2), but in a recent talk on SQL Server virtualization, he highlighted cut hardware costs and free server redundancy as drivers for SQL virtualization in a recent talk for SQL Saturday. While Enterprise edition users will still see both of these benefits, the scope of what they can do has now been significantly limited.
---
May 3, 2010 12:56 PM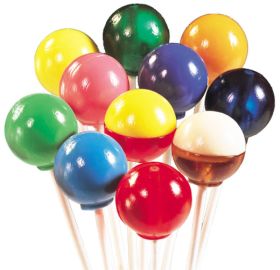 Too many desktop virtualization platform options, deployment choices and licensing paths might stimmying desktop virtualization. As CIO's Kevin Fogarty reports:
Desktop virtualization now comes in so many varieties that even vendors confuse terms referring to the flavors.

Market leader Citrix Systems, now working hard to expand virtual desktops into roles that the company hasn't traditionally filled, rolled out a version of its Xen Desktop solution last fall that allowed customers to choose any of six major delivery methods.

Competitor VMware is close behind, followed by Microsoft and a host of add-on vendors and open-source integrators offering similar approaches, bolstered from the other end of the client-hardware spectrum by thin- or zero-client virtualization products such as Pano Logic or NComputing.

Add to that the potential to stream apps to end users from external SaaS providers, access all or part of a virtual desktop from the cloud via platform-as-a-service, nestle a secure VM within an otherwise insecure personally owned iPad, smartphone or other gadget—and the choice gets very complicated, according to Chris Wolf, infrastructure and virtualization analyst at The Burton Group.
And while the rush into virtualized desktop and device OS's isn't fully on yet (some of Fogarty's aforementioned combinations aren't even available or projected to be available), desktop virtualization was gathering its fair share of buzz at Interop, the somewhat stodgy IT conference geared towards networking professionals I headed out to last week. The conference even had a whole track day devoted to desktop virtualization. Just sample the topic list and you can tell this is a serious technology:
Methodology for evaluating your user requirements and determining which technologies and combined approaches are best suited for your users' needs
A deeper understanding of the various approaches and architectures of the different desktop virtualization and application virtualization and streaming technologies
An independent look at the top desktop and application virtualization solutions
---
May 2, 2010 8:24 PM
This sponsored guest is from Cisco Systems and was written by Mark Leary, a Cisco senior strategist and Chief Marketing Officer – Network Systems.
In the first two segments of this blog series, I focused on two of the three cornerstones to success in Borderless Networks – Workplace Transformation, and Technology Leadership. The former targeted the connected user and the latter took aim at the technology at work within the network itself.
For the final segment in this series, let's turn our attention away from systems and technology and focus on Operational Excellence. How does one take all this advanced technology and effectively and efficiently respond to all the user and business demands that accompany this brave, new borderless world? After all, even the richest and "rightest" technology solution will fall short of expectations if it is not bolstered by 1) a proven set of best practices, 2) a strong support structure, and 3) an accurate and complete view of network costs and value.
Let's examine each of these key operational components.
Best Practices and Borderless Networks
In today's connected world, business systems and processes are built to take advantage of the network. And just as business systems and processes are unique to individual customers, so too are their networks. Special network service requirements can be dictated by customer business model… or industry pressures… or geographic location… and on and on.
At a business level, Cisco functions as a strategic partner. Industry experts advise customers on networking norms and trends. This advice can target a specific vertical industry such as health care or government. Or it can take aim at horizontal business functions such as remote collaboration or customer care. And Cisco backs up this advice with networking solutions that get you up and running quickly. Examples include, PCI for Retail, Medical-Grade Network 2.0 for health care, and Citizen Connect for governments.
At a technical level, Cisco provides IT and network staff with expert analysis, proven designs, certified training, and technology management best practices. Cisco's Design Zone and the Cisco Security Center serve as two prime sources of in-depth technical guidance. Cisco makes sure you do networking right… from the start. Here, the breadth and depth of technical guidance offered to customers is unmatched in the industry.
In addition, Cisco also leads by example. Cisco IT has long been recognized as a leader in supporting the networked organization. Our internal expertise and experience is passed on to customers, enabling them to learn from our successes – and yes, our mistakes. Cisco is also recognized for its leadership in Green IT practices. Teleworking, remote collaboration, and resource virtualization are all of strong influence within Cisco. And for those customers looking to take advantage of developing cloud services, Cisco is an active provider (WebEx Collaboration Cloud) and partner with cloud service providers.
Cisco works hard to make sure you do networking right. As my father was always fond of saying, "Do it right. Do it once."
Support Services and Borderless Networks
The strength of network support services, whether you're looking at your own internal offerings or those of your technology providers, is a prime determinant of networking success. From design to deployment to operations to innovation, how well you support your business and your end users determines how successful you are in networking. This is not to say that technology or solutions or products don't matter. They do. What this says is that support service excellence leads you to use the right solutions and then use them most effectively and efficiently.
Cisco offers a wide range of services options. This allows customers to best balance their support requirements with their support budget. Cisco's enhanced Limited Lifetime Warranty (LLW) reduces maintenance costs, while still providing solid support. Above and beyond LLW, Cisco offers a wide range of services options — from basic (e.g., Smart Foundation) to premium (e.g., SMARTnet and Smart Care) to advanced (e.g., Security Assessment and UC Migration). Cisco will even co-manage your network through our Remote Management Service (RMS).
Customers are provided further flexibility through Cisco direct and on-line service capabilities. Both Cisco's Technical Assistance Centers and web-based support are award-winning. No one supports networks like Cisco.
In order to optimize support for Borderless Networks, Cisco also offers a single service contract that covers the core technologies within the Borderless Network Architecture – routing, switching, security, and mobility. For example, Cisco's Network Optimization Service encompasses all four of these core technologies, allowing Cisco to optimize your Borderless Network as one single business system.
Whatever your preference in service levels or service delivery methods, you can rest assured that, with Cisco, you're receiving the best support available in the industry. No other vendor comes close to offering 5 global TACs and over 1,500 support engineers dedicated to network support. Additionally, as you look to staff your own IT organization, the more than one million Cisco-certified network technicians represents a huge source of talent from which to draw. Combined, Cisco's resources and your resources ensure that your network and your organization overall is provided the best possible service and the best possible service levels.
Cost Savings and Borderless Networks
Operating expenses typically account for 75-80% of the networking budget. It makes sense then that operational efficiency drives the greatest network-related cost savings. That doesn't mean that capital expenses should be ignored. You must save wherever you can. Beyond network-related CapEx and OpEx, you should also be mindful of costs that can be directly influenced by the network. For example, downtime results in lower productivity, customer dissatisfaction, and lost revenue. Underutilized resources result in over-spending on systems and support.
Networking devices that support multiple services (e.g., connectivity, security, voice, mobility…) eliminate the need for specialized devices and reduce network complexity. Service intelligence and modular designs also extend the service life of equipment, protecting your investment over time. The result: CapEx and OpEx savings.
Cisco further reduces OpEx through such key capabilities as zero-touch service activation and management automation. For example, Cisco's ISR allows remote provisioning of integrated services. Cisco's Embedded Event Manager (EEM) automates common tasks and problem handling.
Cisco's industry-leading high availability features help avoid scheduled and unscheduled downtime. For example, Cisco's ISSU allow software updates while the device remains in service. Cisco's CleanAir technology assures the integrity of your wireless network environment. On the security side, industry-leading products and practices ensure your network is protected from forced downtime or slowdowns. These same security solutions also help you avoid productivity losses when users are remote or mobile. For example, Cisco Virtual Office (CVO) provides for full protection and productivity for teleworkers.
Resource savings extend beyond the network through key virtualization (e.g., VLANs, DMVPN) and sustainability (e.g., EnergyWise, CVO) services. Here, reductions in IT systems, energy use, and facilities requirements drive savings across both IT and the business.
Cisco EnergyWise also serves as a prime example of how the role of the network is expanding to drive value beyond traditional IT enablement. Today, operating as energy management software on Catalyst switches and Cisco Integrated Services Routers (ISR), Cisco EnergyWise along with its Orchestrator management console and PC client software, measures, monitors, and controls power demands of a variety of networked devices (e.g., IP phones, WLAN APs, PCs, and servers). Cisco's complementary Network Building Mediator enables heightened control over the power demands and energy costs relating to the facilities infrastructure – e.g., lighting controls and HVAC systems. In the future, Cisco EnergyWise and Mediator integration combined with technology partnerships will further consolidate energy controls across the network, providing you with complete control over your organization's energy consumption and costs.
Last, but certainly not least, Cisco provides for direct cost savings on equipment and maintenance through a number of key programs. Product bundles reduce the cost of purchasing commonly grouped networking systems and components. Cisco Capital Finance provides flexible leasing options when customers are looking to balance CapEx and OpEx and adapt their networks as new demands arise. Trade-in allowances reduce network refresh costs – and support sustainable electronic waste initiatives and directives. And, as mentioned above, Cisco's enhanced Limited Lifetime Warranty further reduces the cost of the Cisco solution.
As you see, doing Borderless Networks right involves far more than picking the brightest technology, the best solution, or the cheapest product. It is as much technique as it is technology. Are you doing networking right? Are your suppliers and service providers doing right by you? Think you'll do this once? Or will it take you multiple tries to get it right? Remember… Do it right. Do it once.
I hope you enjoyed this series on Borderless Networks. Let us know what you think. And as always… let us know what you — and your network — need.
---
April 29, 2010 3:58 PM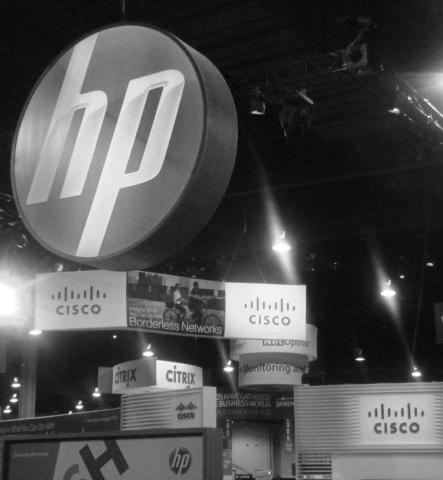 This week at Interop and beyond, the battle lines between Cisco's and HP's networking divisions were clearly drawn in black and white, and the future promises a long-drawn war between the former partners to win the hearts, minds and wallets of networking professionals.
The most visible sign that the two competitors are willing to play hardball wasn't on the showroom floor at all: Both giants held their respective partner conferences April 26 – 28th, with Cisco in San Francisco and HP right down the street from Interop at the Aria Resort and Casino.
IT pundits and partners said the message was clear: You are either HP or Cisco now, not both, particularly if you want to sell networking equipment. The was all precipitated by Cisco's bold move into the server market and HP's recently finalized 3Com acquisition. While the companies had been particularly complementary previously, they now were very much overlapping in product lines, which means a major restructuring in what kinds of deals can be made.
The heat has spilled over onto the Interop show floors: This year, likely due to acquiring 3Com and any Interop reservations they had, HP had not one but two giant show floor presences, one of which was right next to Cisco. I actually sat amidst a posse of HP executives during the keynotes, who not-so-quietly whispered "Bullshit" during the presentation by Cisco's Brett D. Galloway. Let's blame it on the Vegas mentality, but it seemed like the group was two slides away from throwing tomatoes.
I spoke with Nick Lippis, of Lippis Report fame, for his take on the situation and he said that HP faces some big challenges entering Cisco's turf, but they also have some large advantages regarding strong existing channel and supply chain partnerships that span their networking, server and printer lines, which can translate into a lower acquisition cost and the ability to corral fence sitters into their camp whether they want to or not.
"It's going to be very difficult for a channel partner to support both Cisco and HP," he said. But with Cisco retaining a large market margin – about $40 billion to HP's $5 billion, according to Lippis – and a strong technical edge, the two companies will have very different messages to bring to the market.
---