Jun 4 2010 7:00AM GMT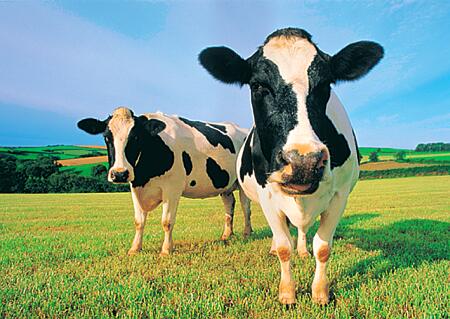 Like those houses on reality TV, packed to the ceiling with years' worth of accumulated trash and newspapers, your data center's filled to the brim. Except instead of disposables, you need solutions to deal with computer and storage systems. Valuable stuff. You probably don't want some cow grazing—let alone relieving herself—nearby. Well, not so fast.
Despite the industry's attempt to catch up with data storage and cooling, across-the-board efficiency is ranked right up there with the Tooth Fairy. Not gonna happen. Not all solutions are magical thinking, however, as HP's most recent research has revealed. Can cow manure catapult your data center into a self-sufficient, powered and cooled machine? Looks like it.
As TakePart's Danny Jensen reports:
The HP research team recently unveiled a paper that explores the sustainability of converting waste from dairy farms and cattle feedlots into electricity to power and cool energy-hungry computer data centers. The massive heat output generated by the data centers is in turn reused to break down the biomass, creating a self-sufficient system.
Sound like a bunch of BS? (Sorry, I couldn't help myself.) HP Lab's "Design of Farm Waste-Driven Supply Side Infrastructure for Data Centers" [PDF] cites the "design and operation of data center infrastructure [as] one of the primary challenges facing IT organizations and economies alike." Set aside the benefits for data centers worldwide—it seems to be the perfect symbiotic relationship of solutions. The food industry is always under fire for its wasteful and sometimes questionable practices, with vegetarians citing that "methane is 21 times more damaging than carbon dioxide" as a reason to quit meat. With this new research, IT pros, farmers and meat eaters alike can celebrate this unlikely new partnership.
Don't put your livestock order in just yet, though. Still in its infant stage, HP Lab's design isn't without its glaring flaws, such as its estimation that it would take 10,000 dairy cows to power a 1MW data center. Danny Jensen again:
Any farm on the 10K cow scale would function as a Confined Animal Feeding Operation (CAFO), and raises a host of ethical and food safety problems.
What are your hopes and criticisms for HP's research? How are you implementing greener practices into your storage solutions? Let us know in the comments section or shoot me an email; I'd love to hear from you!
Melanie Yarbrough is the assistant community editor at ITKnowledgeExchange.com. Follow her on Twitter or send her an email at Melanie@ITKnowledgeExchange.com.