Aug 23 2011 8:07AM GMT

Profile: Michael Morisy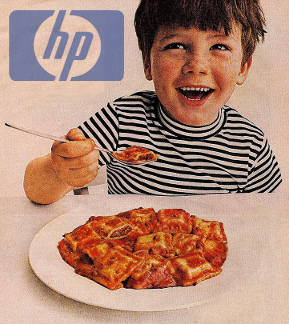 HP ditching a low-margin business to focus on new software initiatives? Sure sounded a lot like the recent headlines could have applied to HP's inroads in the networking business, which have come largely at the cost of undercutting Cisco's networking, storage and server markets in a brutal price war. And while the real (first) victims were HP's market-dominating consumer PC division and its nascent attempts at mobile greatness, WebOS, my curiosity was piqued: What will happen to HP's corporate hardware, now that it's becoming a corporate software company?
A new hope
As a little background, if you haven't heard: Léo Apotheker, who was named HP's president and CEO a little over a year ago, announced that the company's PC division was going to be spun off, and its mobile hardware division wound (although the company claims WebOS will live on in licenses). At the same time, it was announced that HP was acquiring a U.K. company called Autonomy, which dubs itself the pioneer of "meaning-based computing." The technology looks like a mix of e-discovery, enterprise search and fancy graphs, with a business very similar to Apotheker's last company, SAP. In fact, the acquisitions $10 billion price tag and Apotheker's statements have made clear that this company is critical to charting HP's future strategy.
"Autonomy has an attractive business model, including a strong cloud based solution set, which is aligned with HP's efforts to improve our portfolio mix," he said in a press release. "We believe this bold action will squarely position HP in software and information to create the next-generation Information Platform, and thereby, create significant value for our shareholders."
And while the release goes on to talk vaguely about how this acquisition "aligns" with the rest of HP's IT divisions, the fact is Autonomy is a largely cloud-driven company which seems like it would benefit very little from any enterprise synergies, except as far as HP could de-commoditize cheap hardware by putting expensive software on it.
Show me the money
The strange thing is, I could find almost nothing, even among my tech press peers, about what this means for HP. It's like everyone forgot that the division even existed except for as a vague synergy. But deep down on HP's summary of its Q3 earnings, some hopeful notes:
Enterprise Servers, Storage and Networking (ESSN)revenue grew 7% year over year with a 13.0% operating margin. Networking was up 15%, Industry Standard Servers was up 9%, Business Critical Systems was down 9%, and HP Storage was up 8%. 3PAR revenue accelerated, with triple-digit year-over-year growth operationally.
That's not the 20% growth the software side of HP saw, and they didn't highlight margins or any actual numbers (Is it a tiny part of the overall business? Is it profitable yet?), but it's a lot more enticing than the sales dud that was WebOS, particularly since the enterprise market is less fickle and easier to squeeze a long-term margin out of then consumers.
For some context, the company's last quarterly statement included this breakdown (note that all numbers are in millions):
Three months ended April 30

Net Revenue

Earnings (Loss)
from Operations

2011

2010(1)

2011

2010(1)

In millions

Services

$

8,977

$

8,842

$

1,361

$

1,401

Enterprise Servers, Storage and Networking(2)

5,556

4,837

766

624

HP Software(3)

764

653

154

167

HP Enterprise Business

15,297

14,332

2,281

2,192

Personal Systems Group

9,415

9,956

533

465

Imaging and Printing Group

6,745

6,396

1,144

1,098

HP Financial Services

885

755

83

69

Corporate Investments(4)

72

66

(198

)

(65

)

Segment total

$

32,414

$

31,505

$

3,843

$

3,759
As you can see, while ESSN (HP's catchall for their IT hardware) is profitable, but just chump change compared to the money they get from enterprise services and those higher-value options they can lay on top of their hardware. With that background, an SAP-ish future for HP makes a lot of sense. Particularly since, later on in the quarterly filing, HP acknowledges that it is fighting a way on many fronts, spreading itself too thin:
Unlike many of our competitors, we have a portfolio of businesses and must allocate resources across these businesses while competing with companies that specialize in one or more of these product lines. As a result, we may invest less in certain areas of our businesses than our competitors do, and these competitors may have greater financial, technical and marketing resources available to them than our businesses that compete against them. Industry consolidation also may affect competition by creating larger, more homogeneous and potentially stronger competitors in the markets in which we compete, and our competitors also may affect our business by entering into exclusive arrangements with existing or potential customers or suppliers.
I'll take a look at the latest HP financial statements as they become available, and hopefully we can learn more about the fate of ProCurve and the rest of the HP enterprise hardware family.
Michael Morisy is the editorial director for ITKnowledgeExchange. He can be followed on Twitter or you can reach him at Michael@ITKnowledgeExchange.com. Image via Flickr user John McNab.