Jan 23 2012 11:14PM GMT

Profile: Michael Morisy
Despite today's earlier post, I loved RIM. I think the Curve was, hands down, a great piece of hardware when it came out and stood the test of time. But as much as Mike Lazaridis, RIM's former co-CEO, was trashed for being tone deaf when it comes to PR, his successor Thorsten Heins has miles to go to catch up with him, as a new YouTube video shows:
My only theory as to why this was published is that Heins recurring insistence that a new head of marketing must be hired irked the current marketing people, but that is pure conjecture on my part.
The most unsettling Heins quotes from the video:
"I spend a lot of time at RIM, but that doesn't bug me."
"If we continue doing well what we are doing, I see no problem with us being a top three player in wireless."
"At the very core of RIM is the innovation. We always think ahead … we sometimes think the unthinkable, and that is fantastic."
"I joined this company four years ago and it was growing, but comparatively it was still small in the wireless arena. We have taken this to entirely new heights."
"I think we need to learn a bit more disciplined in our own processes. Sometimes we innovate too much when we build a product."
"However our growth in the past has come a lot from consumers. What we need to get a lot better at is to have more near to us the consumer."
"Our employees … need to see the future, that we make a difference. This is not a me too product."
"Communication with employees is key."
"The employees have to see that they are not just fulfilling something, they have to see and experience that they are participating in something."
"For sure, congratulations to the team on PlayBook 2.0 at CES … [a] blow the socks off experience for our customers."
"This is unheard of that any company has done this [platform transition] in one and a half years … I can't wait to see it."
"What I'm really good at is inspiring teams."
"We are very successful in all of the world."
To put these quotations into perspective, it's important to acknowledge the fantasyland of 2007 – present RIM that Heins is living in: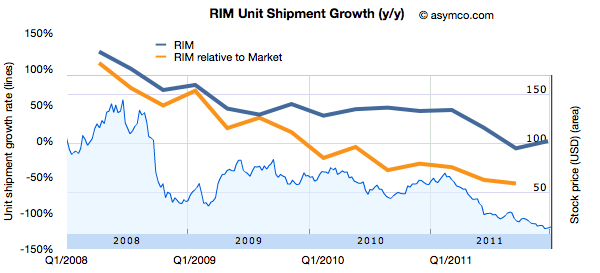 Nobody watching the company in the past 5 years would accuse it of "innovating too much". When I met with then-CEO Lazaridis a few years ago, he brushed off touchscreens as a fad and insisted that RIM would stick to its roots. Only after iOS and Android took off with their respective markets did BlackBerry follow suit.
The PlayBook was a bomb, and TabletPCReview writes that RIM's marketing department, so bereft of leadership now, has been driving it.
Heins' boast that RIM can be a top-three player, no problem, if they execute really well is sad when you look at where they were when he joined the company, again courtesy a marketshare breakdown by Dediu: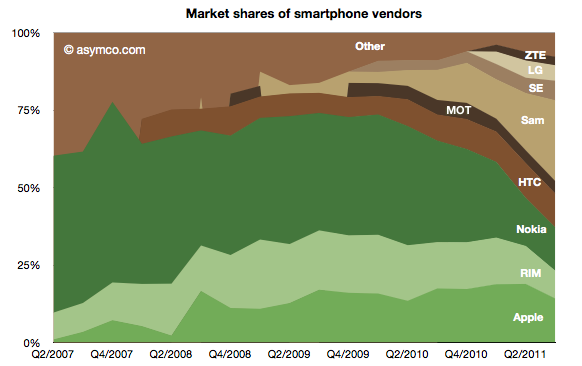 RIM has a great history and pushed the mobile industry forward in a lot of ways, but the past few years the leadership has shown a blissful ignorance of the evolving industry coupled with unwarranted optimism for BlackBerry's future. Whatever innovative ideas Heins has, he's already gotten off on the wrong foot when it comes to convincing many that the platform has a serious future.