May 25 2011 8:07AM GMT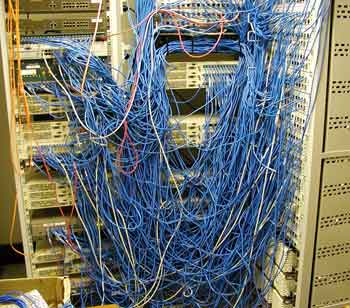 As you probably know, May was Networking Month at IT Knowledge Exchange. We've been busy covering Interop 2011 and all of the latest happenings in the networking world. So if you've found yourself as confused about your network as those wires over there, check out some of what we've been doing and what we think you shouldn't miss compiled below for your easy digestion.

Interop Coverage
Editor Michael Morisy went to Las Vegas this month for Interop 2011. Check out some of his coverage of the conference at the Enterprise IT Watch Blog.
Networking Resources
Whether you're attached to your RSS reader or you're more of a Twitter person, we've got some great places for you to add to your daily repertoire of networking brush-ups.
Networking Guides
SearchNetworking is a great resource for expert advice and whitepapers on all things networking. We've picked out just a few, but bookmark it just in case you have an urgent need in the future.
IT Knowledge Exchange Resources
There are several blogs around the community that cover the necessary networking topics.
And of course, the Enterprise IT Watch blog covers the latest goings-on in enterprise tech. Check out all of our blog posts from this and past Networking months!
Networking Questions
We saw some great networking questions and answers around the community this month. Browse some of the highlights below, ask your own, and spread your own knowledge!
Contest & Open IT Forums!
Our latest contest ends with Networking Month on May 31, so check out some of the ways you can earn more knowledge points and earn $100!
Join us in June for Cloud Storage month!
Melanie Yarbrough is the assistant community editor at ITKnowledgeExchange.com. Follow her on Twitter or send her an email at Melanie@ITKnowledgeExchange.com.