Jun 29 2010 8:20AM GMT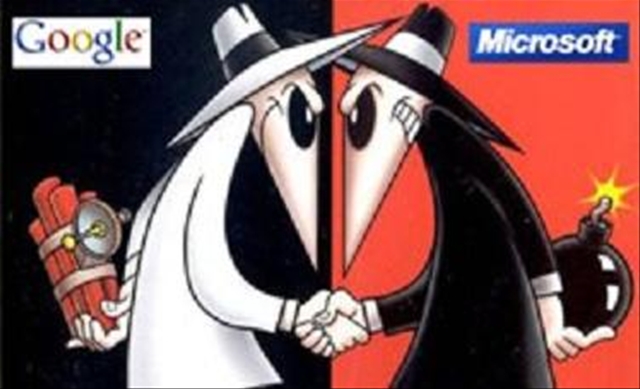 About a month ago, Google began its migration away from Windows, offering in its stead the Mac OS X for Apple users and Linux for PC users. Now it seems Microsoft gets to bite its thumb right back, as France's Skema Business School trades in Google Apps for Microsoft's Live@edu service. The self-described "pioneer in the use of online collaboration tools," Skema—a combination of the French business schools CERAM and ESC Lille—entered into a three-year partnership with Microsoft.
How do the services compare on paper?
| | |
| --- | --- |
| Google Apps for Education | Microsoft's Live@edu |
| 7.2GB Gmail service with Gchat IM in email browser | 10GB hosted email service |
| Google Calendar: Event and calendar sharing | Outlook Calendar sharing and event coordination |
| Google Talk (IM, VOIP, & file transfer) | Windows Live Messenger: Allows image and document sharing as well as sending SMS messages from the interface. |
| Google Sites: Shared websites that include videos, images, gadget and documents. | Windows Live Spaces: Share info via documents, blogs and discussion groups. |
| Google Documents: +Multiuser document editing, -Only create Google documents, simple exporting/importing may lose data/formatting. | Windows Live Skydrive: 25GB web-based, password protected and shareable storage space. |
| Google Video: Video sharing with capability for comments, tags and rating. 10GB per domain. | Office Live Workspace: Collaboration document editing |
| Across-the-board compatibility. | Recent access through Moodle open source application and mobile syncing with Windows Live Mobile. |
Since neither service seems to offer anything significantly superior to its competitor, perhaps it comes down to familiarity. Microsoft invites schools to "build on what they already have," banking on its trusted name in academia software to sway institutions to transition into the cloud with them. Live@edu offers compatibility with Microsoft's desktop applications, an important note since not everything has moved to cloud just yet.
This is a major overhaul for the ESC Lille half of Skema; the former had been using Google Apps Education Edition since 2008, but what does it mean for Microsoft in this ongoing cloud war?
First of all, any positive press for Microsoft—whether it involves beating out Google or not—is huge these days. It seems the morale's been down around Microsoft headquarters; so much so that PR king Frank Shaw sent out a pep talk email to the company, available at All Things Digital, and posted a self-serving look at "Microsoft by the numbers" at the company blog. What spurred this influx of confidence boosters? From Shaw's fingertips:
It has been a rough couple of weeks for us from a coverage standpoint. It seems like every time I turn on the computer, or talk to a reporter, or pick up a publication at home, or do a scan of my RSS feeds or Twitter client that I see more stories and opinions about the challenges we have, and how great some of our competitors are doing. iPad this, Droid that, sheesh.
Predictably enough, they've gotten even more bad press about their moping; repostings of the email and blog post are accompanied by tongue-in-cheek references to Shaw's kitschy reference to the Rocky theme song and running up hills. The Guardian's Technology Blog reexamined Shaw's "fist-pumping set of figures," putting in the analysis he so conveniently left out.
Aside from the morale benefit of adding a notch to their "We're Better Than Google" belt, this small-scale victory for Live@edu adds to the other recent victory Shaw references in his company-wide email: "[W]e just announced 700k deployment of live@edu, probably the largest cloud deployment in the world." He's referring to the June deal between Microsoft and the Kentucky Department of Education, a move that the Commonwealth of Kentucky projects will save them up to $6.3 million dollars over a four year period. The speedy migration of the first 500,000 users took a mere weekend, sweetening the deal for the Kentucky school system. Kentucky's commissioner of education, Terry Holliday, articulated the best part of the deal, "[W]e can close the technology gap between rich and poor districts and level the playing field for students regardless of where they live."
If you look at it from Shaw's PR-rich viewpoint, Microsoft's ahead of the game, offering real solutions and features to those who otherwise wouldn't be able to afford it. And no matter your opinion of Microsoft or Google, education is definitely coming out on top in this particular war.
Melanie Yarbrough is the assistant community editor at ITKnowledgeExchange.com. Follow her on Twitter or send her an email at Melanie@ITKnowledgeExchange.com.