May 5 2010 11:56PM GMT

Profile: Michael Morisy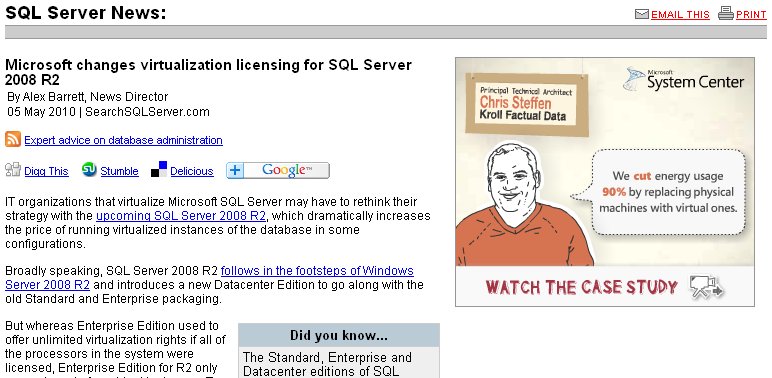 TANSTAAFL, or "There ain't so such thing as a free lunch," was once the rally cry of both science fiction great Robert Heinlein and economics giant Milton Friedman, so it should come as no surprise that even as Microsoft promises 90% energy savings, as it did in a recent campaign on sister site SearchSQLServer.com (see above), there's a catch. In this case, as spelled out by SearchSQLServer's Alex Barrett (also pictured above), that catch is Microsoft cracking down on SQL Server licensing fee loopholes, and not everyone is pleased:
IT organizations that virtualize Microsoft SQL Server may have to rethink their strategy with the upcoming SQL Server 2008 R2, which dramatically increases the price of running virtualized instances of the database in some configurations.

But whereas Enterprise Edition used to offer unlimited virtualization rights if all of the processors in the system were licensed, Enterprise Edition for R2 only supports up to four virtual instances. To gain unlimited virtualization rights, customers will need to purchase the new Datacenter Edition, which costs twice as much as Enterprise Edition: $54,990 per processor (without Software Assurance), compared to $27,495.

Scott Cochran, network engineer at a large life insurance company in Baltimore, Md., said his company's plans to virtualize SQL Server Enterprise Edition were probably "off the table."

"We were having a hard time getting management to sign off on two processors at the old pricing," Cochran said.
Microsoft responded that the changes will affect only "a very few customers," but Brent Ozar, a noted SQL Server professional and avid blogger, called the license update "an ugly change for shops who use virtualization," recommending SQL Server administrators buy now if they can avoid the potential licensing headaches and costs later on.
Our resident SQL Server expert MrDenny has not yet weighed in (Update: He has, however, commented extensively on SQL Server 2008 R2), but in a recent talk on SQL Server virtualization, he highlighted cut hardware costs and free server redundancy as drivers for SQL virtualization in a recent talk for SQL Saturday. While Enterprise edition users will still see both of these benefits, the scope of what they can do has now been significantly limited.