Apr 26 2010 7:20PM GMT

Profile: Michael Morisy
Maybe it was the equivalent of having a heart attack at a cardiology trade show, but a number of Interop's early bird registrants found themselves on the receiving end of an IT snafu: Attendees were told to "Wait just 10 more minutes" as they were left to stare at an endlessly looping registration screen.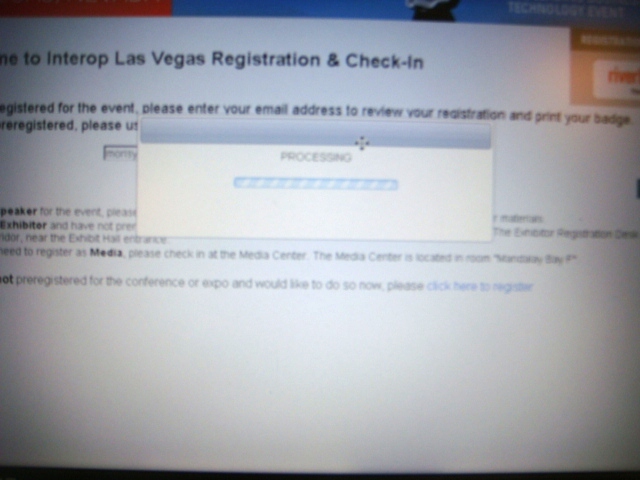 One bemused attendee quipped, "Is there an IT guy in the house?" 10 minutes later, there was still no sign of advancement as the self-service terminals, and the line continued to grow.
Eventually the aforementioned smart aleck begged off: He was on duty in a exhibitor support role to quietly show off his wares, and he had meetings to attend. Things proceeded relatively smoothly thereafter, with at least one more outage but few vocal complaints. Early birds might get the worms, but they also get the bugs, too.
Whether you're trekking out into the Las Vegas sands or watching safely from your home base, IT Knowledge Exchange has you covered: The Enterprise IT Watch Blog is teaming up with SearchNetworking.com to bring you the most comprehensive Interop coverage. Follow Interop coverage on the IT Watch Blog or check out SearchNetworking's coverage on the Network Hub. If you're in Las Vegas yourself, shoot me an e-mail at Michael@ITKnowledgeExchange.com: I'd love to hear what you've learned, seen or heard, and we have plenty of free swag to give away to IT Knowledge Exchange members!