Jan 29 2016 10:26AM GMT

Profile: Michael Tidmarsh
Tags: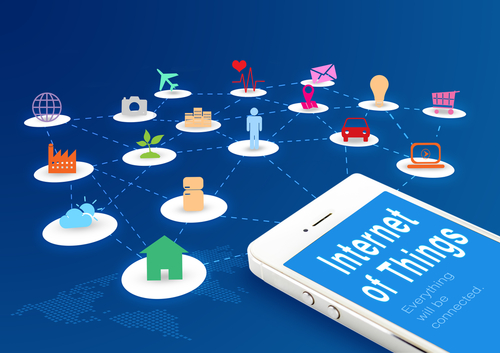 Internet of Things image via Shutterstock
By James Kobielus (@jameskobielus)
Data has come to blanket the face of the Earth. Our geographic information systems are increasingly thick with layers upon layers of contextual information to help us orient ourselves without having to think too hard about it.
Uncharted territories simply don't exist anymore from sea level on up. As you geolocate your way across this big, beautiful world, you increasingly have no excuse for not knowing exactly where you are, what all these geologic and artificial landmarks around you might be, and what's been taking place there from the dawn of antiquity all the way up to the present moment.
When I was in the wireless industry in the late 90s, GPS still hadn't achieved mass adoption, the smartphone didn't yet exist, and wireless deadzones—where you were out of communication because cellular signals didn't reach—pockmarked the mobility landscape. But that's all ancient history now. I personally can't remember the last time when I've not been able to use my mobile phone due to lack of signal coverage. And, thanks to Google Maps and a few other geolocation apps on my smartphone, I pretty much have fingertip access to deep data on anything I encounter in my travels.
Increasingly, we can bid adieu to the "data deadzone," which I'll define as anywhere on the planet that doesn't feed us a continual stream of real-time data in its weather, traffic, air quality, amenities, and any other feature, attribute, or goings-on in which we might take an interest. As a mass phenomenon, the Internet of Things (IoT) is rapidly enlivening all the former data deadzones of the world with the lifeblood of real-time, geotagged sensor data on their hyperlocal conditions.
Not just that, but the IoT's distributed databases are inexorably correlating more of these feeds into massive, fine-grained, continually updated maps available to the general public. In fact, open IoT-sourced data and reference graphs are being used for a diversity of consumer, business, scientific, and government initiatives around the world.
That's my takeaway from this recent Fast Company article, "How The World Will Transform Once There Are Environmental Sensors Everywhere." In it, author Sean Captain discusses an IoT crowdsourcing initiative that is filling in data deadzones pertinent to local air quality conditions. "As sensors become small and cheap," Captain states, "we're creating a global network of environmental data collection to help us figure out the best ways to quickly cut emissions. In the piece, he cites a Gartner prediction that, by the end of this decade, "'citizen environmentalists' will have deployed more personal sensors, measuring things like air and water pollution, than governments have in countries with well developed economies."
Of course, IoT-data crowdsourcing initiatives needn't all be in the public interest. In fact, more of the contextual data that gets overlaid onto our geolocation systems will undoubtedly come from crowdsourced consumer apps on our collective smartphones, smart cars, smart homes, and so on. And more of this data will be delivered from the source in exchange for something of value—i.e, free or discounted products or services—offered by the vendors of those IoT-equipped products.
However, even as we eliminate data deadzones, we're at risk of strangling the life out of those zones through a surfeit of too much geotagged but otherwise undigested IoT sensor data. As we sift through thicker layers of this data, our lives will fill with what I think of as "data fog." This refers to the more densely packed, detail-rich, and distracting glut of IoT-sourced sensor data that will clutter our fields of view. The problem with data fogs is that they will make it hard for each of us to distill meaning from IoT data in the real-time context of our lives or identify precisely which details are most relevant to us here and now.
How will we cope with data fog? One approach is for geomapping systems to adopt personalized IoT "interest graphs". Another approach is to use a combination of augmented reality, haptic, and deep learning technologies, such as those I discussed in this column from last year as a solution for helping vision-impaired people to "see" in a world that is foggy or entirely opaque to them in the best of circumstances.
Fogs are purely transient phenomena in the real meteorological world. I like to think that geotagged-data fogs won't be a persistent stumbling block in the world's embrace of IoT. We simply haven't hit on the right combination of technological approaches for cutting through the fog so that we can clearly view the big, beautiful world being revealed through ubiquitous adoption of IoT.