Mar 28 2011 2:37PM GMT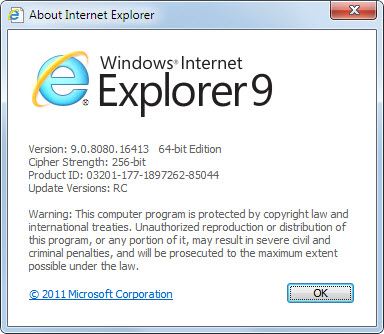 Don't get blindsided by all of the hype regarding the download numbers of Firefox 4 and Internet Explorer 9. Feedback and insight from actual users is one of the best ways to gauge what enterprise tools are best for you and your company.
Since there's been a lot of discussion about Windows 7 this month, it only seemed fitting to get the community's impressions of Internet Explorer 9 from Microsoft, compatible with Windows 7 and Vista. We polled the IT Knowledge Exchange members and got some interesting and varied responses.

Despite reading reviews where Internet Explorer 9 came out on top, Jinteik is still going to wait a few months before trying IE9. User and fan of the Opera browser, Sixball shies away from jumping right onto the Microsoft bandwagon, and CharlieBrowne would second his decision:
I just have a hard time rushing to use anything new coming out of Microsoft. I've been burned in the past and like to wait for a bit of time to see how clean a release is.
Rakei, like many I'm sure, is stuck with IE8 because IE9 is not compatible with Windows XP, but with Windows Vista and Windows 7. TomLiotta is in a similar boat, having accepted Windows XP as his company's standard. His active dislike of Windows 7, which is on his compatibility testing laptop, doesn't bode well for his future run in with IE9.

Valmsmith believes IE9 is just another way that Microsoft is trying to usher Windows XP out of the picture. If that is indeed the intent, it seems to be backfiring, such as in the case of Batye's clients who recently received new machines preloaded with Windows XP. In general, Windows XP fans seem to be holding their ground.
Chippy088 doesn't use any version of IE, mainly because of the memory-hogging add ins that IE requires. The last version of IE he used – IE7 – was uninstalled because of behavioral problems and bottle-necking. Though he has access to IE through various outlets in his professional life, he uses it primarily for web site testing rather than personal use.
BobBeechey had the opposite reaction: "I have been using IE9 as my main browser for a few days. It seems to be responsive and well designed. Good competition for Chrome at least." Rich Jaroslovsky of Bloomberg also had good things to say about the browser. He highlight the new privacy features of the browser – along with their implications – in IE9 in this great, short video review.
[kml_flashembed movie="http://www.youtube.com/v/1MSwncp3XRM" width="425" height="350" wmode="transparent" /]
If you're not a fan of IE, we'd love to hear some other browsers you'd recommend. Do you think IE9 is a worthy opponent of Chrome? Let us know in the comments section or email me directly at Melanie@ITKnowledgeExchange.com.
Melanie Yarbrough is the assistant community editor at ITKnowledgeExchange.com. Follow her on Twitter or send her an email at Melanie@ITKnowledgeExchange.com.