Dec 17 2009 6:40AM GMT

Profile: Michael Morisy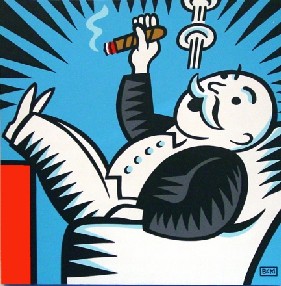 Intel discovered you can have too much of a good thing when the FTC came a knocking, suing the chip giant for "a systematic campaign to shut out rivals' competing microchips by cutting off their access to the marketplace." You can read the FTC's statement regarding the suit against Intel yourself, but it isn't pretty:
According to the FTC complaint, Intel's anticompetitive tactics were designed to put the brakes on superior competitive products that threatened its monopoly in the CPU microchip market. Over the last decade, this strategy has succeeded in maintaining the Intel monopoly at the expense of consumers, who have been denied access to potentially superior, non-Intel CPU chips and lower prices, the complaint states.
The FTC goes on to state that advances by AMD and other competitors in GPUs are now threatened by similar shenanigans, and it will not stand.
While the news hasn't knocked Intel's stock completely off the charts, it's certainly given a boost to competitors like AMD over the past few days: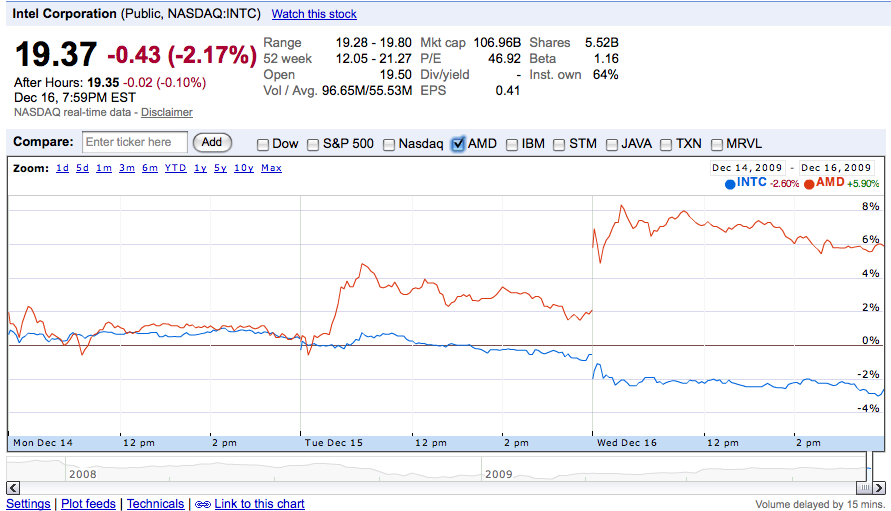 And other competitors, like Nvidia, aren't above celebrating either, as All Things Digital's John Paczkowski reports, quoting a memo from Nvidia's CEO Hsun Huang:
The U.S. government announced today that it has filed an antitrust lawsuit against Intel. This is an action the industry needs and one that consumers deserve. And it's one that can completely transform the computer industry.

The facts are clear. The FTC has charged that Intel has used its monopoly illegally to stifle innovation, to keep prices for their products inflated, and to unfairly block competitors. The FTC believes that millions of consumers have paid more and received less quality in return–and that companies and their employees have been forced out of markets where Intel has been threatened.
Before Huang & Co. put their party hats on, however, a little perspective might be warranted: While this case has been fast tracked already, it won't be heard by the FCC until September 15, 2010, giving Intel's legal eagles plenty of time to prepare. And they already have plenty of experience, as ITKnowledgeExchange contributor Tony Bradley notes in his timeline of Intel's legal imbroglios: Intel has tangled with AMD, the FTC and even the country of Korea for its business practices.
What do you think? Is hte latest case merely a bump in the road to Intel's continued dominance, or will this suit, coupled with the rising importance of GPUs, signal a fundamental changing of the gard?