Apr 29 2010 3:58PM GMT

Profile: Michael Morisy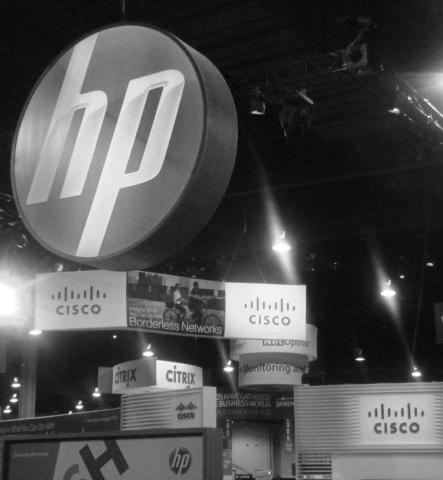 This week at Interop and beyond, the battle lines between Cisco's and HP's networking divisions were clearly drawn in black and white, and the future promises a long-drawn war between the former partners to win the hearts, minds and wallets of networking professionals.
The most visible sign that the two competitors are willing to play hardball wasn't on the showroom floor at all: Both giants held their respective partner conferences April 26 – 28th, with Cisco in San Francisco and HP right down the street from Interop at the Aria Resort and Casino.
IT pundits and partners said the message was clear: You are either HP or Cisco now, not both, particularly if you want to sell networking equipment. The was all precipitated by Cisco's bold move into the server market and HP's recently finalized 3Com acquisition. While the companies had been particularly complementary previously, they now were very much overlapping in product lines, which means a major restructuring in what kinds of deals can be made.
The heat has spilled over onto the Interop show floors: This year, likely due to acquiring 3Com and any Interop reservations they had, HP had not one but two giant show floor presences, one of which was right next to Cisco. I actually sat amidst a posse of HP executives during the keynotes, who not-so-quietly whispered "Bullshit" during the presentation by Cisco's Brett D. Galloway. Let's blame it on the Vegas mentality, but it seemed like the group was two slides away from throwing tomatoes.
I spoke with Nick Lippis, of Lippis Report fame, for his take on the situation and he said that HP faces some big challenges entering Cisco's turf, but they also have some large advantages regarding strong existing channel and supply chain partnerships that span their networking, server and printer lines, which can translate into a lower acquisition cost and the ability to corral fence sitters into their camp whether they want to or not.
"It's going to be very difficult for a channel partner to support both Cisco and HP," he said. But with Cisco retaining a large market margin – about $40 billion to HP's $5 billion, according to Lippis – and a strong technical edge, the two companies will have very different messages to bring to the market.