Sep 6 2011 9:25AM GMT

Profile: Michael Morisy
Maybe Léo Apotheker has just been watching too much CW: HP insists it isn't dumping its market-leading PC making division, it's just spinning it off. Making it more agile. Well, that's the preferred course. What actually happens … Well, let's just see how things go? No labels or anything, ok?
And that's the muddled message HP is sending when it literally owns every pixel, such as in the below advertisement (full text below):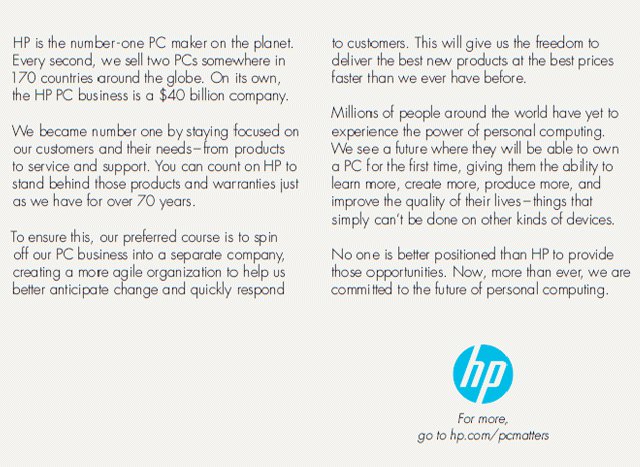 When your corporate messaging looks like it comes from the world of tweener dramas, mixing professions of undying love ("Now, more than ever, we are committed") with weasel-worded caveats ("our preferred course"), it's hard to engender much trust.
And this strikes at the heart of the recent valid criticisms (Michael Arrington's excepted): While the plan to remake HP makes sense at a strategic level, the public execution has been blunder after blunder. This has squandered years of good will and left HP with a sinking stock price and skeptical customers. Its time for HP to put the drama behind it and move forward, honestly and openly, in the direction it's going to take.
The full text of the ad:
HP is the number-one PC maker on the planet. Every second, we sell two PCs somewhere in 170 countries around the globe. On its own, the HP PC business is a $40 billion company.

We became number one by staying focused on our customers and their needs-from products to service and support. You can count on HP to stand behind those products and warranties just as we have for over 70 years.

To ensure this, our preferred course is to spin off our PC business into a separate company, creating a more agile organization to help us better anticipate change and quickly respond to customers. This will give us the freedom to deliver the best new products at the best prices faster than we ever have before.

Millions of people around the world have yet to experience the power of personal computing. We see a future where they MI be able to own a PC for the first time, giving them the ability to learn more, create more, produce more, and improve the quality of their lives-things that simply can't be done on other kinds of devices.

No one is better positioned thane HP to provide those opportunities. Now, more than ever, we are ccommitted to the future of personal computing.

For more,

go to hp.com/pcmatters
Update: Just saw Barbara Darrow had an excellent take on the exact same topic … including what happens to the customers-with-benefits caught in the middle.
Michael Morisy is the editorial director for ITKnowledgeExchange. He can be followed on Twitter or you can reach him at Michael@ITKnowledgeExchange.com.