Jul 28 2010 11:28AM GMT

Profile: Michael Morisy
Monday morning, Lockheed Martin did a funny thing: They released a major bit of enterprise social computing software, dubbed Eureka Streams, to the open source community. It's a little bit like Yammer, a little bit like an Intranet and a little bit like Facebook, but not really a bit like what we've come to expect from our nation's military suppliers, which have traditionally been pretty tight-lipped about what they're building, what they're charging and how you can use it.
Lest things get too weird, at least the promotional YouTube video is full of dull, comforting marketing drivel:
[kml_flashembed movie="http://www.youtube.com/v/uhefaGKRAkA" width="425" height="350" wmode="transparent" /]
As it turns out, there are a lot of open source enthusiasts within our nation's military-industrial complex, and just like in big business, open source is starting to find its own profitable, sustainable niche within military suppliers and the nation's military itself. For proof, just look at the upcoming 2nd annual Mil-OSS Working Group conference (suits and ties strongly discouraged), which will feature almost 50 speakers on topics ranging from "Using Git to Overcome Traditional VCS Limitations" to "OZONE & OWF: A Community-wide GOTS initiative and its transition to GOSS."
Not surprisingly, there's some skepticism. Dana Blankhorn writes:
To what do we owe the honor? Have the people sworn to protect us from fanatics in caves suddenly gained open source religion? Are they trying to ingratiate themselves with a new Administration which looks favorably on open source? Or are they trying to take it over, infiltrate it?

The answers to these questions are important, as is your speculation, because the welcome these projects get from the open source community will likely determine how much help they get. Reputation is vital in open source, and government often has a poor one.

Then there's the quality of the offering itself. I don't see anything in Eureka Streams I can't do in Drupal, or a number of other high-quality open source projects that have existed for years. Lockheed has reinvented the wheel — why? And why should I help them push it up the hill?
Skepticism: Constructive. Unfounded speculation: Less so. Cheap potshots: Grow up.
Let's look at the facts: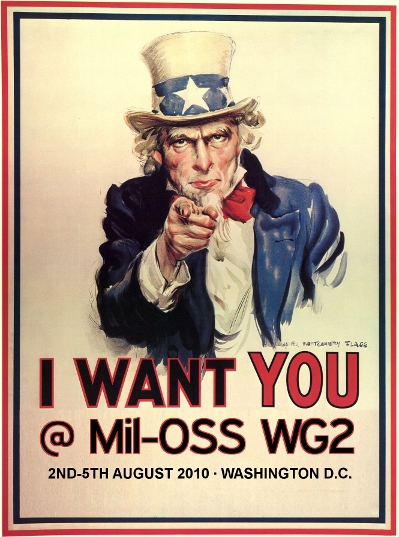 To what do we owe the honor? The national security industry has been making serious contributions to open source software in one way or another for a long time, and Dana's reaction isn't atypical. As Gunnar Hellekson recalled, the same skepticism greeted the NSA's contributions to SE-Linux, many of which were later vetted and pulled into the kernel.
Reputation is vital in open source, and government often has a poor one. Recently I'd say it's the opposite, and we're finally starting to see the fruits of what people have suggested for years: That government and OSS should go hand-in-hand. See Whitehouse.gov. Or better yet, check out this post by Sun's Bill Vass, written two years ago, pre-Obama:
Just recently, the House released The National Defense Authorization Act for Fiscal Year 2009 (H.R. 5658) which includes language that calls for all DoD agencies to consider open source software when procuring manned or unmanned aerial vehicles. Including such language is a milestone for the open source movement and just the beginning!

Joab Jackson of Government Computer News wrote this in his blog, "The Defense Department has traditionally been somewhat wary of OSS, at least for official duties. So some feel the language could pave the way for greater acceptance within the Defense community."
I don't see anything in Eureka Streams I can't do in Drupal. Coming from an affirmed Drupal enthusiast (and proud member of the Wicked Pissah Usah Group), yes, you can do that in Drupal, just like you can build pretty much anything with it, but that doesn't mean you can build it well, or easily, or without more re-inventing the wheel than makes it worth your while. That's why we have Joomla, WordPress, Open Atrium and now … Eureka Streams, which actually appears to do a lot that none of those other platforms can do without a lot of work.
But at the end of the day, what this story comes down to is that the economics of open source are the same for Red Hat as they are for IBM as they are for Lockheed. Lockheed isn't open sourcing Eureka Streams because Bildenbring and the Illuminati are planning on stealing your SMB's Intranet data. It's open sourcing it because in today's worlds, there are plenty of great business reasons to open source your software, particularly if your primary product is hardware (like missiles!) and not corporate Intranet platforms.
The same economics apply to the government and the military, too: Every wheel not re-invented because of forge.mil means more money, time and energy spent focused on protecting the country or reducing taxes (Well, that might be taking it a bit too far).
Let's cut the open source polemics, just like the enterprise has. Open source projects require backing; sometimes that will be an active community, but just as often it will be the IBMs, federal governments, and even, yes, Lockheed Martins of the world.
Michael Morisy is the community editor for ITKnowledgeExchange. He can be followed on Twitter or you can reach him at Michael@ITKnowledgeExchange.com.