Mar 10 2011 6:09AM GMT

Profile: Michael Morisy
Would you buy your IT help at the same place you snagged that great burrito deal? That's what Groupon was hoping in a recent (possibly record breaking) deal: $12,500 for $25,000 worth of "Business Intelligence or cloud services," offered by Ajilitee. And right next to it? A Microdermabrasion offer.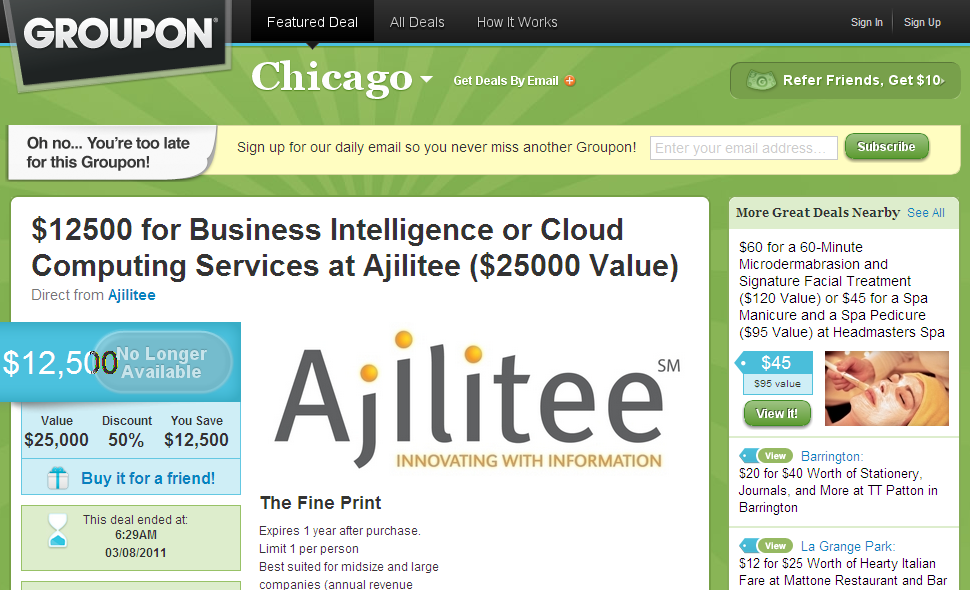 Clever marketing stunt? Testing the waters for big ticket items? It's hard to tell, particularly since it appears that no one actually bought the offer, but apparently Ajilitee is happy with the buzz it's generated.
Ajilitee's Michelle Smyth told Fast Company said awareness, not necessarily completed sales, was the main goal.
Even so, she adds, "Even without a single 'buy' via Groupon, we would feel successful if one or more organizations called to vet our offerings." Though Ajilitee hasn't gotten any phone calls yet from potential buyers, the company's Diann Bilderback tells Fast Company: "We have seen an awful lot of interest from the media, which is asking the same question we are: whether these kinds of channels can be adapted to a B2B buying cycle. We've all seen how things begin in a consumer model, then migrate to a small business model, then eventually reach the enterprise level. We were just testing to see if we could accelerate that process."
What do you think? Can Groupon ever make a reasonable pitch for the latest Cisco hardware or security package? If they're going to make a play in the area, they should at least work on the ad copy: The Ajilitee's deal is dry as crumbs on toast.
Michael Morisy is the editorial director for ITKnowledgeExchange. He can be followed on Twitter or you can reach him at Michael@ITKnowledgeExchange.com.