May 10 2010 10:34AM GMT

Profile: Michael Morisy
Update: FDCServers responds, saying a) yes, those pictures are of servers in our building; b) they are of our NOC and our repair center, and are not in production environment; c) they were taken by a competitor. Read the full response here.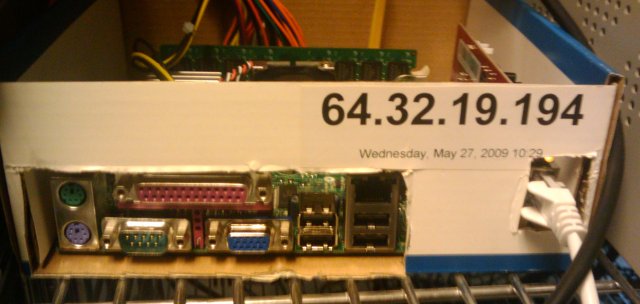 Mike Bailey (real name or nom de plum?) writes that he got to take an inside tour of FDCServers' Chicago datacenter, and has posted some server porn pictures sure to shock, horrify and/or amuse:
I went to the FDC Datacenter around the end of October after my friend who has a colocated server there asked me to help bring it back online. Not a dedicated server, a colocated server. It had been down for roughly 10 hours, and FDC's technicians had no idea what was wrong with it. The machine wouldn't post, and the fdc techs insisted my friend (who lives several states away) would need to supply replacement hardware to get the machine to post. After talking to him for several hours, and assuming fdc's techs themselves were right, my friend insisted that he would pay me to go to the datacenter and troubleshoot the issue.
The problem turned out to be a busted PCI-E bus, but the colocation facility hosted servers holding the power supply in with ducktape, ports completely askew and some downright bushy wiring. I called FDCServers to see if they'd confirm it was, indeed, their location, but they haven't returned my message yet.
They do, however, host their own gallery of data center pictures, which show a generally more organized side of things:

So are cardboard cases standard operating procedure for colocation facilities? Have you seen your own data center hacks that trump these? Shouldn't someone call the fire marshal? I'd love to hear your thoughts on these pressing questions at Michael@ITKnowledgeExchange.com: I'll happily keep your information private if requested, and we've got a free T-Shirt for the best data center hack we come across.