Jul 20 2010 6:15AM GMT
We've been doing a lot of soul-searching lately here at the Enterprise IT Watch blog. Like the loss of any trusted friend, the recent passing of Windows XP on July 13th has us reminiscing about successes and failures of past Windows operating systems. And it looks like we're not the only ones; check out the Twitter conversation I eavesdropped [below] regarding the general attitude toward Vista. Do you think the multitude of problems from the get-go contributed to Vista going down infamously in OS history? Or do you think its downfall was amplified by Microsoft's broken promises, that it was eventually mended to a working and even satisfactory operating system?
Did you bypass Vista altogether or are you still using it? What is it going to take for you to upgrade or migrate to Windows 7?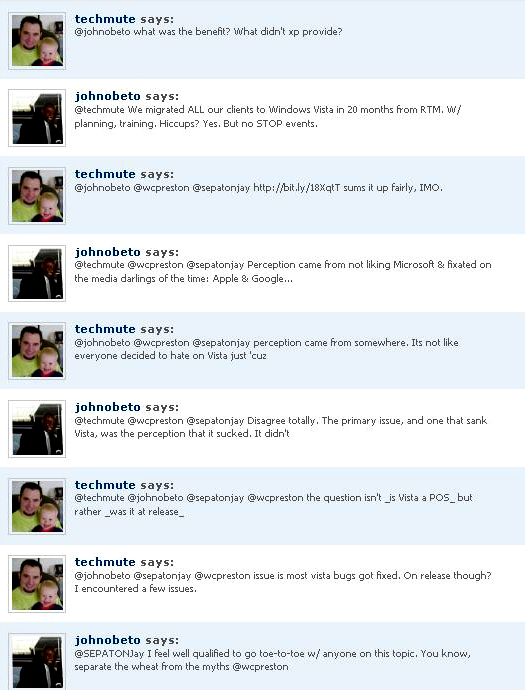 We'd love to know your relationship with past Windows operating systems, and how that affects your attitude toward current offerings such as Windows 7 and rumors of Windows 8. So sound off! And if you see @johnobeto or @techmute around, tell them we'd love to hear the rest of this debate!
Want to see what others on Twitter are saying about Windows 7? Check out our Windows 7 Pros Twitter list and share any interesting conversations or debates with us!
Melanie Yarbrough is the assistant community editor at ITKnowledgeExchange.com. Follow her on Twitter or send her an email at Melanie@ITKnowledgeExchange.com.