Jul 12 2011 4:17AM GMT

Profile: Michael Morisy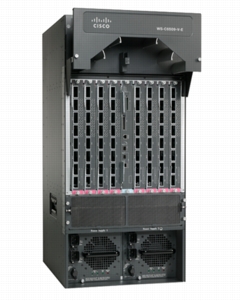 Kudos go to the Wall Street Journal's Don Clark for digging up some dirt on Cisco's closely-held "big announcement" coming today: A revamped Catalyst 6500 which will provide a way for users to upgrade their existing hardware (Skip WSj paywall). Details are fairly light, except that the the offering will sport "four times the performance" of a comparable HP system, and existing customers can achieve many of the benefits of the revamp by installing a new $38,000 module into their existing 6500s.
The Catalyst 6500 has been a mainstay of many high-end network hubs since Cisco introduced the product in 1999, and boasts 700,000 of the pricey systems still active today, according to Cisco's John McCool.
But Cisco hasn't been resting on its laurels: Cisco's been blazing forward with the Nexus line, which runs the NX-OS rather than Cisco's more traditional IOS and which tends to find itself squarely in the datacenter and other super-high-demand situations. That Cisco is trying to bolster the old standby even as it reinvents some its fundamentals is a testament to its determination to keep its loyal customers happy, but neither option competes directly with HP on initial pricing (Cisco insists its products are cheaper when you factor in the full life of the product, particular in maintenance and support down the road).
I'll be blogging the Cisco Live! keynotes and breaking news as they happen, so be sure to check back for more details. In the meantime, however, check out the rest of Clark's article, which dives a bit deeper into the rather difficult competitive landscape Cisco has suddenly found itself in, after years of being a big fish in a pond full of minnows. Here's a hint: HP's largess and cut-rate pricing have made life more than a little difficult for the boys down the road in San Jose.
Michael Morisy is the editorial director for ITKnowledgeExchange. He can be followed on Twitter or you can reach him at Michael@ITKnowledgeExchange.com. Check out our complete Cisco Live! Coverage guide for more breaking news.