Apr 18 2012 10:41AM GMT

Profile: Michael Morisy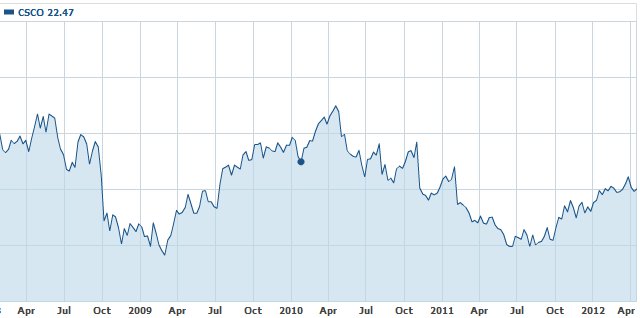 Despite grand ambitions at the start of the recession, Cisco's been in a slump: Its stock price has struggled, its consumer ambitions have been shattered and a few rounds of layoffs have tried to focus the company on what matters to its core business, network dominance.
That focus will be put to the test soon as new competitors from above and below take aim at Cisco. The marquee name in this battle is none other than Google, which recently previewed its OpenFlow initiative to Wired.
Google's Urs Hölzle wasted no time in outlining, peripherally, two of the existential threats facing Cisco, Cheaper hardware and smarter software:
"It's not hard to build networking hardware," says Hölzle, in an advance briefing provided exclusively to Wired. "What's hard is to build the software itself as well."
Commodification of hardware has been driving networking equipment prices down, and Cisco's five priorities explicitly state it's pushing towards a "smarter network" strategy. But Google has an almost unrivaled brain trust and while Hölzle explicitly stated his company isn't interested in competing with Cisco and Juniper, he did state he wants them to fall in line with OpenFlow, further commodifying their offerings.
Which brings us to Nicira, also profiled in Wired this week, a feisty startup with ex-Cisco employees which explicitly does want to chip away at Cisco's dominance. Nicira CTO and co-founder Martin Casado and vice president of marketing Alan S. Cohen did a lengthy interview with Shamus McGillicuddy this February, discussing their plans to virtualize the network, pushing more intelligence to the edge while working to make almost all network hardware interchangeable.
Nicira's vision is a radical rethinking of what networking vendors will do, pushing traditional players farther away from the interesting, high-value work:
Do you need to build relationships with the network hardware vendors?

Casado: No, we don't. These will become two different problem domains. Eventually Microsoft and VMware will also take similar approaches. [The network] hardware will essentially become a backplane. It will become a fabric. That fabric will still have to be competitive. It will have to be competitive on price, on the ability to do QoS, on the scale it can achieve [and] on the latency. That will be a separate entity in the market from the virtual network, which provides the provisioning, the security policies, the QoS policies, isolation and things like that.
There's a lot of ambitious claims made in the networking space about reinventing the network (often made several times a year by all the incumbents as well as new whippersnappers), but now Cisco will feel pressure to make sure it can lead that revolution before someone else manages to redefine the hardware giant's role for it.