Feb 15 2011 11:20AM GMT
Once your data is secured in the cloud, where do you secure your backups? Today's guest post comes from David Strom, and he discusses his experience with one option for backing up the information in your cloud in another cloud.

One of the problems of using online services such as WordPress blogs, Facebook and Twitter is that you can't easily save the information that you accumulate in the cloud. If you have a WordPress blog, you need to run a regular backup that saves your blog content into an XML file, for example. Now a service from Backupify.com can help. Using Amazon's Web services and cloud-based storage, they provide backup agents to more than a dozen services, including Google's Docs, Blogger and Gmail, Zoho, Delicious, Hotmail and Basecamp, YouTube, Tumblr, and general RSS feeds.
Setup for the most part is fairly simple: You have to provide your authentication information, which in some cases is stored in an encrypted place by Backupify. Then the service goes to work on a weekly or daily basis to do the backups, moving your data from its original repository (such as your Blogger blog) to your account on Backupify. You can have the service notify you via email when a successful backup is complete, along with other conditions too. Also, you can download what is stored in your archives using a Web browser. A sample backup history report is shown below.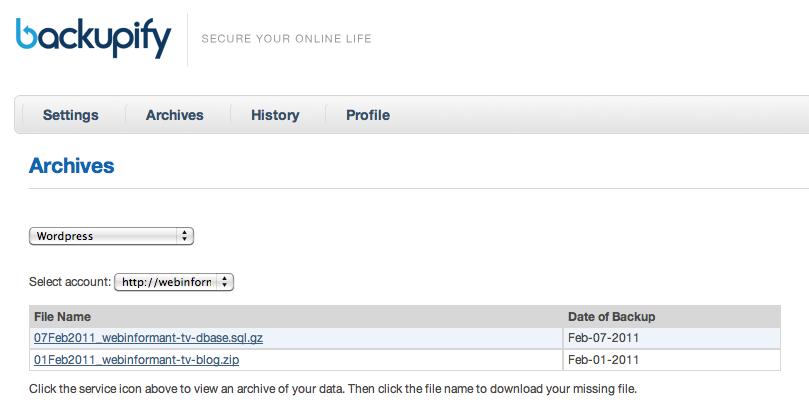 A couple of caveats: Gmail and Twitter backups are a bit lengthy, because of the volume of information stored on these accounts. (My Twitter account took more than two hours, for example.) Backupify is working on better Gmail backup processes.
The most trouble I had was getting the WordPress plug-in to install and synchronize: If you are using WordPress.com to host your blog, you obviously can't use this feature because you can't install any of your own plug-ins. Once you add the plug-in to your site, you activate it on the Backupify settings page and then you initialize the backup back on your blog's Plug-in control panel. It all takes a few minutes and you are set.
Backupify is no substitute for a good local backup of your Web services data, but something nice to have, and it gives me the feeling that at least I have some control over my data that is in the cloud, even if it is in someone else's cloud.
Pricing Info
The service is currently free for up to 2 GB of data that is backed up on five different accounts once a week. There are two pro plans: The Pro 100 goes for $5/month for 20 GB and up to 5 users on your domains hosted by Google Apps. The Pro 500 plan is $20/month and up to 10 users on your domains hosted by Google Apps, with an additional $3/mo/user. Both Pro plans feature nightly backups and phone and Web support.
Caption
Backupify's Web control panel shows you the status of which of your services have been backed up and whether they completed successfully.
David Strom has many interests: as a former IT manager, a publication editor, a Web site creator, a podcaster and video producer, and a professional speaker. He writes several blogs including strominator.com, webinformant.tv, and mediablather.com. He lives in St. Louis and can be found on twitter @dstrom.