Apr 27 2010 12:34PM GMT

Profile: Michael Morisy
Kevin Kennedy, Avaya's president and CEO, said IP was able to consolidate or supersede dozens of other protocols like PUP and RIP and that the time was soon coming for SIP to take the same route, but a layer higher. Avaya was pushing SIP as the protocol of choice for voice, video, Instant Messaging and other types of communication, and Kennedy gave six core reasons why SIP was the right rule to ring them all: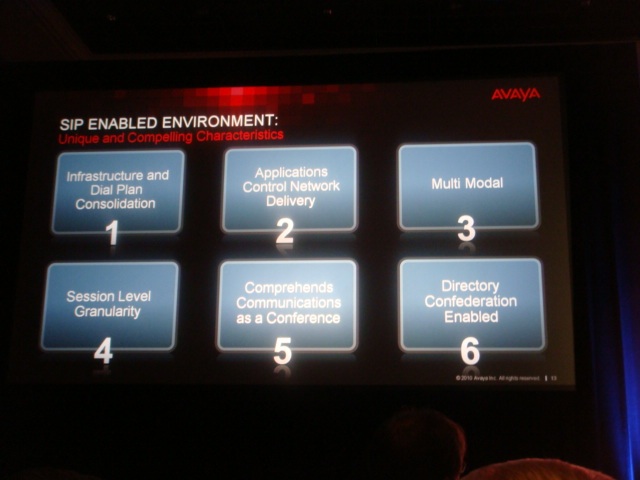 1) Infrastructure and Dial Plan Consolidation

2) Applications Control Network Delivery

3) Multi Modal

4) Session Level Granularity

5) Comprehends Communications as a Conference

6) Directory Confederation Enabled
And while I certainly believe consolidation, standardization and interoperability are beautiful things, Avaya has an uphill battle, at least in the short term. SIP has been over-promised for years and years, while even full SIP compliance doesn't guarantee the communications interoperability and unification Kennedy gushed about.
Still, it's a beautiful dream and Avaya has big enough guns that it's entirely possible, particularly as enterprises look to speed up deployments while reducing complexity.
Curt Franklin has a good write up on the rest of Kennedy's Interop keynote if you're interested in what you missed or want another perspective.

Whether you're trekking out into the Las Vegas sands or watching safely from your home base, IT Knowledge Exchange has you covered: The Enterprise IT Watch Blog is teaming up with SearchNetworking.com to bring you the most comprehensive Interop coverage. Follow Interop coverage on the IT Watch Blog or check out SearchNetworking's coverage on the Network Hub. If you're in Las Vegas yourself, shoot me an e-mail at Michael@ITKnowledgeExchange.com: I'd love to hear what you've learned, seen or heard, and we have plenty of free swag to give away to IT Knowledge Exchange members!