Apr 26 2011 8:47AM GMT

Profile: Michael Morisy
We've written about the dangers of the consumerization of IT before (actually, again and again), but such progress has marched on, despite our earnest protestations, linked arm-in-arm with that golden child, cloud computing. At least, until last week, at which point both ate some serious crow in the form of an outage and raised awareness of privacy breaches.
Highest profile, of course, was Amazon's EC2 outage that took out sites like Reddit, FourSquare and, according to one forum poster, cardiac monitoring tools. Lives, then, might literally have been at stake.
In another cloud/consumer blow, Dropbox updated its terms of service, making explicit its willingness to turn your data, hosted on their servers, over to the authorities. Not surprising, but another chip of control taken away from the data owner.
And finally, it was made public that the iPhone is tracking your every move, leading to spooky maps that, in some cases, go back years and which could potentially be used against their owners in legal matters.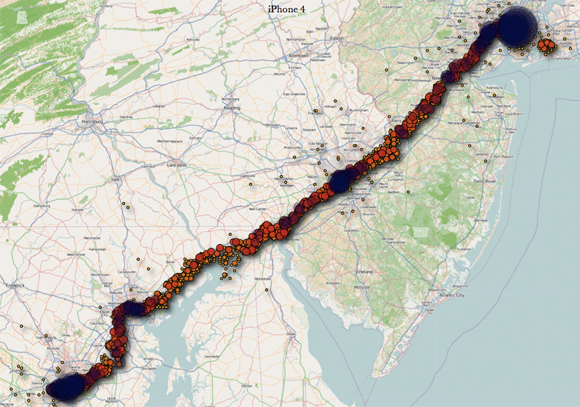 I wish I felt gleefully vindicated, but the truth is that these are minor setbacks in a much larger trend, and it's time to take a careful reassessment of what the new normal is in a world where data policies and even uptime are largely dictated by consumer companies such as Amazon, Apple and even small web startups that might be here one day, gone the next.
Downtime doesn't always equal disaster. There's a great scene in the Social Network where Jesse Eisenberg channeling Mark Zuckerberg yells that Facebook can never go down. In reality, Facebook does occasionally (but very rarely) go down, as does most every service. I've even used some web services that keep something sadly close to regular business hours, with planned downtime for most of the evening every single night. The reality is that for most web services, the golden 5 Nines of uptime is simply not worth the extra cost.
The benefits are real. Consumerized IT, whether it's smarter smart phones, more productive communication, more collaborative work, or any other of a thousand changes, has brought real benefits that decades of top-down budget-driven initiatives have failed to deliver.
The risks are real. See above, but also see the very real compliance risks, data leakage risks, and more.
So instead of feeling vindicated or burned, it's time to acknowledge the risks and rewards, calculate the acceptable and unacceptable losses, and craft policies that look past all the cloud-vs.-no-cloud dogma and focus on what's right for the business: Non-critical information on commodity servers, whether they're your own or someone else's, with more critical infrastructure getting the redundancy and disaster recovery it warrants.
Have these latest bumps changed your roadmap? Any advice you'd give your peers on preparing to navigate the new normal, however you see it? Let me know at Michael@ITKnowledgeExchange.com, and we'll throw some free swag and
knowledge points towards our latest contest
your way.